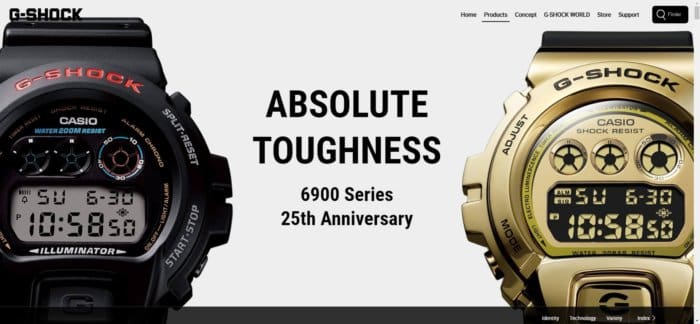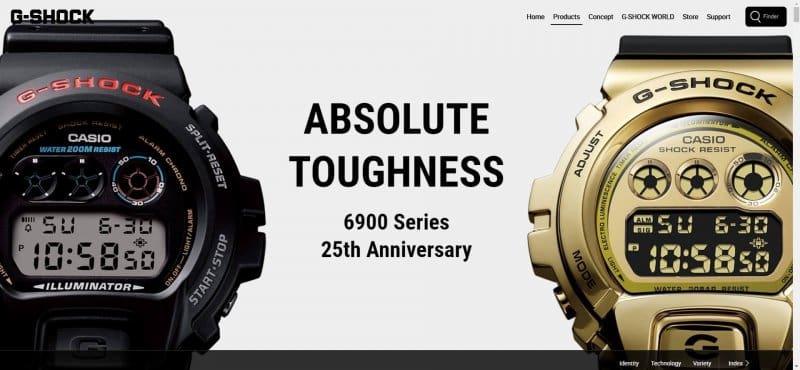 G-Shock published a special 6900 Series page to commemorate the 25th anniversary of the iconic digital watch. The page presents information about the history of the 6900 including design sketches and the features and technologies of various 6900 models over the years.
The DW-6900 made its debut in 1995 and combined the triple graph style of 1992's DW-5900 with the round case shape and front light button of 1994's DW-6600 (a.k.a. the Navy Seal G-Shock).
As of early 2019, the DW-6900 base was the most popular G-Shock of all time in Japan and the third most popular in the rest of the world, thanks in part to the many collaborative releases with other brands over the years. The DW-6900 remains a popular model for collaborations and special color series, and the solar-powered GW-6900 remains one of our top picks.
Japan has a different standard DW-6900 model than the rest of the world which has the DW-6900-1V. (G-Shock Japan also has a 6900 anniversary page with this model.) Japan's DW-6900B-9 has some cosmetic differences, including the "Fox Fire" label instead of "Illuminator." Unlike the DW-6900-1V, the DW-6900B-9 is made in Japan.
The anniversary page also has a link to a new G-Shock 6900 catalog in PDF format (7.91 MB), which includes current models like the DW-6900-1V, the blackout DW-6900BB-1, and the metal covered GM-6900 series. The catalog includes some (but not all) of the same information and images as the web page, plus more information about the GM-6900 series and a timeline of significant 6900 models.
Visit the 6900 Series 25th Anniversary page at world.g-shock.com.