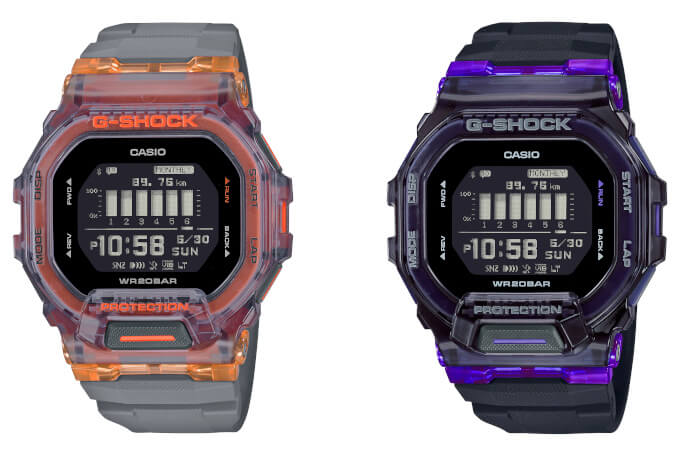 The GBD-200SM-1A5 and GBD-200SM-1A6 are the first skeleton or translucent options for the G-SQUAD GBD-200 fitness series and the first releases after the three launch models from mid-2021 . These models take their inspiration from the orange and purple colors found on sportswear and sneakers. The GBD-200SM-1A5 has a light gray translucent bezel, an orange inner case, and a gray resin band. The GBD-200SM-1A6 has a dark gray translucent bezel, a purple inner case, and a black resin band.
An advanced fitness watch with a compact and classic-style square case, the GBD-200SM features a high-contrast MIP LCD display, shock resistance, 200-meter water resistance, step counter (with self-calibrating function), and Bluetooth smartphone link.
In Japan, the GBD-200SM-1A5JF and GBD-200SM-1A6JF are November 2021 releases with a tax-included price of 22,000 yen each. Both models are expected to get a wider release following Japan (US: GBD200SM-1A5 and GBD200SM-1A6, $150 each).
G-Shock GBD-200SM-1A5: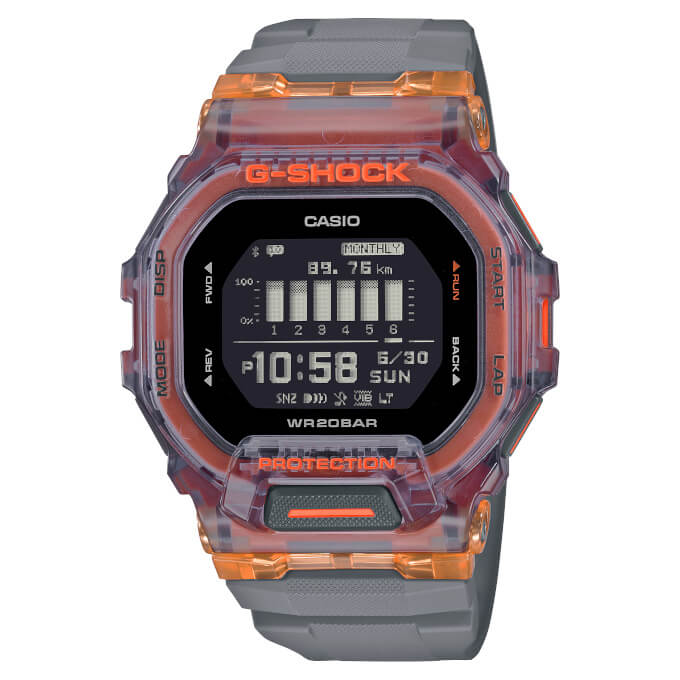 Size: 49.4 × 45.9 × 15 mm Weight: 58 grams
Structure: resin case, bezel, and band, mineral glass
Protection: Shock Resistance, 200-meter Water Resistance Power: Battery (CR2032, approx. 2-year life)
Features: Step counter with training function and data, Bluetooth smartphone link, vibration alerts, world time (38 time zones, 38 cities +UTC, DST on/off, auto DST), 1-second stopwatch (99:59'59" max, elapsed time, split time), countdown timer (60 minutes, settable in seconds, 5 interval timers, auto-repeat 1-20 times), 4 daily alarms with snooze, auto LED light with 1.5 or 3-second afterglow, full auto-calendar, button tone on/off, power saving, 12/24-hour format, flight mode
G-Shock GBD-200SM-1A6: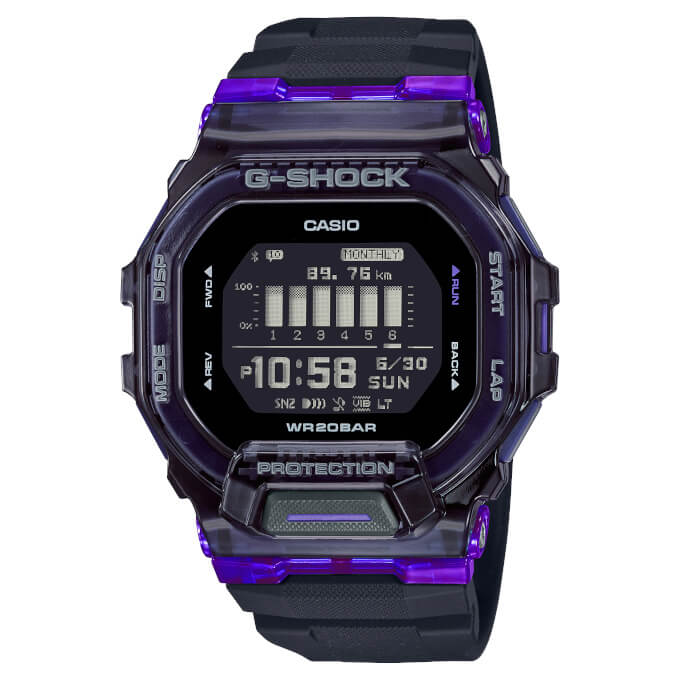 Size: 49.4 × 45.9 × 15 mm Weight: 58 grams
Structure: resin case, bezel, and band, mineral glass
Protection: Shock Resistance, 200-meter Water Resistance Power: Battery (CR2032, approx. 2-year life)
Features: Step counter with training function and data, Bluetooth smartphone link, vibration alerts, world time (38 time zones, 38 cities +UTC, DST on/off, auto DST), 1-second stopwatch (99:59'59" max, elapsed time, split time), countdown timer (60 minutes, settable in seconds, 5 interval timers, auto-repeat 1-20 times), 4 daily alarms with snooze, auto LED light with 1.5 or 3-second afterglow, full auto-calendar, button tone on/off, power saving, 12/24-hour format, flight mode