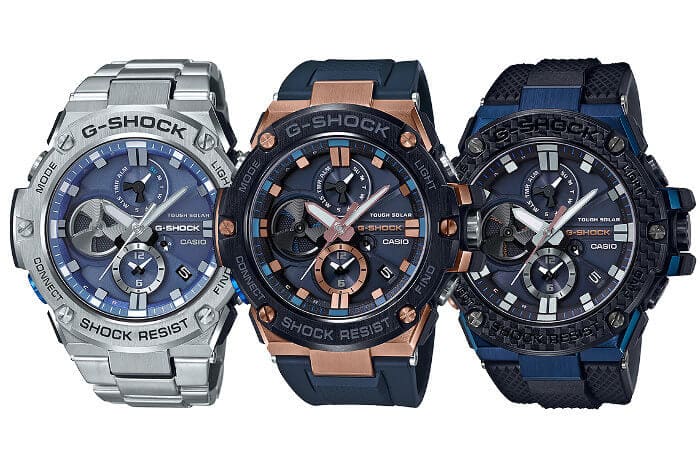 Casio is releasing three new G-Shock G-STEEL GST-B100 watches in November 2018 in Japan: the GST-B100D-2AJF (left), GST-B100G-2AJF (middle), and GST-B100XB-2AJF (right). These models feature Tough Solar power and Bluetooth mobile link. By using the G-Shock Connected app, the Bluetooth capability offers automatic time adjustment, 300-city world time, watch settings adjustment, and a phone finder function. Other features include dual-dial world time, stopwatch (max 24 hours), timer (max 24 hours), alarm, and Super Illuminator LED light with afterglow. Like all G-Shock watches, the G-STEEL line is fully shock-resistant and water-resistant to 200 meters.
Update: Casio is also releasing the GST-B100D-2A, GST-B100G-2A, GST-B100XB-2A throughout the rest of Asia.
G-STEEL G-Shock GST-B100D-2A
The GST-B100D-2AJF has a stainless steel band and a blue face. List price is ¥55,000 JPY.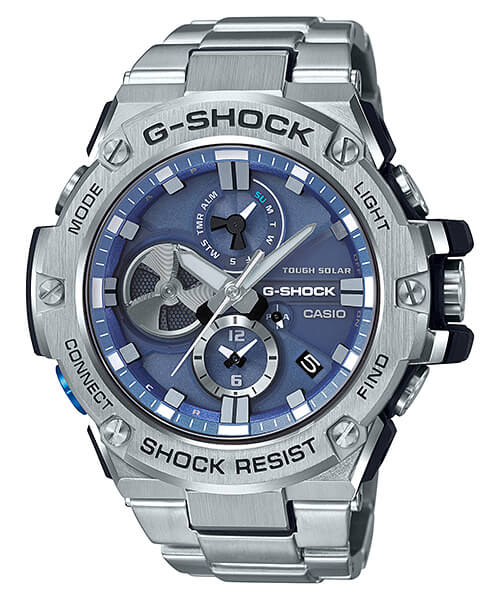 GST-B100D-2AJF on eBay
G-STEEL G-Shock GST-B100G-2A
The GST-B100G-2AJF has a rose gold ion-plated body and a textured resin band. This watch also has interesting blue accents on the border of the display and bottom-left button. List price is ¥56,000 JPY.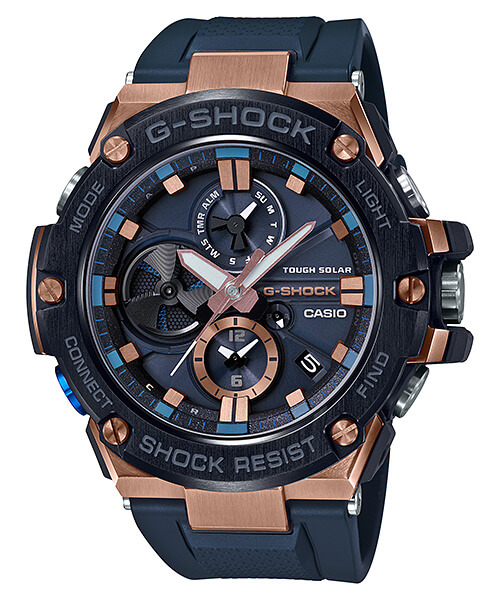 GST-B100G-2AJF on eBay
G-STEEL G-Shock GST-B100XB-2A
The GST-B100XB-2AJF has a Torayca carbon fiber bezel, blue IP body, and textured resin band. This deluxe model also has a sapphire crystal with a non-reflective coating. List price is ¥85,000 JPY. Other carbon fiber GST-B100 models include the black GST-B100X-1A, gold and black GST-B100TFB-1A, and silver and black GST-B100XA-1A.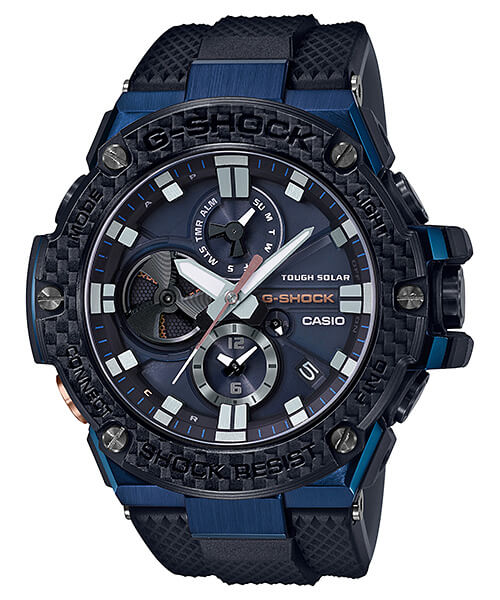 GST-B100XB-2AJF on eBay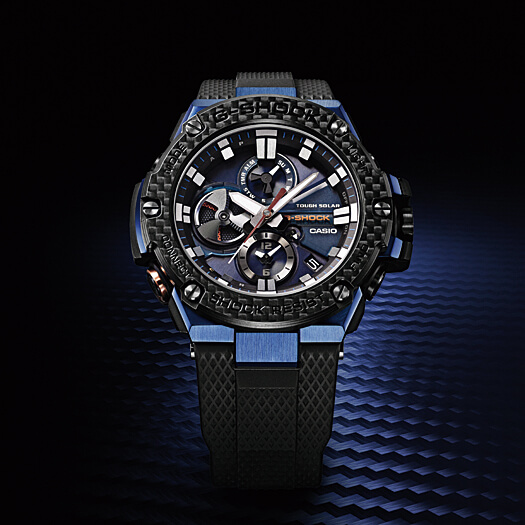 (
Disclosure: G-Central is reader-supported and earns a commission on purchases made from its links to Amazon and eBay. G-Central is an independent blog managed by fans and is not an official Casio G-Shock site.
)