Please note that we are talking about the discontinuation of individual models here (such as the GWF-D1000-1) and not the entire range of the base model (GWF-D1000).
Though it's expected for seasonal color series and special Master of G collections to end production shortly after they're released, the models that debut with an all-new G-Shock series usually become the standard base models that remain in production while other colors come and go. However, after spending some time searching the catalog on the G-Shock Japan site, we found that some of these debut models have unexpectedly ended production sooner than we expected. These models are listed with a "production end" designation on the Japan site (and to find them you must check the "Including production end model" option on the search page). For example, see the GWF-D1000-1JF page.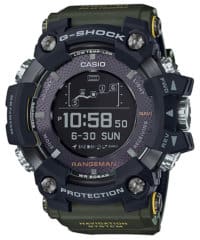 Rangeman GPR-B1000-1B with olive green band, first released March 2018: This model was always marked up a bit more in the U.S. compared to the black GPR-B1000-1, so it seems that sellers always knew the supply of this model was limited. Curiously, the Japanese model numbers for both of the debut watches end with the JR suffix which usually signifies a limited edition release (versus the JF suffix for regular releases), which is something that always baffled us. The black GPR-B1000-1 remains in production for now.
Gulfmaster GWN-Q1000-1A and GWN-Q1000-7A, first released August 2016: These were the debut GWN-Q1000 models featuring G-Shock's first Quad Sensor (Triple Sensor plus Depth Meter). We have to wonder if this discontinuation of both debut models has something to do with the analog hands defect that was widely reported by owners and supposedly resolved by April 2017. The blue base model seems to have been replaced by the GWN-Q1000A-2A in March 2018, which has a standard LCD display versus the reverse display of the GWN-Q1000-1A. We recommend buying a newer model rather than an early model to avoid the possible defect. Unfortunately newer GWN-Q1000 models are not readily available in all markets. (Update: G-Shock Japan is showing that the GWN-Q1000A-1AJF is the only GWN-Q1000 model still in production.)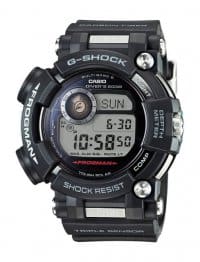 Frogman GWF-D1000-1, first released June 2016: This was one of the debut GWF-D1000 models with the Depth Meter featuring silver accents, along with the blue-accented GWF-D1000B-1. We would have thought this more basic (and slightly cheaper) black and silver model would be the one to stay, but only the GWF-D1000B-1 remains in production. (Only the GWF-D1000B-1 was released in North America. The GWF-D1000 base is still commonly used for new limited editions.) Note: The GWF-D1000-1 is still listed as part of Europe's G-Shock lineup.
Mudman G-9000-1, first released June 2006: This debut Mudman model has ended production according to Casio. It looks like this could be the end of the G-9000 series. Though not entirely unexpected, the fact that the third-generation Mudman lived on this long had us hoping it would remain in the lineup. The G-9000 and GW-9000 were iconic Master of G watches during the 2000s along with the Gulfman and Frogman. They will be missed, but the Mudman line lives on with the G-9300 and GW-9300 series. (Update: Though the G-9000-1JF is listed as no longer in production, the G-9000-1V has still been very much available in other regions, so it looks like maybe the G-9000-1V is still being manufactured for those markets, and perhaps this is not the end of the G-9000 series.)
All Gulfmaster GWN-1000 Models except for GWN-1000B-1A and GWN-1000B-1B: All the GWN-1000 models except for the two debut models are no longer in production. Yes, we're talking about non-debut models here so it's not unexpected but some of these were our favorites like the stealthy black GWN-1000C-1A and the blue GWN-1000-2A with a positive LCD display. Now the only GWN-1000 models in production all have reverse LCD displays.
While some of these watches may still be widely available at the moment, at some point the prices may go up because of the decreasing supply. We always suggest not to wait if there is a particular model that interests you (especially if it is a colored model) because the end of production often comes sooner than expected.





Disclosure: G-Central is independently managed by fans and is not an official G-Shock site. For official support, visit world.casio.com. Please follow your region's official site for more release information. All articles are written by G-Central. We may earn a commission on purchases from our links to Amazon, eBay, and Reeds Jewelers.
Advertisement: