Casio published a new watch catalog, Watch Collection 2019 Vol. 1, for Japan. While there aren't any surprises or upcoming releases listed other than the Mudmaster GG-B100 (coming July 2019), there a few things that we found interesting about the current G-Shock lineup. As much of the news this year is all about the Carbon Core Guard models, what piqued our interest was actually the inclusion (and exclusion) of the older models in the catalog. We also searched Gshock.jp to get a better idea of what's going on with some of these older models. (Please keep in mind that this catalog is specifically for the Japanese market and while it provides an overview of the G-Shock lineup, it does not include every current model/series.)
Gravitymaster GW-3000 and GW-4000 are still active: Along with the recent Gravitymater models, older models like the GW-A1100-1A3JF, GW-4000-1AJF, GW-3000B-1AJF, and GA-1100-1AJF are also listed. There hasn't been a new GW-A1100 model since 2016, a new GW-3000 since 2011, a new GW-4000 since 2017, or a new GA-1100 since 2018, but the individual models mentioned are still in production and sold in Japan. Like the GWR-B1000 and GPW-2000, the GW-A1100-1A3JF and GW-4000-1AJF have Triple G Resist (for protection against impact, g-forces, and heavy vibration).
Gulfmasters are still alive: Though the Gulfmaster GWN-Q1000 series (featuring the Quad Sensor with Depth Meter) seems to have been discontinued everywhere else, the GWN-Q1000A-1JF is still active in Japan. Also, we recently noticed that it's been difficult to find GWN-1000 models at the discounted prices we were accustomed to in the U.S. That got us worrying that maybe the whole line was being discontinued as we haven't seen a new GWN-1000 model since 2016. However, the catalog lists the black-bezel GWN-1000B-1AJF and blue-bezel GWN-1000B-1BJF and also the GN-1000B-1AJF with Twin Sensor. According to Gshock.jp, these models are still in production but it's uncertain if western markets are receiving new stock of them.
Gulfman GW-9110 is still alive, but not G-9100 or Mudmaster G-9000: The Gulfman GW-9110-1JF (with Tough Solar and Multi-Band 6) is listed in the catalog and according to Gshock.jp, the non-solar Gulfman G-9100 and Mudmaster G-9000 models are no longer in production. The Gulfman G-9100 and Mudman G-9000 still seem to be readily available in western markets (Amazon.com still sells the G9000-1) and there could still be a large supply of them, but don't be surprised if that's not the case somewhere down the line. (Note: In the past, we've found that the production status on Gshock.jp usually applies to all markets but it should be noted that Casio Europe still has the G-9100 and G-9000 listed in its lineup.)
With exterior metal parts made of titanium, the Gulfman G-9100 is the most affordable G-Shock (and one of the only G-Shocks) with the Rust Resist designation. (The recent Gravitymaster GWR-B1000 is also a Rust Resist model.) Like the Gulfman, the Mudman G-9000 is an old-school Master of G model. It is also known as one of the G-Shock watches that was certified by NASA for space flight. The Mudman series lives on with the GW-9300-1JF and the G-9300-1.

Older G-STEEL models are still alive: The GST-B200 series will co-exist with rather than replace the GST-B100 series for the time being, as four GST-B100 models are also listed in the catalog. For the "300" mid-size range, three models are listed, and the large-size GST-W110-1AJF is also listed. G-Shock.jp has additional G-STEEL models listed as still in production as well.
The GW-5000-1JF is not listed but not dead: While the expected GMW-B5000 and GW-B5600 series are listed along with some of the popular 5600 models, the absence of the fan-favorite GW-5000-1JF screw-back model is a glaring omission, but relax. It is still listed at Gshock.jp and is still in production. Casio probably prefers to give more attention to the newer full-metal and Bluetooth squares which are in a similar price range. Looking on the bright side, maybe it's an indication that some sort of updated GW-5000 is coming soon (perhaps with a Bluetooth module or a non-Bluetooth module similar to solid gold G-D5000-9). Alternatively, maybe there just wasn't enough space for it in the catalog. (Update: It looks like that was the case, as the GW-5000-1JF is listed in the G-Shock Spring/Summer 2019 catalog.)
Download the Casio Watch Collection 2019 Vol. 1 catalog as a 12MB PDF file here.
Update (July 2019):
Casio also released the G-Shock Spring/Summer 2019 catalog. Some observations: The GW-5000-1JF is included. The GA-2000 series is billed as the "New Standard." Though the GD-X6900 series has been inactive outside of Japan lately, the GD-X6900-1JF and GD-X6900FB-7JF are listed.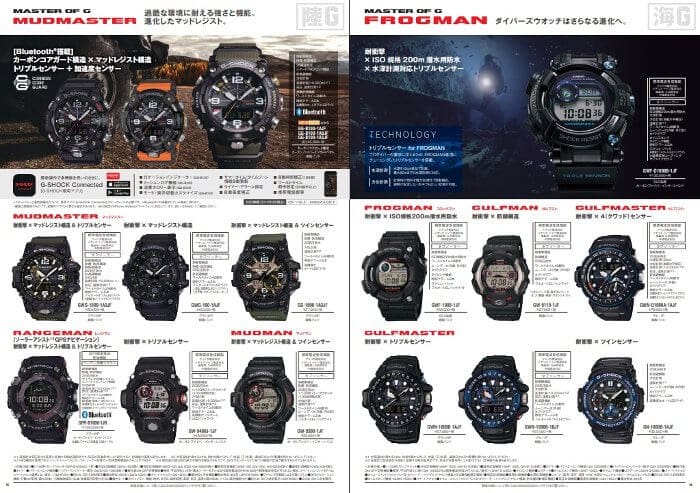 Disclosure: G-Central is independently managed by fans and is not an official G-Shock site. For official support, visit world.casio.com. Please follow your region's official site for more release information. All articles are written by G-Central. We may earn a commission on purchases from our links to Amazon, eBay, and Reeds Jewelers.
Advertisement: