There was a time when G-Shock watches weren't the wrist monsters that they are today, and that time was actually not very long ago, as the shift towards bigger cases started in the 2010s. People with smaller wrists may be daunted by the prospect of wearing a Mudmaster GWG-1000, but there are still many smaller G-Shock watches to choose from. These are the models that are commonly referred to as "mid-size" and include the classic models as well as some newer ones.
Please read this before dismissing the large G-Shock models:
When talking about small wrists, I generally mean wrists that are around 6 to 6.5 inches (15-16.5 centimeters). I don't believe that a Mudmaster GWG-1000 or Rangeman GW-9400 is necessarily too big for a wrist of this size. Some people get a bit self-conscious about wearing a large watch, and I am guilty of this myself. I have a 6.5-inch wrist and I initially thought that the G-9300 Mudman was too large as well as the GWN-1000 Gulfmaster, but I was used to wearing smaller watches my whole life and I eventually got used to wearing the larger ones. Even now when I look at the Gulfmaster on my wrist it seems very large (but feels perfectly comfortable). However, when I see photos of myself wearing the watch it looks fine and not excessively big, and I have come to appreciate the size of the display. Nobody has ever commented about the watch's size but I have received compliments on its looks. There is no set of rules that says certain models are too big for certain wrists, as G-Shock watches are designed to accommodate a wide range of sizes and can fit comfortably on smaller wrists. Once you get used to a G-9300 or GA-100, then the models that are larger than those are not so much of a stretch. Sometimes the thought of a G-Shock being too big is just an ingrained bias that can be overcome, but you should only wear what you're comfortable with.
Here is an overview of the mid-size G-Shock watches that are suitable for small wrists.
Classic Mid-Size Digital G-Shock Watches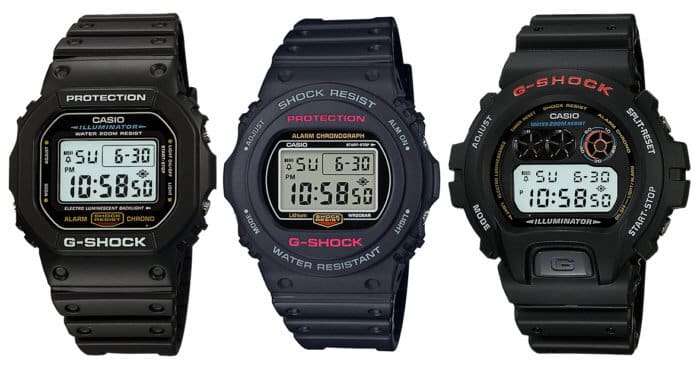 These classic models include the DW-5600, DW-6900, and DW-9052, which can all be found on our basic and affordable G-Shock list. This also includes all other variants of the 5600 and 6900 lines like the solar-powered GW-M5610, GLS-5600, and GW-6900, with the exception of the GD-X6900 line which is a large size. Those who want the smallest profile should go with a 5600 series G-Shock, as they are some of the thinnest models available. Other series to consider are the recently revived DW-5700 and GWX-5700, which are similar to the 5600 series but with a round face. The G-9000 Mudman (amazon link) is a mid-size model from the 2000s, along with the G-9100 Gulfman (amazon link).
Also consider other all-digital Tough Solar with Multi-Band 6 watches, such as the GW-2310 and GW-M500 series. The G-7900 and GW-7900 are also close to a mid-range size but they are very thick.

Mid-Size Analog-Digital G-Shock Watches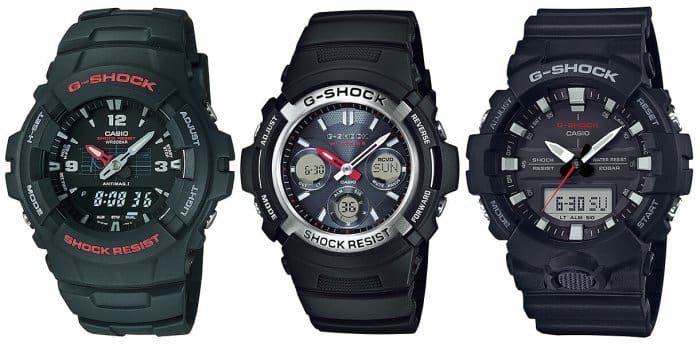 Those who prefer analog-digital G-Shocks should consider the basic G-100 (also on our affordable list above), AW-591, and the solar-powered AWG-M100 series (amazon link). More recent options include the GA-800 series which is the most affordable G-Shock with a third analog hand to display the second, and the fitness-oriented G-SQUAD GBA-800 with a built-in pedometer and Bluetooth link. The GA-2100 is a recent and wildly popular mid-size analog-digital model that is the slimmest G-Shock currently available. Another recent analog-digital model, the GA-2000, might be considered mid-size, as it is smaller than the GA-100, but getting close to a large size. The recent and best-selling GA-2100 series, which is the slimmest men's G-Shock, is another analog-digital model that is suitable for smaller wrists.
Mid-Size G-Shock G-STEEL Watches

The mid-size G-Shock G-STEEL watches are the best option for those who want a more upscale style of analog watch (particularly with the models that have a stainless steel bezel or band). These solar-powered 300-series models include the number 300, 310, or 330 in the model numbers. Note that the G-STEEL 100-series models are the larger size. The 300-series watches are close to a large size but significantly smaller than the G-STEEL 100-series models. The 330 models include the Neon Illuminator, a black light LED that makes the hands and markers glow in the dark.
Initial G-Shock G-STEEL 300-Series Models
More Mid-Size G-Shock G-STEEL Colors
Silver and Gold Mid-Size G-Shock G-STEEL
G-STEEL GST-W330 and GST-S330 with Knurled Bezel and Neon Illuminator
The difference between the GST-S130C-1A and GST-S330C-1A below is 59.1 x 52.4 x 16.1mm versus 55.9 x 49.3 x 15.3mm.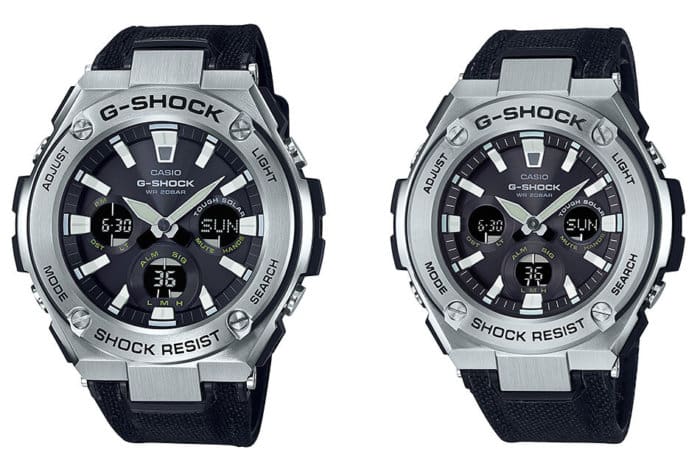 G-Shock S Series Watches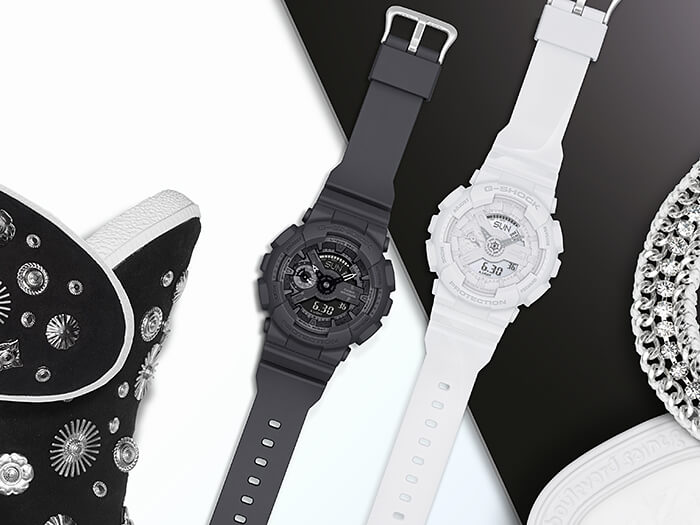 The G-Shock S Series is a specialty line of smaller G-Shock watches created for women, but recent models have more unisex styles like the Military Collection and Metallic Face Series. These watches are about 30% smaller than their large-case counterparts. They are recommended for those with smaller wrists, women, teens, and older children, but are also a viable option for anyone who just wants a smaller G-Shock.

G-Shock MRG-B1000B-1A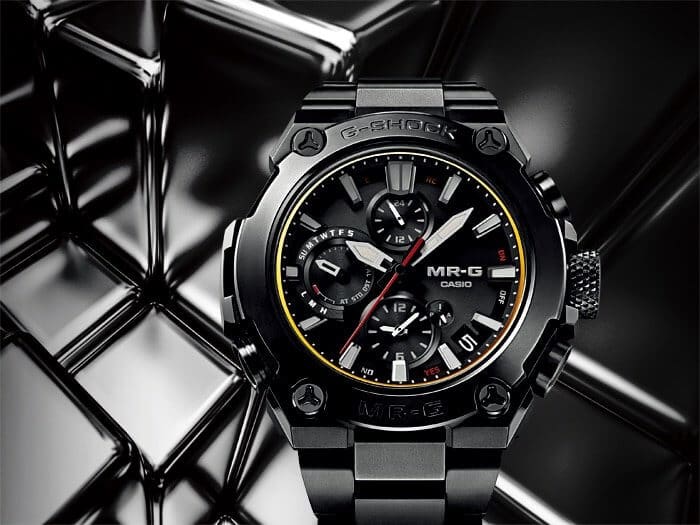 The MRG-B1000 is G-Shock's smallest luxury MR-G model, measuring 52.2 x 46.2 x 14.6 mm. This full-analog G-Shock is made of DLC-coated titanium and features 2-way time sync with Multi-Band 6 and Bluetooth mobile link. The recent MTG-B1000 is the next smallest luxury model, which is more on the large side at 55.8 x 51.7 x 14.4 mm, but smaller than previous MT-G watches.





Disclosure: G-Central is independently managed by fans and is not an official G-Shock site. For official support, visit world.casio.com. Please follow your region's official site for more release information. All articles are written by G-Central. We may earn a commission on purchases from our links to Amazon, eBay, and Reeds Jewelers.
Advertisement: