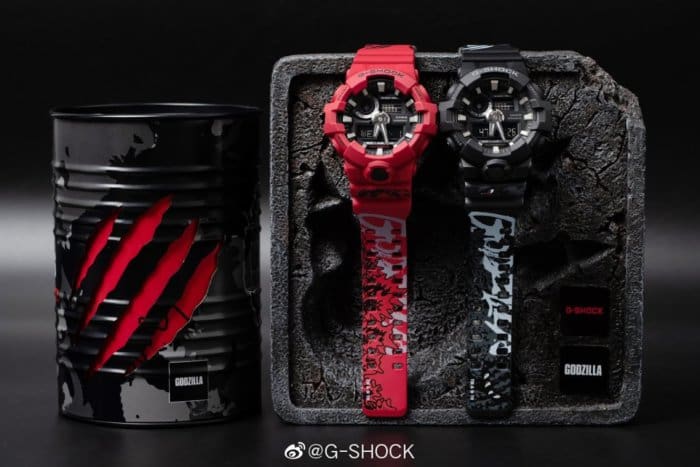 G-Shock China recently unveiled the Godzilla x G-Shock box set on its official Weibo account. The set includes either the black G-Shock GA-700-1BPRG or red G-Shock GA-700-4APRG, which feature custom bands inspired by the King of the Monsters. The list price is 1,090 CNY each, with a release date of September 2020.
The set comes with some impressive packaging that includes a co-branded box with an illustration of Godzilla's back and tail, a "nuclear energy barrel" case with claw scratch marks on one side and a GA-700 graphic on the other, and a rock-like display tray with a claw footprint.
The GA-700 is a large analog-digital model with a front light button, direct stopwatch start button, and a 5-year battery.
The "Godzilla vs. Kong" movie was originally scheduled to be released in 2020 in the U.S., but it has been postponed until May 21, 2021.
Look for the Godzilla x G-Shock set at the official G-Shock stores in China.