Update: The G-Shock GSW-H1000 with Wear OS and a color touchscreen was officially revealed. (Follow link for more information.)
Last year, we reported on Casio's plan to release a G-Shock "G-SMART" smartwatch sometime in fiscal 2020. With the current release of the G-SQUAD (or G-Shock MOVE in the U.S.) GBD-H1000 and GBD-100, and soon the G-LIDE GBX-100, it was not entirely clear if these were the watches that Casio was referring to in that earlier report, or if Casio was still planning on launching a G-SMART line with a new model. Casio's latest financial results announcement for fiscal 2019 have cleared this up. The G-Shock G-SMART watch is a different, yet-to-be-released model, and it will possibly be delayed until 2021.
Though it is not explicitly mentioned in its published financial results briefing, Casio did address the subject during its online announcement. According to a statement, G-Shock is collaborating with the footwear and sports equipment company Asics on the G-SMART watch, and it was originally planned to be released around October 2020. However, due to the postponement and possible cancellation of the Tokyo 2020 Olympics, Casio is considering delaying the release to an unknown time.
No other information was revealed about the watch, but we can infer that it will be designed for runners and fitness. Casio and Asics recently developed a small wearable device that analyzes a runner's form, and that technology may be available on the G-SMART watch. The financial results briefing also details a new sports tech business being developed with Asics that will provide integrated services for wearable devices and smartphone apps, to be launched in fiscal 2020.
Could the upcoming G-Shock G-SMART watch be the recently discovered GSR-H1000? That seems to make sense, and it would solve the mystery of what "GSR" stands for. Though we initially expected the GSR-H1000 to be similar to the GBD-H1000 with an MIP LCD display, if it is part of a new line named G-SMART, we would now expect it to differentiate itself in a major way. Maybe it will have a color touchscreen and Google Wear OS like the Pro Trek Smart line, as that would definitely set it apart from the other running-oriented G-Shock watches.
Update: The upcoming smartwatch appears to be the GSW-H1000, not the GSR-H1000.
Fitness and sensing technology will play a major role in the G-Shock G-SMART watch.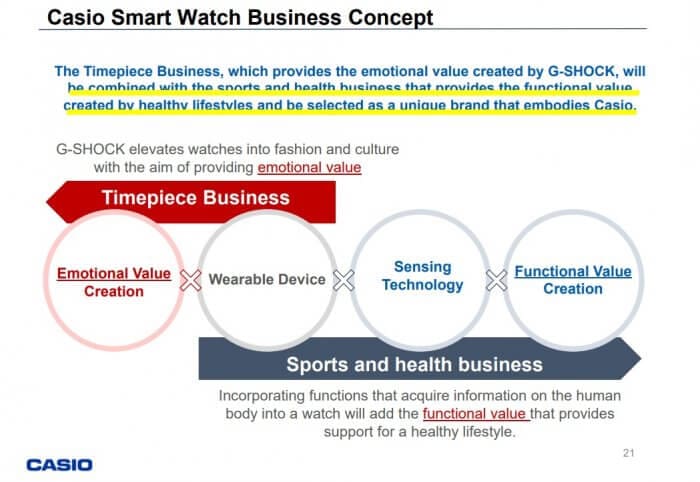 Casio and Asics are jointly developing a new running-related business to provide integrated services to wearable devices and smartphone apps.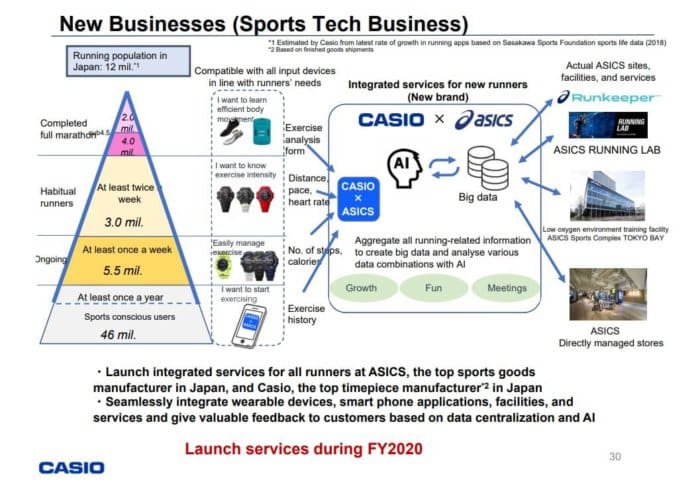 Sources: news.mynavi.jp, world.casio.com