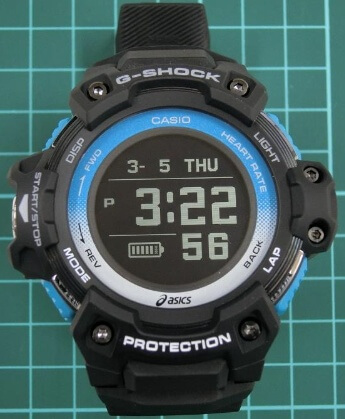 Update: The GSR-H1000AS-SET, which includes the watch and a separate motion sensor, will be released in March 2021.
In addition to photos of the GSW-H1000 prototype, new photos of a GSR-H1000 prototype have also emerged from an equipment authorization application to the U.S. FCC. We speculated earlier that the GSR-H1000 could be the new G-Shock smartwatch, but that was before we learned about the existence of the GSW-H1000, which appears to be a Wear OS smartwatch. Based on these photos, which shows a prototype in a more complete state than the GSW-H1000 prototype, the GSR-H1000 appears to be more of a running-oriented fitness watch made in partnership with footwear and sports equipment company Asics. We previously reported on the Asics collaboration, and an Asics logo appears on the watch face.
Although it doesn't appear to be a full-fledged smartwatch like the GSW-H1000 is expected to be, it is expected to have smart features like we've seen with recent G-SQUAD models. Unlike the current GBD-H1000, the GSR-H1000 doesn't appear to have a solar charging capability.
Based on the photos and other FCC documents, we can assume that the watch has an MIP LCD display like the GBD-H1000 and GBD-100, a heart rate monitor, rechargeable battery, and Bluetooth connectivity. Part of the watch's Quick Reference Manual (Module CW3491) from Casio was also published in the documents, and it shows the watch menu with a GPS time-syncing option, so the watch is likely equipped with GPS. We also believe that it is likely to have a step counter and environmental sensors (altimeter-barometer, compass, and thermometer), like the GBD-H1000.
Other than the final specifications, another question that remains is if the GSR-H1000 will be part of a new G-SMART line, like the GSW-H1000 is expected to be. Though it seems very similar to the GBD-H1000 from the G-SQUAD line, that line typically uses "GB" for the model names.
Keep in mind that these are prototype photos and may not accurately reflect the final product.
Casio may announce the GSR-H1000 and GSW-H1000 watches in January 2021, but Casio is not listed as an exhibitor for CES 2021, which takes place online-only from January 11 to 14, 2021.