Update: The G-Shock GSW-H1000 smartwatch with Wear OS and a color touchscreen was officially revealed. (Follow link for more information.)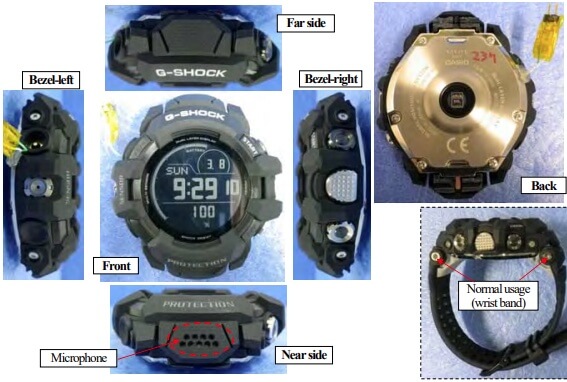 New documents from Casio's equipment authorization application for the upcoming GSW-H1000's RF module to the U.S. Federal Communications Commission have recently been made public. One of the documents includes photos of a GSW-H1000 prototype. If you missed our earlier article, the GSW-H1000 is expected to be G-Shock's first full-fledged smartwatch and part of a new G-SMART line.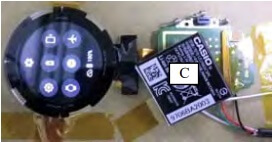 The prototype looks very similar to the GBD-H1000, in terms of size and shape. According to a diagram, the watch measures 65.54 x 56.28 millimeters. In one of the photos, the display is attached to the module but is unattached from the bezel, and it is clearly displaying a (Google) Wear OS settings menu. Though the display is only monochrome in the photos, we are not aware of any Wear OS watches that use a monochrome display as the primary display. It is possible that this watch has a dual-screen setup with both monochrome and color LCD displays, like the Pro Trek smartwatches. Another photo shows an area with small holes on the lower part of the case, which is labeled as "microphone."
Based on what we've seen from the FCC documents and what we know about other smart G-Shock and Pro Trek models, these are the features that we expect the watch to have, grouped by certainty.
Very Certain: Heart rate monitor, Wear OS, color touchscreen, rechargeable lithium-ion battery, microphone, Wi-Fi, Bluetooth
Strong Possibility: GPS, pressure sensor (altimeter and barometer), compass, step counter, dual-screen monochrome and color display
Assuming that the watch has Wear OS and that Casio is able to maintain 200-meter (20 bar) water resistance like all current G-Shocks, the GSW-H1000 will easily take the crown for the most rugged and water-resistant smartwatch.
Keep in mind that the FCC application was for the RF module and not the watch as a whole, and that the prototype photos may not accurately reflect the final product.