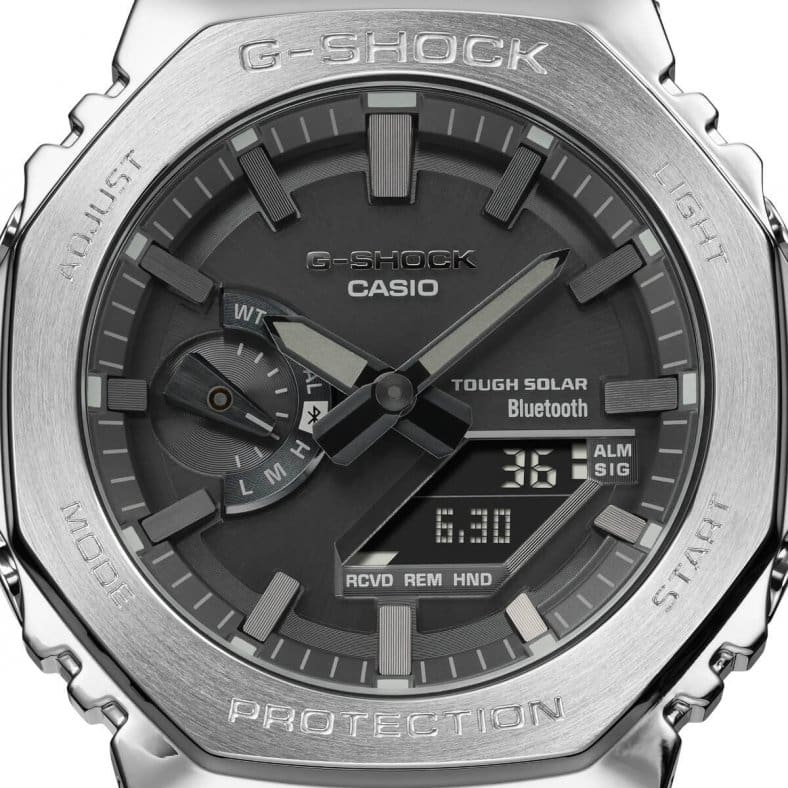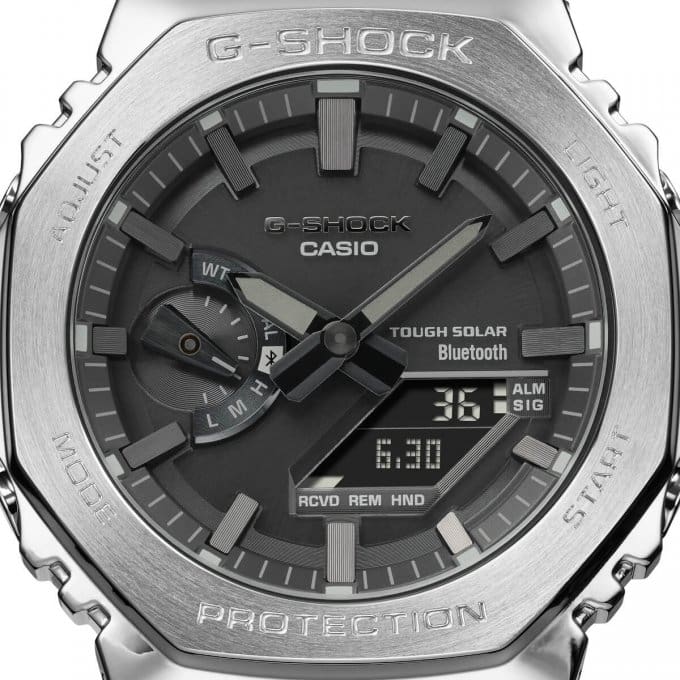 A recent interview with Junichi Izumi and Osamu Inomoto of Casio's Planning and Development Division revealed some additional details about the design of the full metal G-Shock GM-B2100 series and the development of the 2100 line.
The pair revealed that a full metal model was not planned from the beginning. Inomoto says, "At the time of its appearance [GA-2100], no one knew the potential of this model" and Izumi adds, "Actually, the model was not so highly anticipated. Even though we conducted a survey of experts with a prototype before the launch, especially in the global market, people asked, 'Why did you make such a product?" In overseas markets like America, the larger G-Shock watches were very popular, so the huge success of the mid-size GA-2100 around the world was unexpected. They also spoke of how the GA-2100 became popular with younger customers and females and how "This 'appeal to a new segment of customers' is one of the main reasons why the GA-2100 was chosen as the base model for this project."
The GM-B2100 dial is modeled after the GA-2100, but there are some key differences that make the GM-B2100 a more deluxe version. The dial consists of two layers, with the subdial area being another level, unlike the single-piece molding of the GA-2100. The indices have a vertical stripe molding (which is more apparent in closeups) and are vapor-deposited for a metallic feel. The subdial ring is a separate part that is laser welded onto the dial, giving it a 3D effect. This laser-welding process is a luxury technology usually reserved for high-end lines like the MR-G.
According to Izumi, the stainless steel band of the GM-B2100 is "exactly the same" as the GMW-B5000. This will allow customization options for those who already own GMW-B5000 watches (or want to buy parts separately). He states, "Casio is also focusing on this kind of 'development that shares parts across models,' and is promoting more efficient mold manufacturing and parts management. That also leads to a stable supply chain at the manufacturing stage and a reduction in environmental impact. It's an approach to the so-called Sustainable Development Goals (SDGs)." (We've also seen this with the band for the GA-2100 that also fits the DWE-5600, GM-5600, and GM-6900.)
Source: news.mynavi.jp (Japanese)