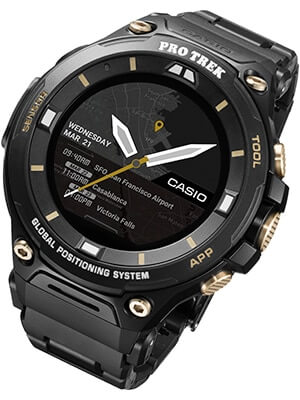 Casio is releasing the limited edition Pro Trek WSD-F20SC in June 2018, a deluxe model featuring a sapphire crystal and field composite band. The WSD-F20SC is limited to 700 units worldwide.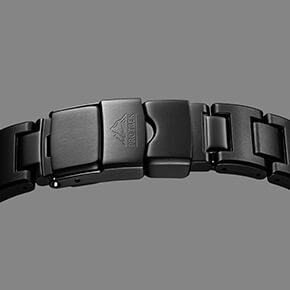 The sapphire crystal has an anti-reflective coating and provides superior scratch resistance. The field composite band is constructed of urethane with metal inserts and fine resin and has a folding clasp lock buckle. The buttons and screws are have a black and gold finish, with an ion plating treatment for excellent abrasion resistance. The black and gold coloring combined with the hard composite band gives the WSD-F20SC a more luxurious look than the standard WSD-F20 models. A sapphire crystal was previously used on the WSD-F20S limited edition, and this is the first time the WSD-F20 is available with a composite band.
Powered by Wear OS (formerly known as Android Wear 2.0), the WSD-F20SC is compliant with MIL-STD-810 environmental stress testing and is water-resistant to 50 meters. The WSD-F20SC has built-in GPS with offline color maps along with a pressure sensor for air pressure and altitude measurements, compass sensor, accelerometer, and gyrometer. The WSD-F20SC also connects to a smartphone via Bluetooth V4.1 and to the internet via Wi-Fi.