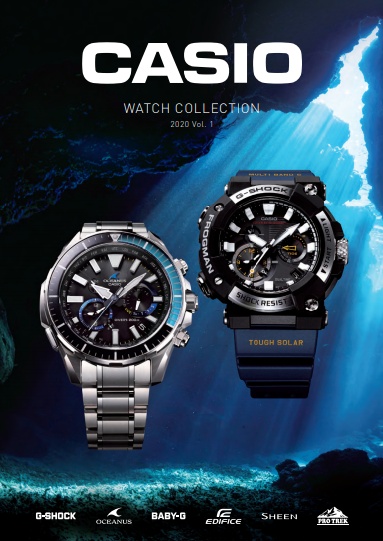 Casio released the "Casio Watch Collection 2020 Vol. 1" catalog online at Casio.jp in Japan. While there are no watches listed that we don't already know about, there are some takeaways that might be of interest to fans.
The cover features the Oceanus OCW-P2000, the first-ever ISO "Diver's 200M" Oceanus watch, and the G-Shock Frogman GWF-A1000, the first-ever Frogman with an analog display. Some people bemoan the Frogman's change to analog, but the catalog also features the GWF-D1000B-1JF and GWF-1000-1JF, so these digital models are still part of the active lineup, at least in Japan. The GWF-D1000 and GWF-1000 are apparently not being distributed in the West anymore, but at least they will still be available as imports.
The GWN-Q1000A-1AJF and GWN-1000B-1BJF are also still listed. These Gulfmaster models seem to be limited to Japan now, but you might find them, along with the digital Frogman models, at official G-Shock stores in some other countries.
The G-STEEL GST-B300-1AJF and GST-B300SD-1AJF are listed for a July 2019 release. In the past, we weren't quite sure how to classify the size of the previous GST-B200. In the catalog, it is labeled as "Mid Size." The GST-B300 is not labeled as such, but it has similar dimensions as the GST-B200.
The popular GA-2100-1AJF, GA-2100-1A1JF, and GA-2100-4AJF from 2019 are listed in a section featuring other well-established models. The GA-2100-1A1 is still very difficult to find at official retailers. There was a small restocking in April and May at a few places, but we are still waiting for a larger and wider restock.
Notable watches that are missing from the catalog include the top-of-the-line MR-G series and the beloved GW-5000-1AJF. We wouldn't read too much into that, as the GW-5000-1AJF was missing from previous catalogs as well, but it is still an active model according to the website.
For Pro Trek, the PRW-30 series is listed for a July 2020 release.
The catalog also includes Casio's other brands and watches, including Baby-G and G-MS.
Source: casio.jp/wat/catalogue