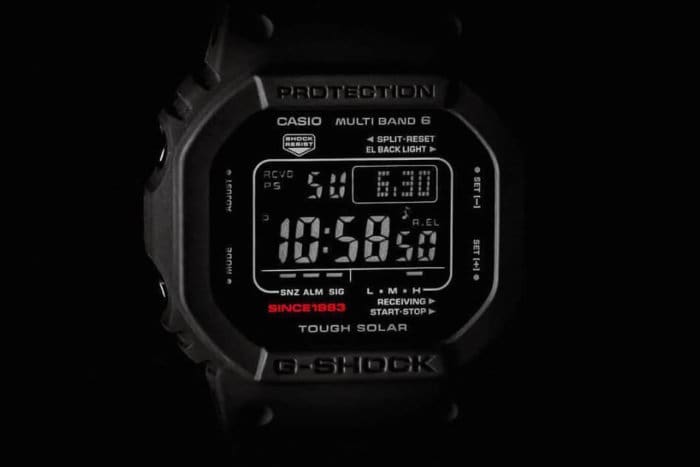 Update: As this is an older 2017 release for 2018's G-Shock 35th Anniversary, at this point it is sold out and only available on eBay for very high prices.
As noted in our original article about the G-Shock GW-5035A-1 35th Anniversary Origin Tribute Watch, this model is one of the most in-demand of the limited edition G-Shock anniversary watches. It's officially available only in Japan, China, Taiwan, and the U.S.
It's sold out in Japan with heavy price markups on eBay. We expect it to be just as difficult to find in China (at least online), and your best bet for finding one at a reasonable price would most likely be a U.S. model (GW5035A-1). So where can you buy one?
Update: All online authorized resellers appear to be sold out. Availability on Amazon has been sporadic. We saw a few in Hong Kong but the price was higher than the U.S. list price.
If you can't find the GW5035A-1, other 35th Anniversary models from the Big Bang Black Collection are more readily available, or you could opt for the GW-5000-1JF.
ShopCasio: ShopCasio.com is the official G-Shock online store in North America. They had the GW5035A-1 listed as "Coming Soon" and sent out some in-stock email alerts with a working "Add To Cart" link where you could actually order it. Now the GW5035A-1 page is completely gone and it is not listed anymore.
Other Authorized Casio Resellers: Tourneau had the GW5035A-1 available for list price, but it is now out of stock. As online options have dwindled at this point, your best bet may be smaller, regional Casio dealers at brick and mortar locations.
Amazon: Some third-party sellers on Amazon offered the GW5035A-1 at list price, but we've only seen that with two sellers and they sold out quickly. Turntable Lab has been adding a several batches without a markup, so kudos to them for not being greedy. Some other sellers have offered it above list price. Availability has been sporadic.
eBay: It's extremely unlikely that you will be able to get one for list price on eBay. Still, you can always check the GW5035A-1 listings and hope to get lucky or find one that isn't marked up too much.