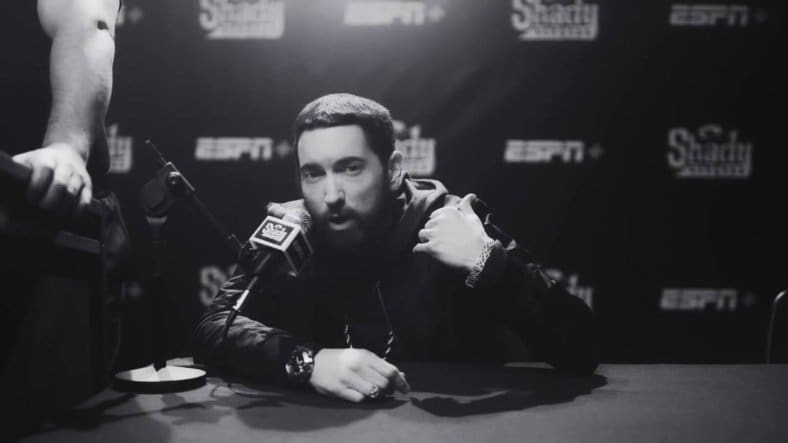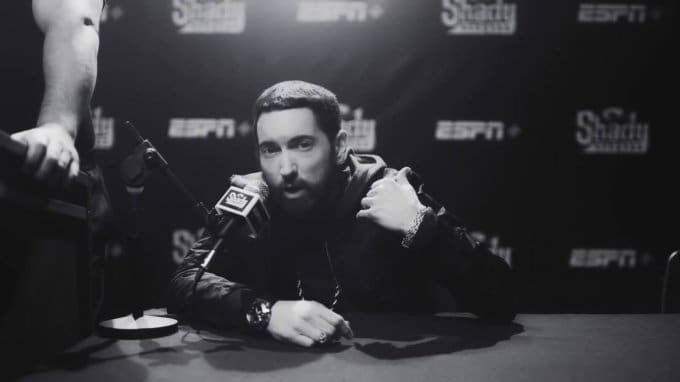 We feared that Eminem had abandoned his G-Shock watches in favor of more expensive gold watches lately, but that is not entirely the case, as he wears a G-Shock GM-110 wristwatch in his new music video for the song "Higher." In addition to featuring G-Shock, the music video is notable for its MMA theme featuring UFC footage and appearances by UFC President Dana White and ESPN anchor Michael Eaves.
The watch is seen during a press conference sequence and appears to be a G-Shock GM-110-1A with a silver bezel. As the sequence is in black and white, it is also possibly the gold GM-110G-1A9. The GM-110 series made its debut in 2020 and is known as a metal version of the bestselling steampunk-inspired GA-110, with a stainless steel bezel and resin band.
Eminem was known to be one of G-Shock's strongest supporters throughout his career and had his own collaboration model, the GD-X6900MNM-1 from the G-Shock 30th Anniversary. Before this video, the last time we spotted him wearing a G-Shock was in 2017.
Update: G-Shock U.S. released a color photograph from the shoot, and the watch is the GM-110G-1A9 (US model GM110G-1A9).