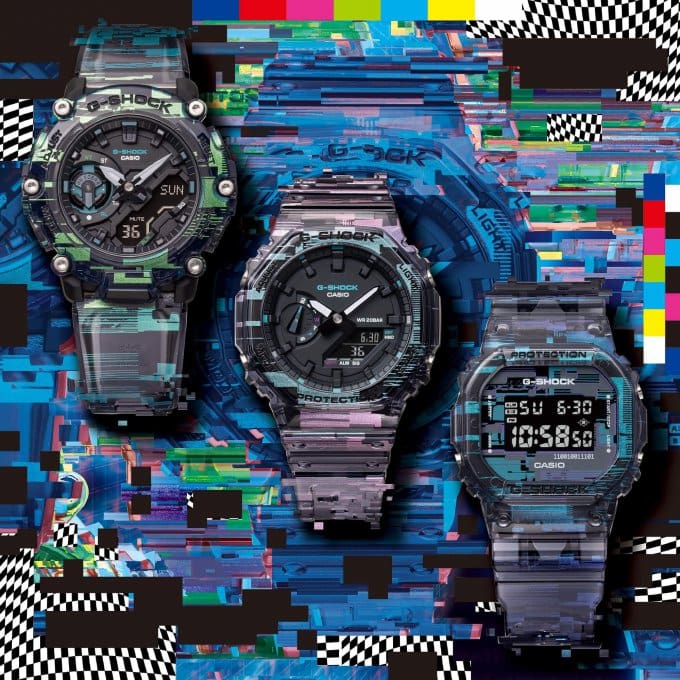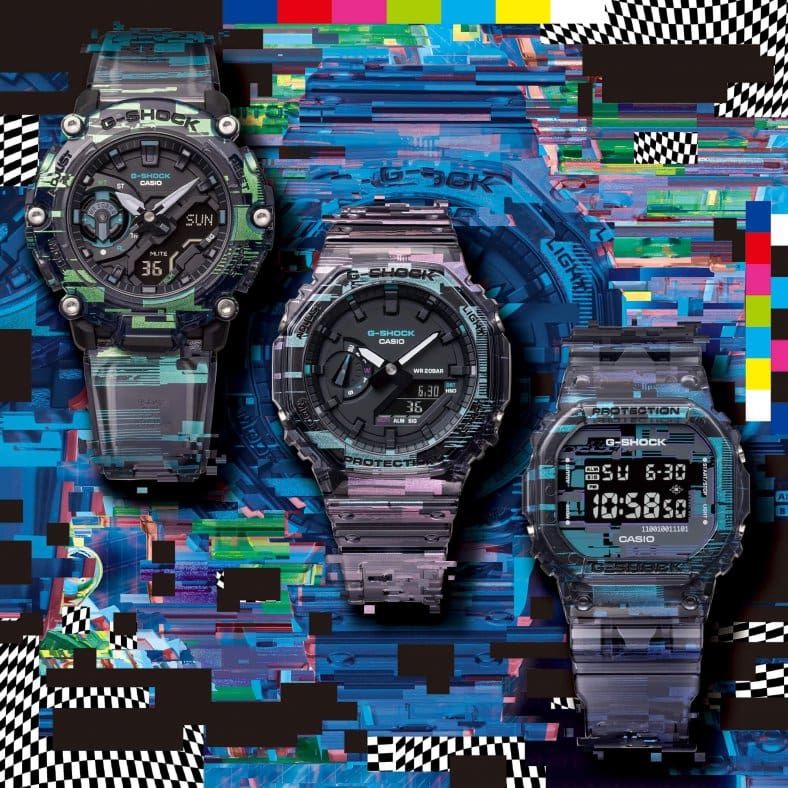 This unique G-Shock series is inspired by the types of glitches experienced in the digital world, like the visual errors seen in a digital graphic or video. The watches combine translucent skeleton-style resin with blue-green and purple polarized ink to create a visually striking effect. The series is a June release in Japan and is expected to be released worldwide.
Update: G-Shock U.S. released the DW5600NN-1 ($140), GA2100NN-1A ($140), and GA2200NN-1A ($160).
G-Shock DW-5600NN-1: Binary number "110010011101" on the face converts to "3229" decimal number, which is the module number of the DW-5600.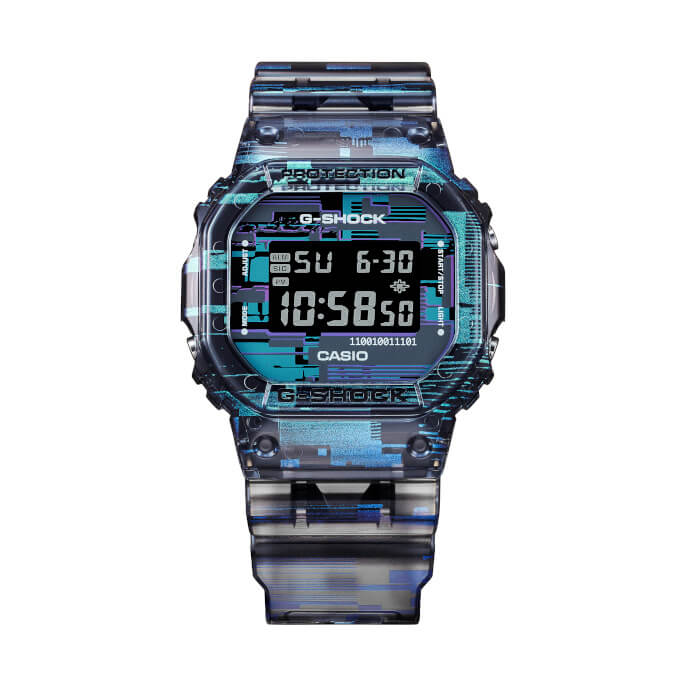 List Price: $140 Size: 48.9 × 42.8 × 13.4 mm Weight: 53 grams
Structure: Resin case, bezel, and band, mineral glass
Protection: Shock Resistance, 200-meter Water Resistance Power: Battery (CR2016, approx 2-year life)
Features: Stopwatch (23:59'59 max, 1/100-second first 60 minutes, 1-second after 60 minutes, elapsed time, split time, 1st-2nd place times), countdown timer (24 hours, settable in seconds, minutes, and hours, auto-repeat), multi-function alarm, hourly time signal, flash alert, EL backlight with afterglow, full auto-calendar, 12/24-hour format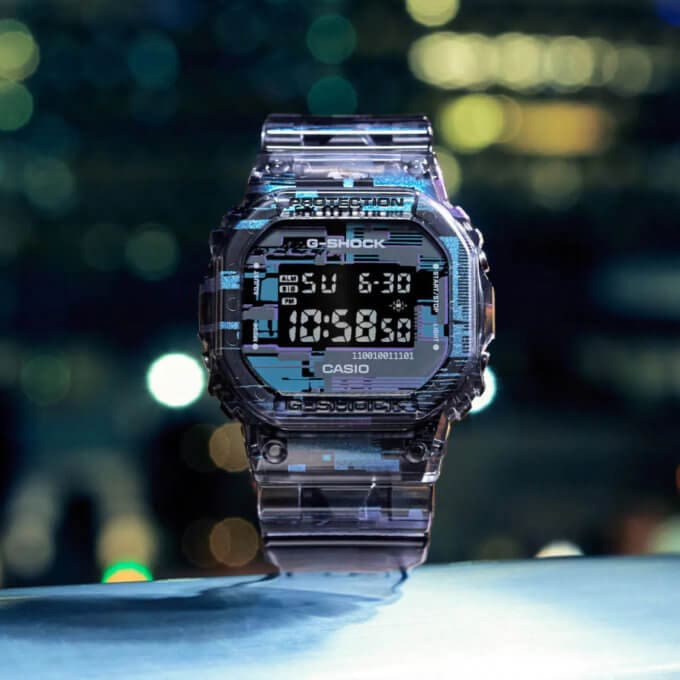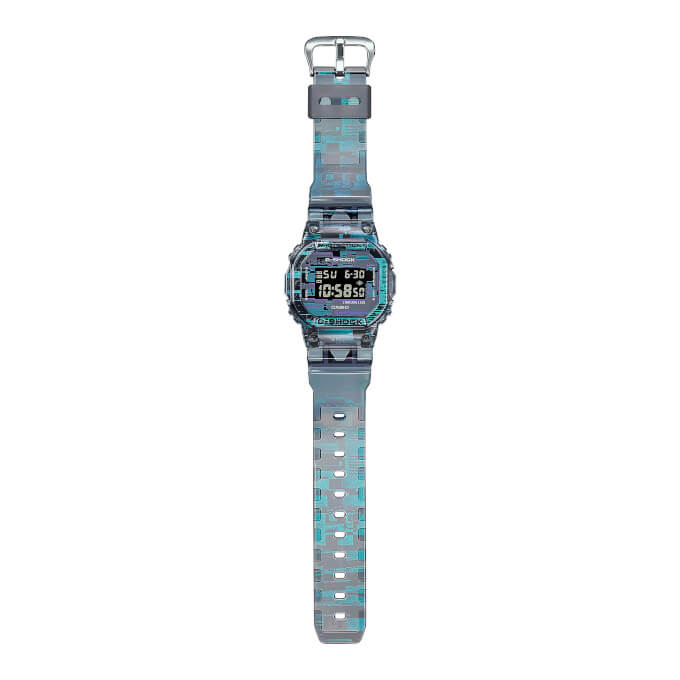 G-Shock GA-2100NN-1A: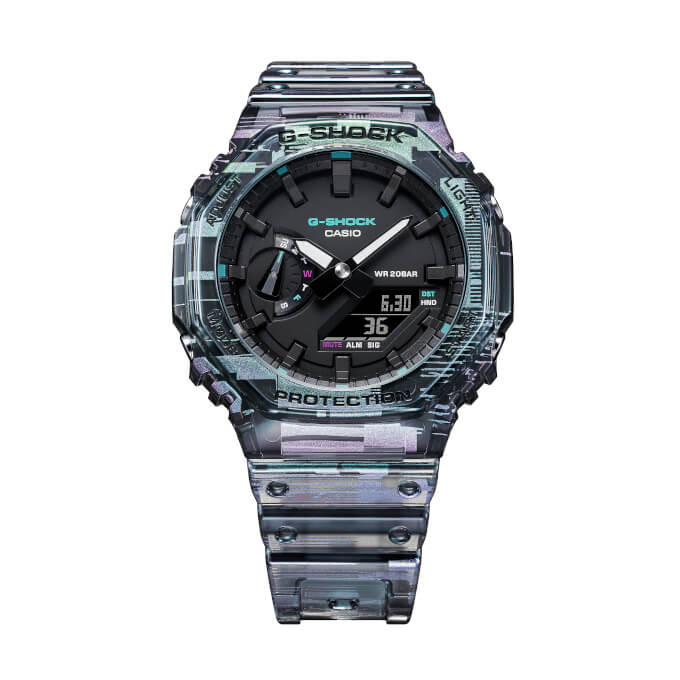 List Price: $140 Size: 48.5 × 45.4 × 11.8 mm Weight: 51 grams
Structure: Carbon Core Guard, resin case, bezel, and band, mineral glass, Neobrite
Protection: Shock Resistance, 200-meter Water Resistance Power: Battery (SR726W x 2, approx. 3-year life)
Features: World time (31 time zones, 48 cities + UTC, DST on/off), stopwatch (23:59'59 max, 1/100-second first 60 minutes, 1-second after 60 minutes, elapsed time, split time, 1st-2nd place times), countdown timer (24 hours, settable in seconds, minutes, and hours), 5 daily alarms, hourly time signal, dual LED light with 1.5 or 3-second afterglow, full auto-calendar, button tone on/off, hand shift feature, 12/24-hour format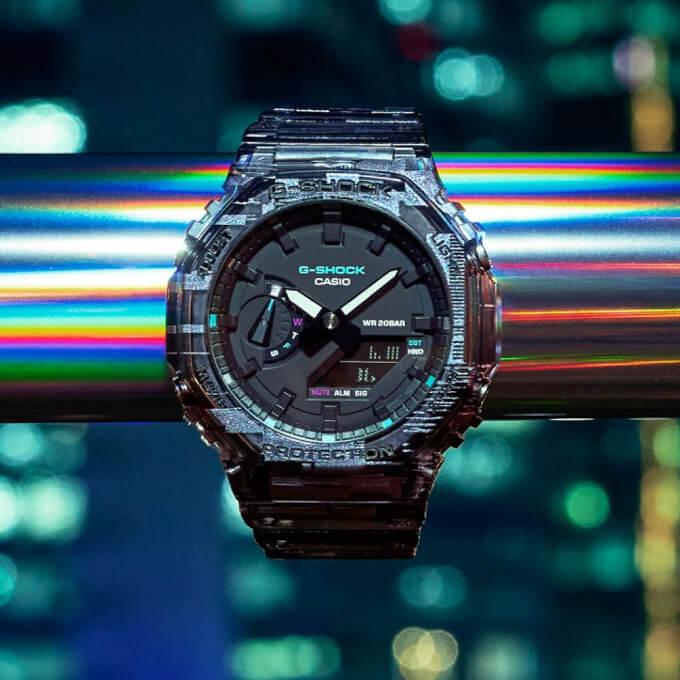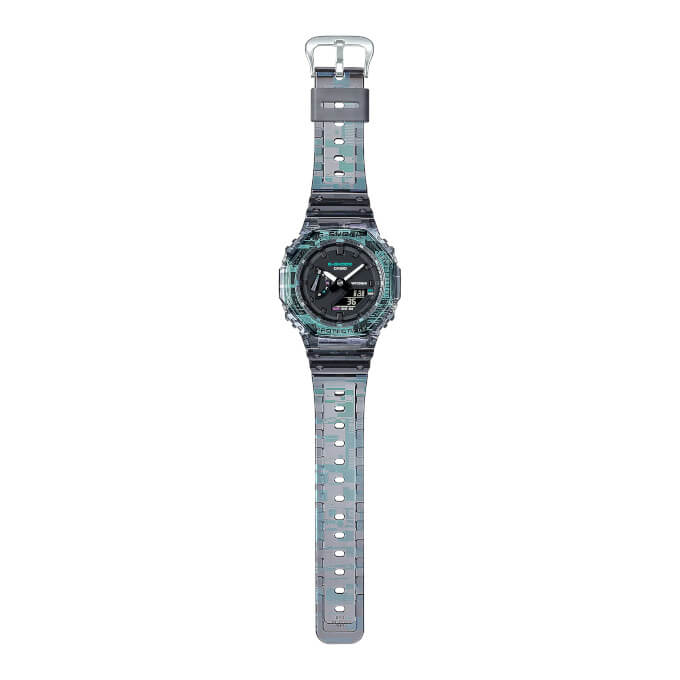 G-Shock GA-2200NN-1A: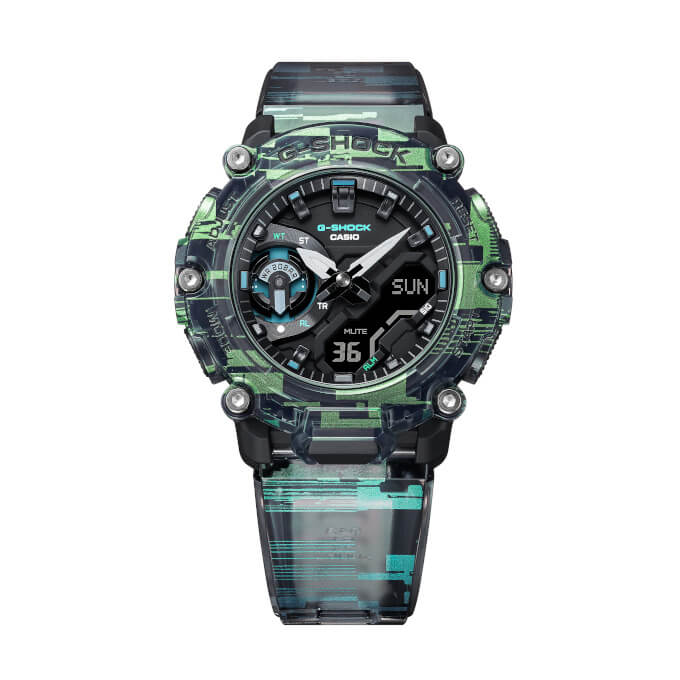 List Price: $160 Size: 50.8 × 47.1 × 13.1 mm Weight: 57 grams
Structure: Carbon Core Guard, resin case, bezel, and band, mineral glass
Protection: Shock Resistance, 200-meter Water Resistance Power: Battery (SR726W x 2, approx. 3-year life)
Features: World time (31 time zones, 48 cities + UTC, DST on/off), stopwatch (23:59'59 max, 1/100-second first 60 minutes, 1-second after 60 minutes, elapsed time, split time, 1st-2nd place times), countdown timer (24 hours, settable in seconds, minutes, and hours), 5 daily alarms, hourly time signal, dual LED light with 1.5 or 3-second afterglow, full auto-calendar, button tone on/off, 12/24-hour format, hand shift