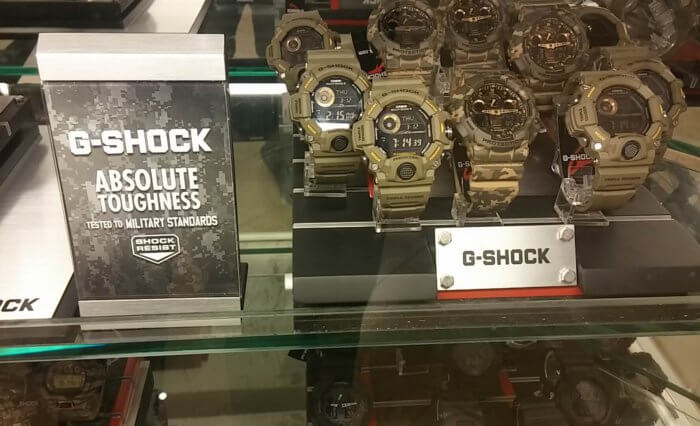 (For more G-Shock watches from all price ranges see our 15 Best G-Shock Watches and Cheapest Basic G-Shock Watches.)
It's no secret that Casio G-Shock watches are popular with service members. For less than $100, it's the best military watch that can withstand the most demanding use and the harshest environments. While any G-Shock model can handle the rigors of military life, we've chosen the following watches for their conservative styling, low price, features, and battery life.
Standard G-Shock Features: All the following watches have the standard G-Shock features: shock resistance, water resistance up to 200 meters, 12 or 24 hour format, and an electro-luminescent (EL) backlight or LED light. Unless otherwise noted, they also feature world time, auto calendar, 4 daily alarms including 1 snooze alarm, stopwatch, countdown timer, and button tone on/off setting. All selections have a resin band for easy adjustment and maximum comfort.
Tough Solar: One major decision to make when buying a G-Shock is whether to buy a watch that has the Tough Solar feature. With a Tough Solar watch, the battery can last up to 9-10 months after a full charge with no further exposure to light, and the battery will continue to recharge whenever exposed to light. The rechargeable battery is expected to last for many years (often beyond 10) and will generally outlast a normal battery. A Tough Solar watch is a good choice if you expect to be somewhere remote for a while and don't want to be concerned with having to replace the battery at an inopportune time. We usually prefer Tough Solar watches, but also keep in mind that the regular batteries tend to last a lot longer than their estimated life (at least for all-digital models). Also worth noting for non-solar watches is that all-digital models have a longer estimated battery life than analog models.
Note: Prices may have fluctuated from the time of publication, and some watches may now be over $100. Also, some models might be priced higher than $100 on international Amazon sites.
G-Shock GA700UC-8A
The GA700 is an affordable G-Shock watch that has gained a lot of popularity since its 2016 release. This extra-large 53.4mm watch is ideal for those with bigger wrists. The GA700 is notable for its front-facing LED light button (a first for an affordable analog-digital G-Shock) and its estimated 5-year battery life, which is longer than most non-solar models with an analog-display. Other features include world time, 5 daily alarms with 1 snooze alarm, stopwatch, and countdown timer. The dark gray GA700UC-8A from the GA-700UC Utility Color Series is one of three models with military-inspired colors.
PROS: Front light button, long battery life, large rugged appearance
CONS: Countdown timer is limited to 60 minutes, size might feel too large for some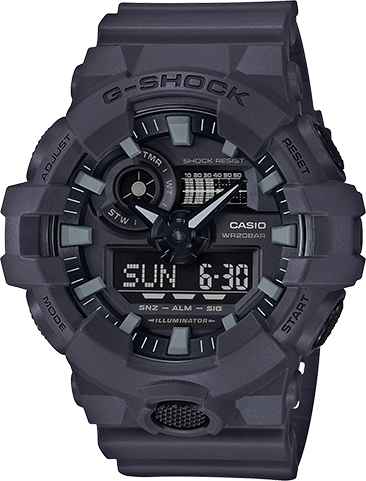 GA700UC-8A on Amazon GA700UC-8A on eBay
G-Shock GD400MB-1
The GD400MB-1 is a large-size G-Shock featuring a "bullbar" wire face protector for increased impact resistance. Combined with its green-tinted reverse LCD display and all-black body, this gives the watch a tough tactical look. This watch features an adjustable "flash alert" with LED light and buzzer for the alarms, hourly time signal, and countdown timer. Other unique features are the multi-time function that will display the time for 4 different cities and a low battery warning.
PROS: A very rugged G-Shock
CONS: Bulky case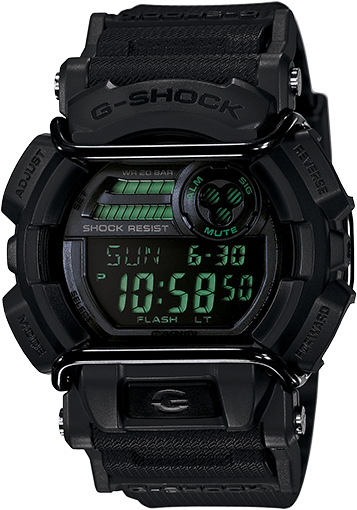 GD400MB-1 on Amazon GD400MB-1 on eBay
G-Shock G100-1BV
The G100-1BV adheres to the military's K.I.S.S. (Keep It Simple, Stupid) principle for those who prefer a no-nonsense watch with analog hands. The time or date is also shown on a small digital display and the watch features magnetic resistance, 1 daily alarm, stopwatch, and auto calendar. The battery is rated for 3 years.
PROS: Low price, simple design, easy-to-read analog style
CONS: No countdown timer, no world time, adjusting the time can take a while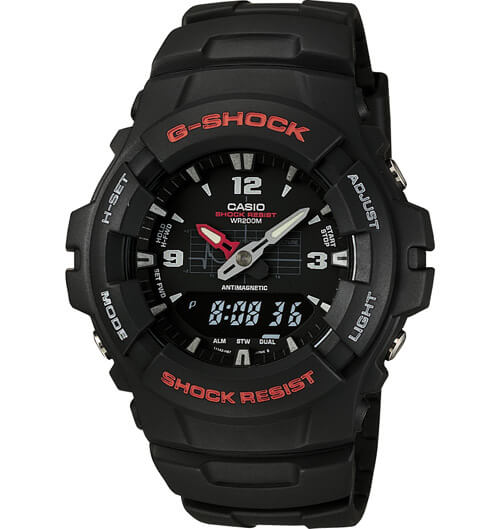 G100-1BV on Amazon G100-1BV on eBay
G-Shock GWM530A-1
The GWM530A-1 is one of the sleeker looking G-Shock watches with a relatively low profile and has the Multi-Band 6 function for automatic time syncing. The watch automatically adjusts the time by receiving radio signals from the transmitter stations in the US, UK, Germany, Japan (2), and China. An advantage of this watch is that the digits on the LCD display are very large compared to other G-Shocks.
PROS: Large display, solar charging, Multi-Band 6
CONS: Case style is not as G-Shock-like as other models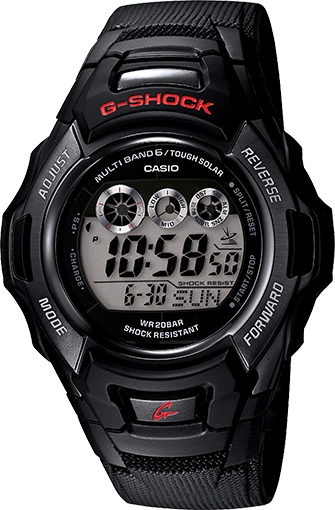 GWM530A-1 on Amazon GWM530A-1 on eBay
G-Shock AWGM100B-1A
The solar-powered AWGM100B-1A is a solid upgrade from the G100-1BV. This Tough Solar/Multi-Band 6 model features a simple all-black design with white analog hands for easy viewing. It is the only solar-powered analog model on this list, and like the G100-1BV, it is a smaller-sized analog G-Shock than the GA-100 models. This is a good choice for basic time-telling and maintenance-free operation, but if you plan to use functions like the stopwatch and countdown timer often, you may want to opt for an all-digital model with a larger LCD display.
PROS: Conservative styling with advanced features
CONS: No second hand (but does have second data on LCD subdisplay), countdown timer limited to 100 minutes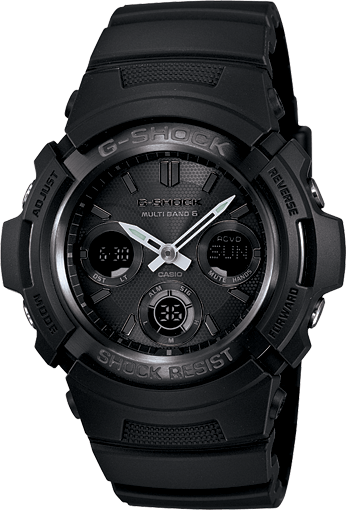 AWGM100B-1A on Amazon AWGM100B-1A on eBay
G-Shock GW6900-1
The simple and confident looking GW6900-1 has an easily accessible EL backlight button on the front of the case, which makes it a good choice for those operating in the dark. The DW6900-1V is a more affordable option with the same case, but it lacks Tough Solar, Multi-Band 6, and world time. The GW6900 descends from the DW6600, which was the first G-Shock with an EL backlight and was issued to Navy SEALS.
PROS: Iconic G-Shock case, solar charging, Multi-Band 6
CONS: More features means a higher price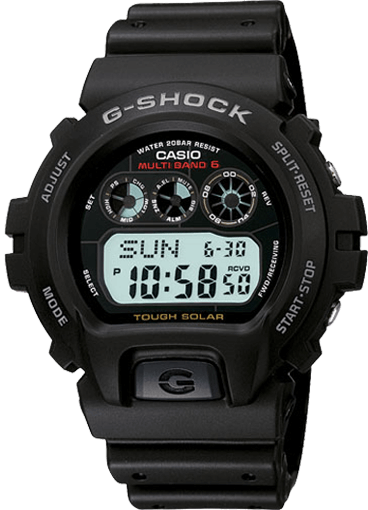 GW6900-1 on Amazon GW6900-1 on eBay
G-Shock G9000-1V
The G9000-1V Mudman is the previous generation Mudman and is known for its extra-protective case featuring mud and dust resistance. It's a good choice if your military deployment takes you to an extreme environment like the desert or jungle. While there are other G9000 Mudman watches with military-themed colors, those models have a reverse LCD display, and we recommend this model for its easier-to-read standard standard LCD display.
PROS: An extra-rugged model
CONS: Large buttons but there is more resistance when pressing them due to the protected button structure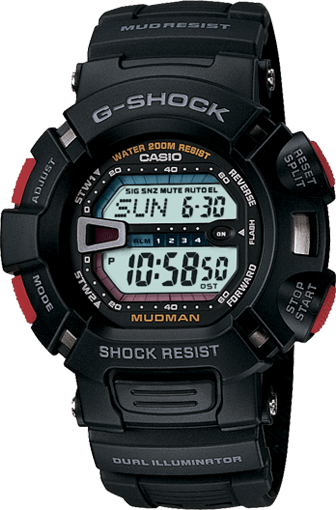 G9000-1V on Amazon G9000-1V on eBay
G-Shock GD120MB-1 Military Black
The GD120MB-1 is a blacked-out all-digital Military Black version of the popular 100 series style of case. The GD120 has a 7-year battery, making it a good choice for worry-free military use.
PROS: Large and tough looking, large buttons, good battery life
CONS: Reverse display may be harder to read in low light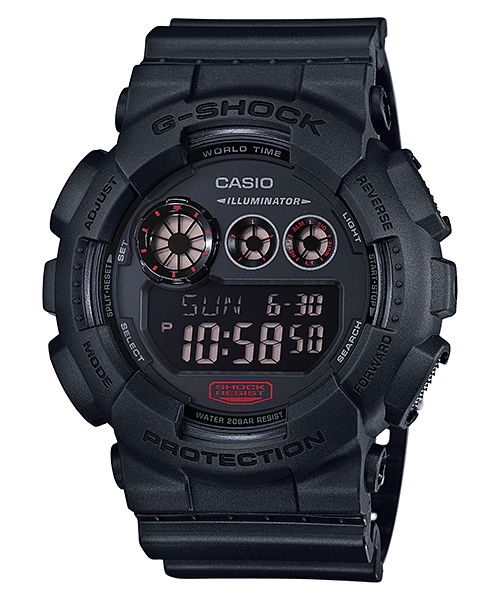 GD120MB-1 on Amazon GD120MB-1 on eBay
G-Shock GA100MB-1A Military Black
The GA100MB-1A is a stealthy matte black G-Shock with an analog-digital display. It is a large model with stealth lettering that is part of the Military Black series. The GA100MB-1A has high contrast analog hands for quick and easy reading, but this comes at a cost of less battery life than all-digital (LCD only) models. The GA100MB-1A features magnetic resistance, a 1/1000 stopwatch, and a speed measurement function that will calculate your speed measured over a certain distance. This model is a favorite for police and law enforcement use, as it matches dark uniforms well.
PROS: Large analog style with contrasting hands is easy to read
CONS: Battery life is rated for 2 years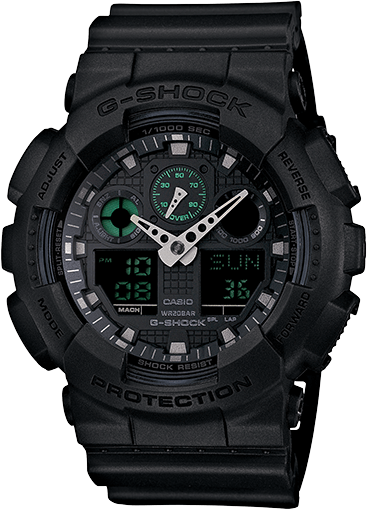 GA100MB-1A on Amazon GA100MB-1A on eBay
G-Shock GDX6900-1
The GDX6900-1 is the extra-large version of the popular 6900 case. It is known as the MIL-STANDARD G-Shock because it passes the environmental stress testing of MIL-STD-810. It is also known for its impressive 10-year battery life and Alpha Gel protection for extreme shock resistance. It is a popular model that is available in a wide range of colors and styles, but for military use we recommend the basic black model.
PROS: 10-year battery, large buttons, popular and proven design
CONS: reverse LCD display may be more difficult to see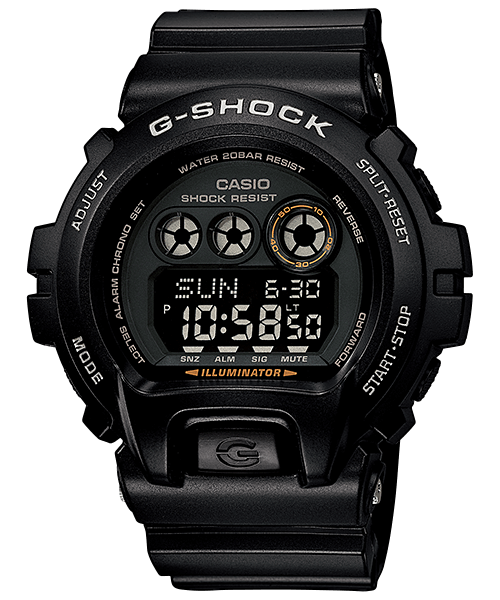 GDX6900-1 on Amazon GDX6900-1 on eBay
G-Shock GWM5610-1
The classic GWM5610-1 is based on the first G-Shock model ever made and has modern features added, such as Tough Solar power, Multi-Band 6 timekeeping, and world time. At 12.7 millimeters thick, it is the thinnest G-Shock model here, which makes it a good choice for wearing the watch under long sleeve shirts and uniforms. The GWM5610-1 is a good all-around watch for any military application.
PROS: classic design, solar power, Multi-Band 6 timekeeping, unobtrusive slim profile
CONS: may be small for those with large wrists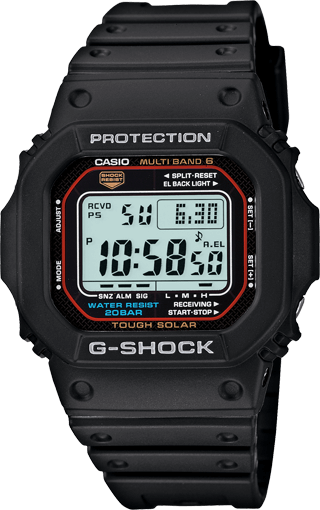 GWM5610-1 on Amazon GWM5610-1 on eBay
G-Shock GD350-8
The gray GD350-8 looks like army equipment, and its special features are designed for stealth operations. Unlike most other watches, the countdown timer can be displayed and activated with the current time showing simultaneously. The countdown timer has a dedicated button that is large and easily accessible in any conditions. For end of countdown alerts, the watch can either be set to vibrate or to beep and flash an LED light. This unique vibration alert can also be used for alarms and an hourly time signal. The high luminescence LED can be set up for 1, 3, or 5 seconds. The watch also features 5 daily alarms including 1 snooze alarm and a long-lasting 5 year battery with a low battery warning. All these useful features add up to make this our top pick for a military G-Shock.
PROS: Large display, vibration mode, dual display mode, long battery life
CONS: Pricey for a non-solar model, size and thickness may make it difficult to wear under long sleeves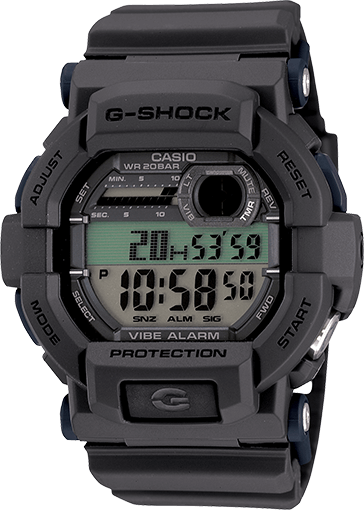 GD350-8 on Amazon GD350 on eBay
About Military Dress Codes: While certain units may have their own dress codes, there aren't any strict regulations on wearing watches in the military other than to keep it simple and conservative. Regarding jewelry in Army Regulation 670–1, the U.S. Army states "Soldiers may wear a wristwatch … with Army uniforms, unless prohibited by the commander for safety or health reasons," and goes on to say "Any jewelry or monitors worn by Soldiers while in uniform or in civilian clothes on duty must be conservative." 2201 of the U.S. Navy's Uniform Regulations states "Wristwatch / Bracelets. While in uniform, only one of each may be worn." In AFI 36-2903, the U.S. Air Force is more specific on what constitutes a conservative watch and says, "Conservative examples (not all inclusive) are solid color black, brown, silver or gold. Prohibited examples are diamond-covered, neon, bright colors, and bands that exceed 1-inch width.." The U.S. Marines Corps Uniform Regulations state "Inconspicuous watches are authorized for wear in uniform." Based on these regulations we can be safe to assume that any dark, solid-color G-Shock watch is acceptable for military use in any branch.
Conclusion: Keep in mind that any G-Shock model can handle military use so you should not limit your choices to this list only. Also see our Top Camouflage G-Shock Watches. For higher-end specialty G-Shocks with more features like compass sensor, altimeter, and barometer see our Master of G Buyer's Guide. For our overall top G-Shock picks see our 10 Best G-Shock Watches. For the cheapest options see Cheap G-Shock Watches Around $50.





Disclosure: G-Central is independently managed by fans and is not an official G-Shock site. For official support, visit world.casio.com. Please follow your region's official site for more release information. All articles are written by G-Central. We may earn a commission on purchases from our links to Amazon, eBay, and Reeds Jewelers.
Advertisement: