November is a good month for square-lovers as G-Shock Japan has announced seven 5600-series watches in the DW-5600M and GW-M5610MD series, three in the matching Baby-G BGD-5000MD series, and a his 'n' hers combo Lover's Collection 2015.
The DW-5600M series consists of the DW-5600M-2 (navy blue), DW-5600M-3 (khaki/olive/green), DW-5600M-4 (orange), and DW-5600M-8 (sand beige/gray). Initially we thought the "M" stood for "minimal" since the face has such an uncluttered design with a lot of white space but it actually stands for "military." Though based on military colors, they are not intended for military use, and represent a melding between military colors and casual fashion concepts. List price is ¥12,000 JPY.

The GW-M5610MD series includes the GW-M5610MD-2JF (blue), GW-M5610MD-7JF (white), and GW-M5610MD-9JF (yellow). The blue and white models have a blue-tinted reverse LCD display while the yellow model has a yellow-tinted standard LCD display. These candy-colored watches are inspired by 90s-style pop colors and street fashion, and are equipped with Tough Solar and Multi-Band 6. We have no idea what the "MD" stands for here. List price is ¥21,000 JPY.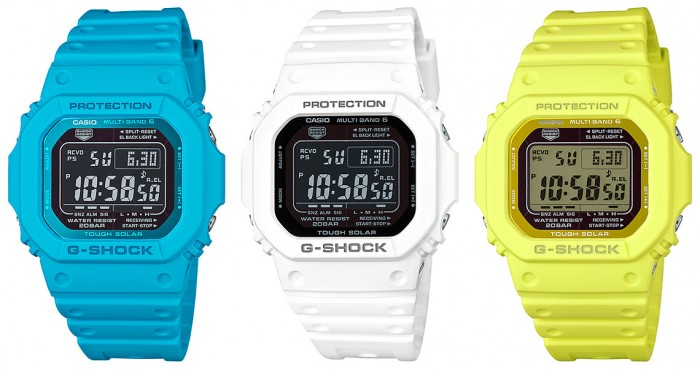 The Baby-G BGD-5000MD series offers some matching models to the GW-M5610MD series and includes the BGD-5000MD-1JF (black), BGD-5000MD-2JF (blue), and BGD-5000MD-9JF (yellow). These 5600-inspired Baby-G models include Tough Solar and Multi-Band 6 and have 200M water resistance. List price is ¥19,000 JPY.