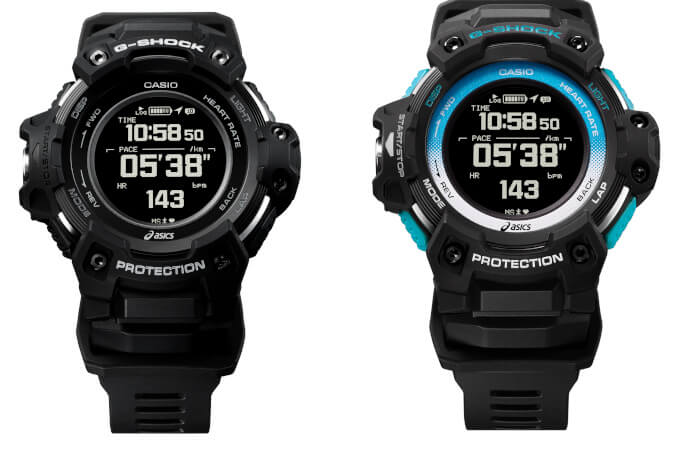 G-Shock Japan is releasing the first GSR-H1000 running watches that are available individually, unlike the initial GSR-H1000AS-1, which needed to be purchased as part of the GSR-H1000AS-SET that included the CMT-S20R-AS motion sensor. The motion sensor is also available to purchase separately. (It should be noted that the GSR-H1000 series has not been released outside of Japan, and the supported Runmetrix and Walkmetrix smartphone apps may not be available outside of Japan.)
The GSR-H1000AST-1JR (above right) and GSR-H1000AST-1AJR (left) were co-developed with Asics and have advanced running features. The watches are equipped with a heart rate monitor and GPS like the GBD-H1000, but do not have solar charging or environmental sensors like that model. The watches can be paired with the CMT-S20R-AS sensor to view running form data in real time, with an alert function to notify the user of form irregularities. The watches can also be used without the motion sensor and are compatible with the Runmetrix and Walkmetrix smartphone apps that were developed by Casio and Asics.
The GSR-H1000AST-1JR has the same black and blue color scheme as the initial GSR-H1000AS-1, and the GSR-H1000AST-1AJR is an all black model. Both models have a tax-included price of 44,000 yen and will be released on October 15 in Japan.
G-Shock GSR-H1000AST-1JR: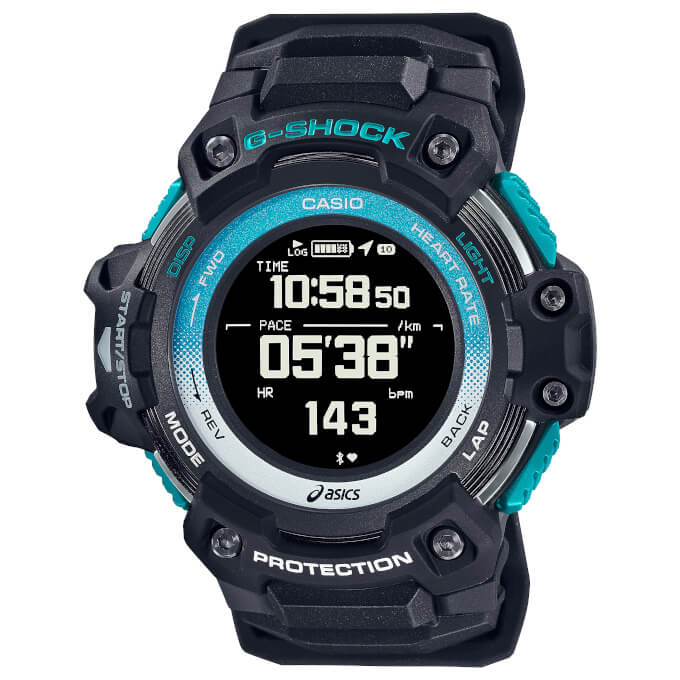 G-Shock GSR-H1000AST-1AJR: