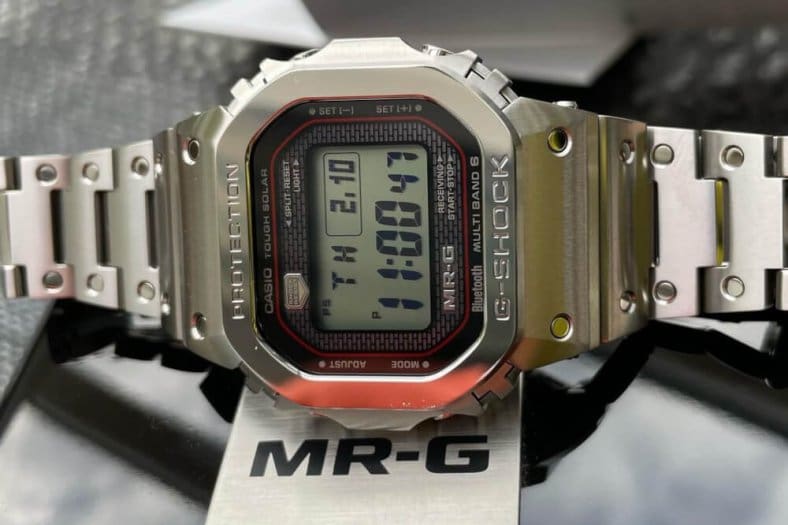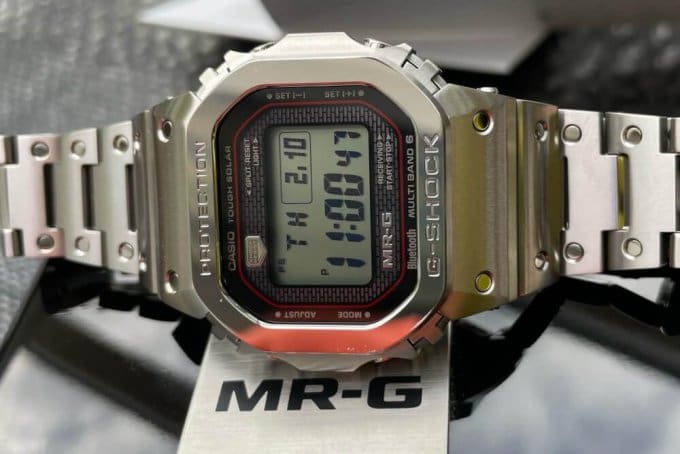 There's still no official word on when the all-new G-Shock MRG-B5000 series will be released, but it may be soon, as a German retailer recently revealed original photos of the MRG-B5000D-1 watch in-store (technically the MRG-B5000D-1DR for Europe).
The caption on the Instagram post states that the watch has a titanium "TI64" case, a titanium "DAT55" band, and a bezel made of "COBARIUM" (presumably meaning "Cobarion"). Cobarion, a cobalt-chrome alloy that is four times harder than pure titanium, was previously used on MR-G models like the $4,000 MRG-G2000CB-1A and the $8,000 MRG-B2000BS-3A. The Ti64 alloy is known for its strength and corrosion resistance, and DAT55 is another strong and lightweight titanium alloy that is used in high-end golf driver clubs.
Japanese fan blog Great G-Shock World previously posted an original photo (which appears to be from the same source), and noted how the front bezel has a polished, mirror-like appearance and the rest of the bezel assembly has a matte brushed finish, unlike the similar-looking stainless steel GMW-B5000D-1 which has a front bezel with a brushed hairline finish with the rest of the bezel being polished. (The MRG-B5000 is expected to have a bezel assembly made of multiple pieces.)
A second model, the black MRG-B5000B-1 with a full diamond-like carbon (DLC) coating and gold accents, is also expected. In the U.S., the silver MRGB5000D-1 is expected to be $3,500, and the black MRGB5000B-1 is expected to be $4,000.