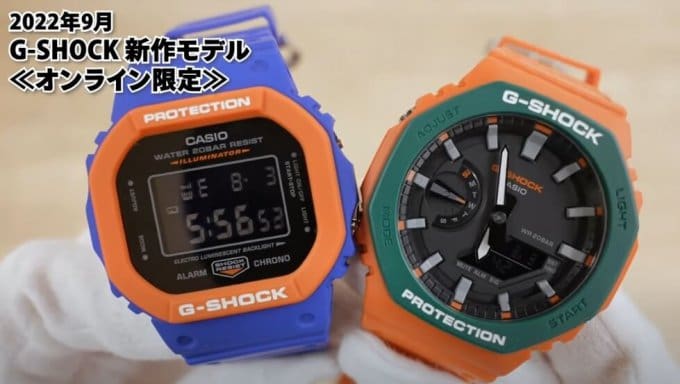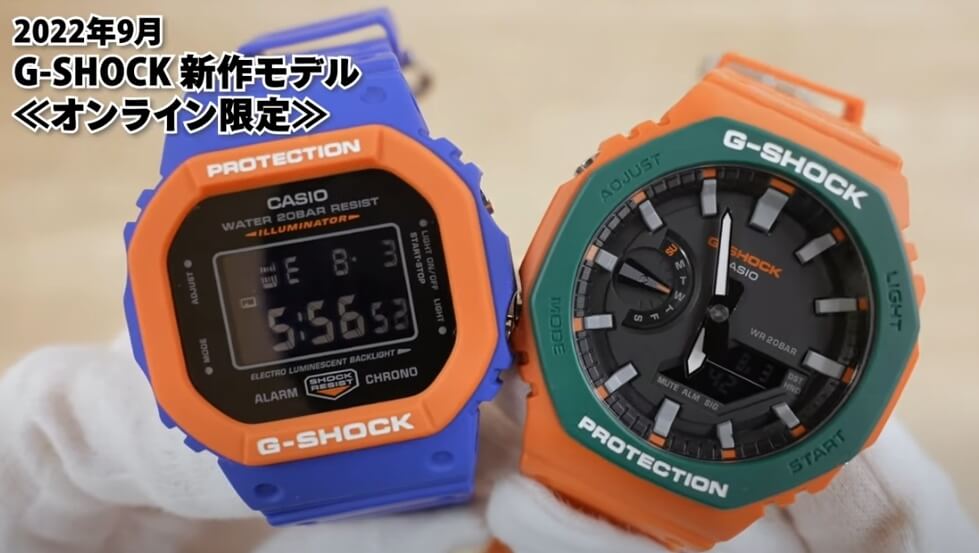 A Japanese video posted to YouTube reveals the upcoming G-Shock watches scheduled for September 2022 and includes in-hand footage of all the new models. September will see some all-new model lines as well as the usual mix of new colorways and limited editions.
The graffiti-inspired and limited edition Street Spirit series includes a DW-5000, GA-110, GX-56, GM-2100, and GM-5600. This is a very funky-looking series that looks like it's right out of the '80s or '90s. The "GM" models with a stainless steel bezel are unique in that the graffiti design extends to the bezel. This painted bezel style has not been seen on a GM model before (although there have been ion plated models with solid colors and rainbow ion plated models). The DW-5000 model is perhaps the most interesting of the group, as past DW-5000 models were usually more conservative in their designs. DW-5000 models in the recent past were usually limited anniversary models, but this one doesn't appear to be an anniversary model, as the name is believed to be DW-5000SS (not DW-5040SS) and it doesn't have "Project Team 'Tough'" on the face like we usually see on anniversary DW-50XX models. However, it does have "Since 1983" on it like the GW-5035A, and all the other models in this series have "Since 1983" on the face or dial, so this series could be related to the 40th Anniversary.
Also coming are two all-new series, the DW-B5600 and GA-B001. Both feature the Bluetooth smartphone link feature, but not Tough Solar power like the GA-B2100 (which should at least help to keep the price down). The video states that the GA-B001 consists of separate upper and lower bezels and an integrated band. Along with its unique structure, the GA-B001 has a more futuristic or sci-fi style compared to other G-Shock watches these days. Interestingly, Casio decided to launch the DW-B5600 series with fashion-oriented models featuring translucent resin and inverted LCD displays.
The Gold Daruma series includes DW-6900 and GM-6900 models, which is a welcome sight, as we haven't seen much of the DW-6900 this year outside of collaborations. This is also the first time we've seen (what we call) a Japanese culture series with a metal-covered GM model.
The Over Print DWE-5600 box set includes multiple bezels and bands inspired by printing misprints. Like the graffiti series, it has a very '90s vibe to its colorful patterns.
Two models that haven't been commonly seen in leaks before this are a blue and orange DW-5610 and an orange and green GA-2110. The "10" denotes a mix-molded bezel with the front part of the bezel being a different color than the rest. We can imagine Spike Lee going for the blue and orange DW-5610, assuming he is still a Knicks fan.
Rounding out the releases are glossy black, gold, and silver GMA-S110 and GMA-S120 watches which are a smaller size than the GA-110 and GA-120.