Update: The GMW-B5000TVB-1 and MRG-B5000BA-1 were officially announced for June 2022.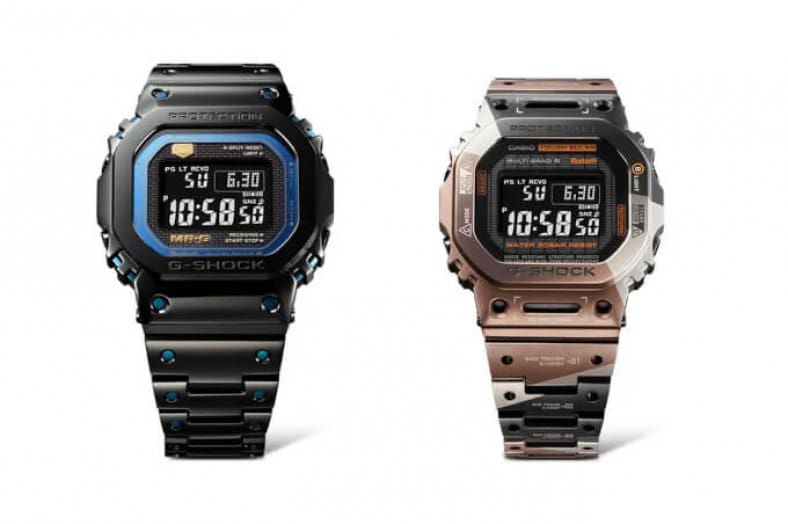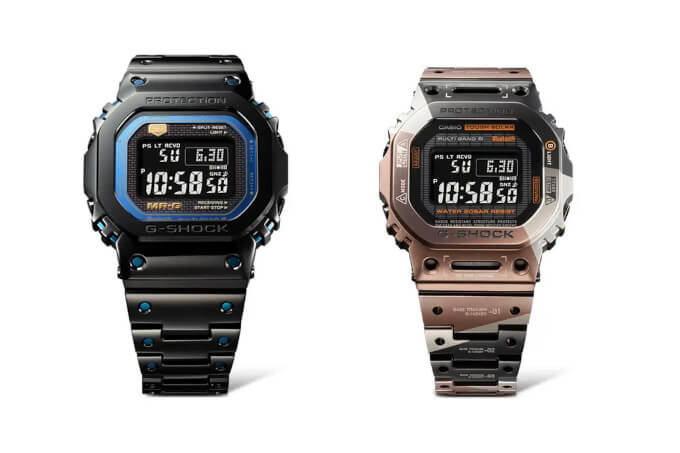 Images of the upcoming G-Shock GMW-B5000TVB and MRG-B5000BA have been leaked, apparently out of Hong Kong. (The above images are not to scale, as the actual watches are very similar in size.)
The GMW-B5000TVB (right) follows a similar aesthetic as the popular GMW-B5000TVA-1 with a label-heavy mecha-like design. The bezel and band are multi-colored, which is presumably the result of a unique ion plating. The watch is made of titanium but does not have the "Diamond Like Carbon Coating" labels of the B5000TVA, so the bezel and band do not appear to have any DLC. Other differences include an inverted LCD display and a black resin inner cushion that is visible through the bezel, instead of red. The watch likely has a sapphire crystal like the TVA and will probably be around the same price ($1,650).
The MRG-B5000BA (left) features blue accents on the face and some of the external parts of the bezel and band that are unique to the MRG-B5000. The blue accents remind us of the Master Blue series from the 25th Anniversary. The watch also has an inverted LCD display and appears to have a DLC coating like the MRG-B5000B-1. The price will probably be around $4,000 or possibly more if it is a limited edition.