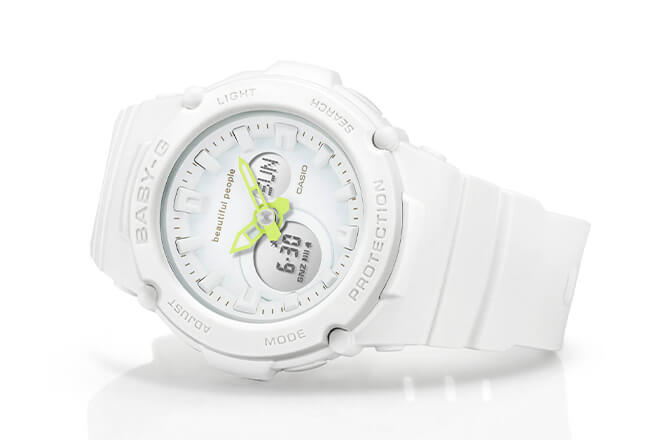 The Baby-G BGA-270BP-7A is a collaboration with renowned Japanese fashion brand Beautiful People (stylized as "beautiful people"). The limited edition watch is getting a wide release throughout Asia. (Update: The BGA-270BP-7ADR is also being released in Europe and the U.K. The BGA270BP-7A was released in the U.S. with a list price of $120.)
The watch has an understated, almost all-white design with a light bluish dial, green hands, and a "beautiful people" logo. The light color scheme is based on gypsum, and was inspired by the interior of the Beautiful People store at Shibuya PARCO, which strives to express a unique texture between inorganic and organic. The logo also appears engraved on the stainless steel case back and printed on the co-branded box. The watch was also available in Japan at beautiful-people.jp and Beautiful People retail stores.
The BGA-270BP-7A is shock-resistant and water-resistant to 100 meters. Other features include world time, 1/100-second stopwatch, countdown timer (24 hours max), 5 daily alarms with 1 snooze alarm, and LED light.
Beautiful People was founded in 2007 by designer Hidenori Kumakiri, who was previously a pattern maker for Comme Des Garçons Homme. Kumakiri approaches his designs like a true artist, finding beauty in the common ground between opposing ideas and living by the motto "Everything is beautiful." The label is known for its innovative collections, such as its Kids Line with individual pieces that can be worn by both children and adults, and its "Side C" designs, in which linings become outer layers and pieces can be worn in many different ways. Since 2017, Beautiful People has been part of the official calendar at Paris Fashion Week. In addition to its stores and retailers in Japan, the brand is also sold by overseas retailers in Canada, Taiwan, South Korea, China, and the United States.