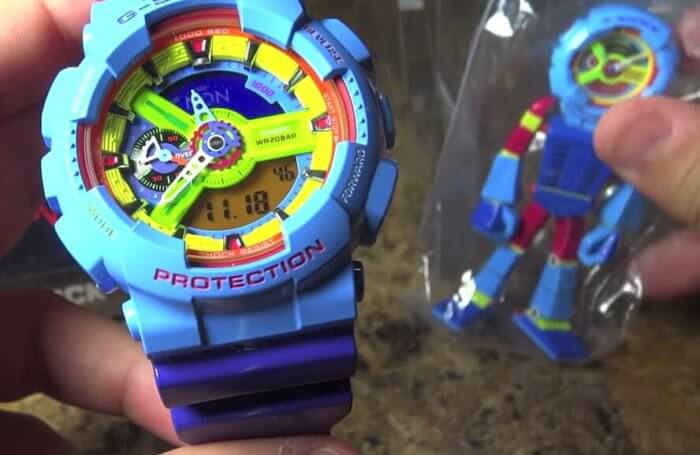 The G-Shock Man Box (GA-110F-2JR), designed by Nakano Shirou and released in 2010, was once described by Wired as "the ugliest watch… Ever." This striking yet polarizing model is surfacing again five years later in a Casio-sponsored giveaway in Manila. Along with its multi-color pop art design, the Man Box watch is known for its companion "G-Shock Man" figurine. Even if few would want to wear this watch in public it is obviously a high value collectible that most G-Shock enthusiasts would love to own. The watch is currently unavailable on eBay and the figurine alone is listed at $250.
There will be 60 lucky winners chosen from those who purchase any G-Shock from an authorized Casio dealer in the Philippines. Buyers will receive a scratch card containing an entry number to register via SMS or website and the winners will be announced in March, April, and May. The promotional website (manboxpromomanila.com) does not load for us but it is a registered domain. The Casio Philippines Facebook page currently has only a teaser post about the event and says it is coming on February 15…
Update: The promotion has been officially announced and the promo website is now live. Qualify for entry by purchasing a G-Shock in the Philippines from participating stores from February 15 to May 15.
Via Inquirer
photo via Mike835