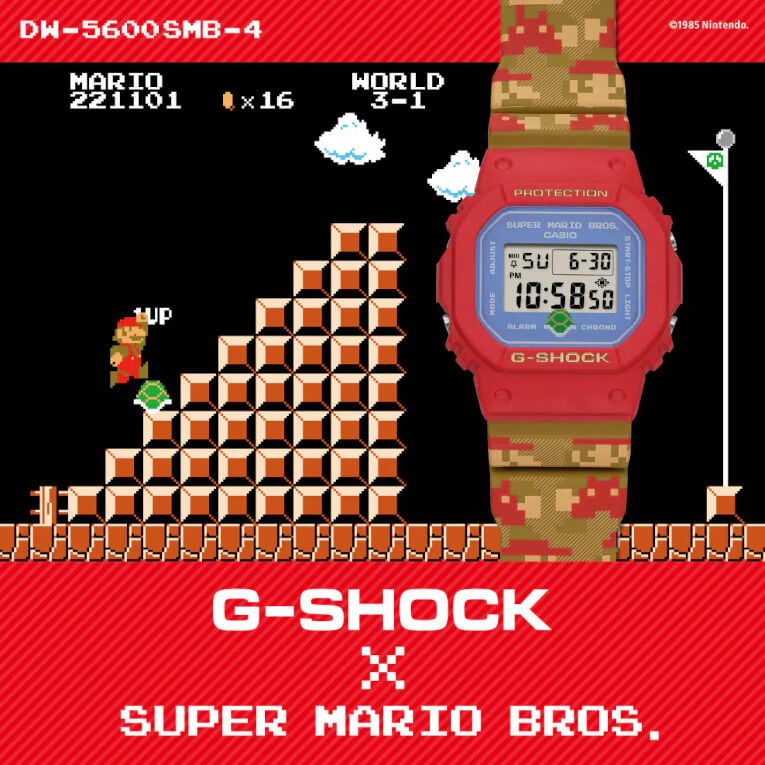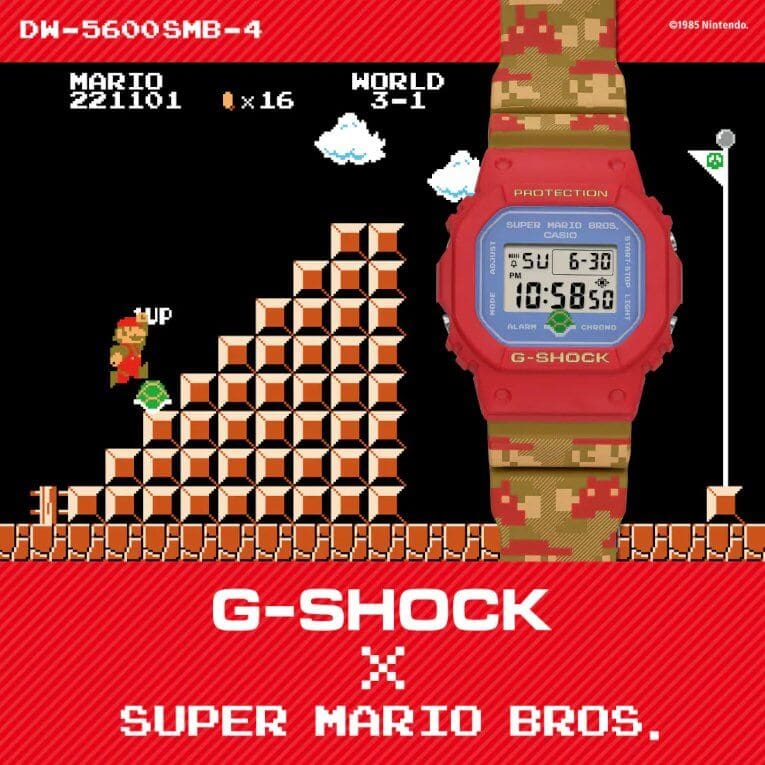 Two of the most iconic brands of the 1980s have partnered up for the release of the limited edition G-Shock DW-5600SMB-4 based on the classic Nintendo video game "Super Mario Bros." The bestselling game, designed by Shigeru Miyamoto and Takashi Tezuka, made its debut in 1985 on the Nintendo Family Computer (and Nintendo Entertainment System in the west). "Super Mario Bros." is one of the most popular and important video games of all time, as it revived the home console market and revolutionized the side-scrolling platform genre. The franchise continues to be popular today, with games available for the Nintendo Switch console and a new animated feature film coming in 2023.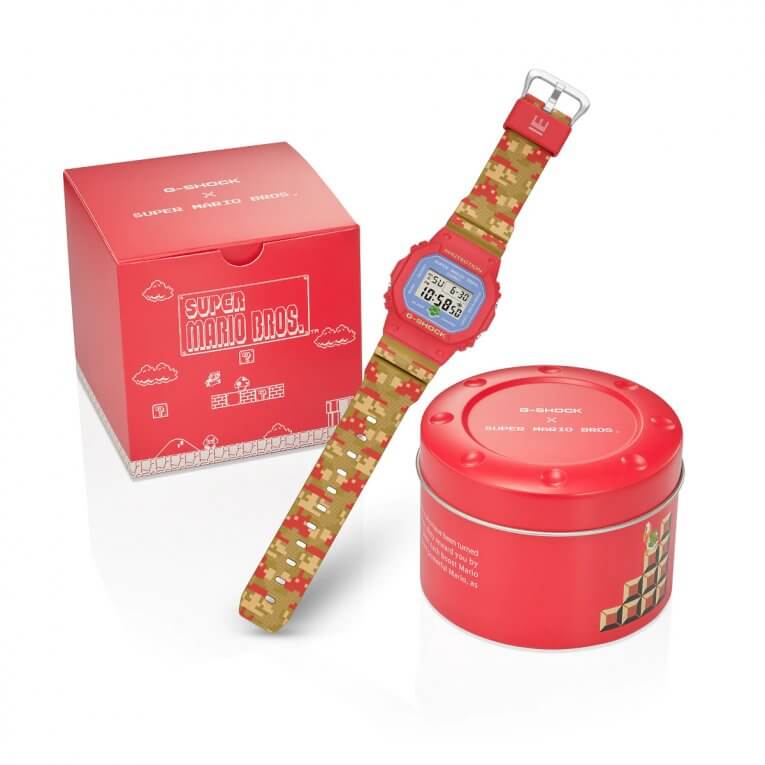 The G-Shock DW-5600SMB-4 has a red bezel representing Mario and gold lettering representing the gold coins found in the game. The light blue face of the watch features "Super Mario Bros." and watch labels in the familiar Nintendo font, along with a green Koopa Troopa turtle shell that extends a bit into the LCD display area. The EL backlight displays an image of a jumping Mario with "1UP," signifying an extra life earned. The brown band is printed with a pattern of 8-bit Mario images that gives the impression of digital camouflage from a distance. The red band keeper has a crown icon printed on it, which serious Mario fans will recognize as the symbol representing 10 lives on the pre-level game screen. The case back is laser-etched with a falling Mario and a Koopa Troopa.
The DW-5600 is based on the original G-Shock shape of 1983's DW-5000 and features shock resistance, 200-meter water resistance, 1/100-second stopwatch, countdown timer, multi-function alarm, flash alert, and EL backlight.
In Japan, the DW-5600SMB-4JR is a November 11 release with a tax-included price of 17,600 yen. The Casio Japan website will be taking pre-orders starting November 2. The DW-5600SMB-4 was also announced for Asia and is expected to be released worldwide.
Nintendo and Casio previously collaborated on the Japan-only Mother (a.k.a. Earthbound) x G-Shock GW-M5610U and various Pokémon edition Baby-G watches.
Update: The DW5600SMB-4 ($150, USA release) is now available for pre-ordering at Reeds Jewelers (see link below). The U.S. release is now also available for pre-ordering at casio.com/us.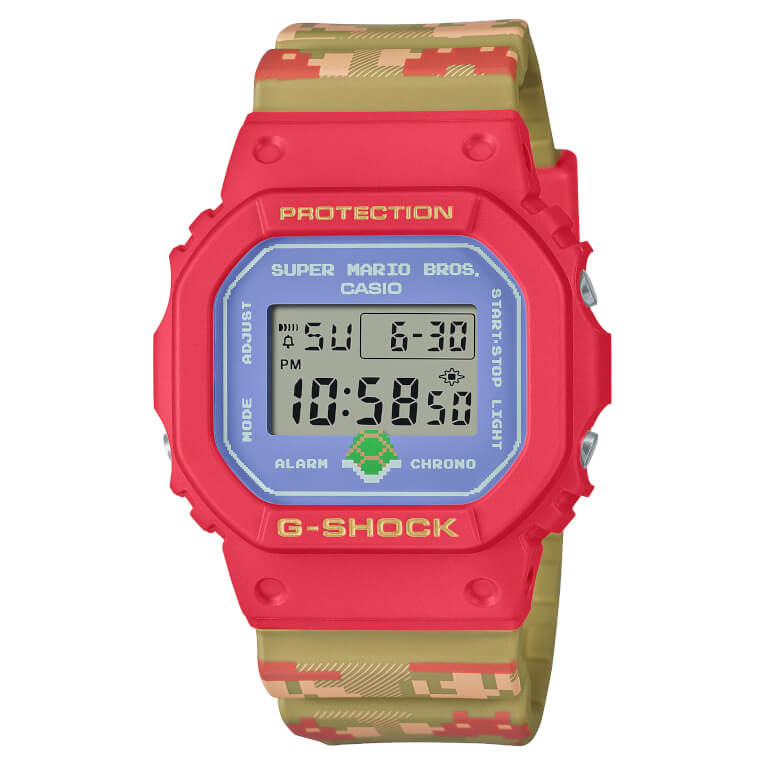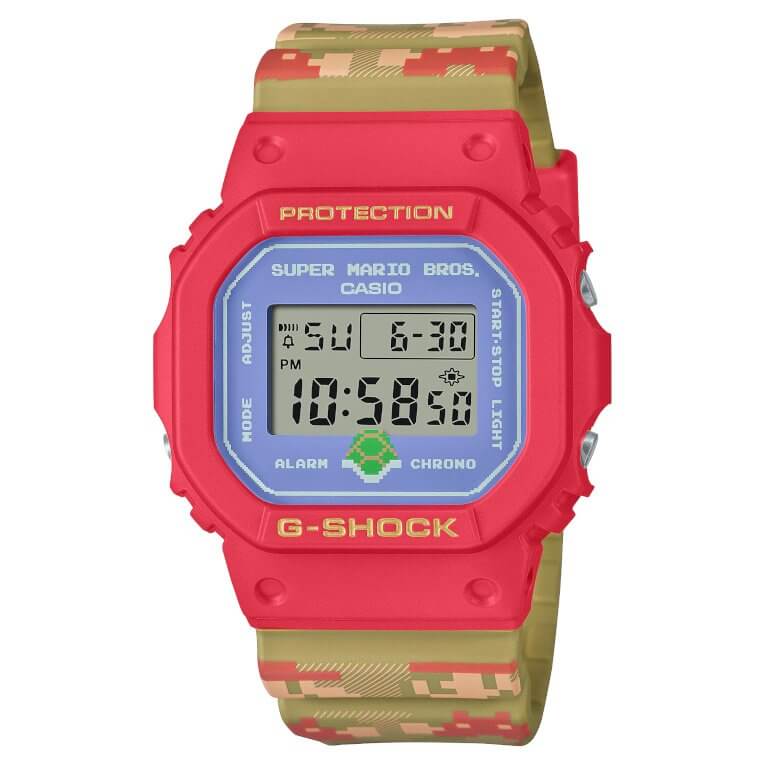 Buy DW5600SMB-4
Casio Reeds eBay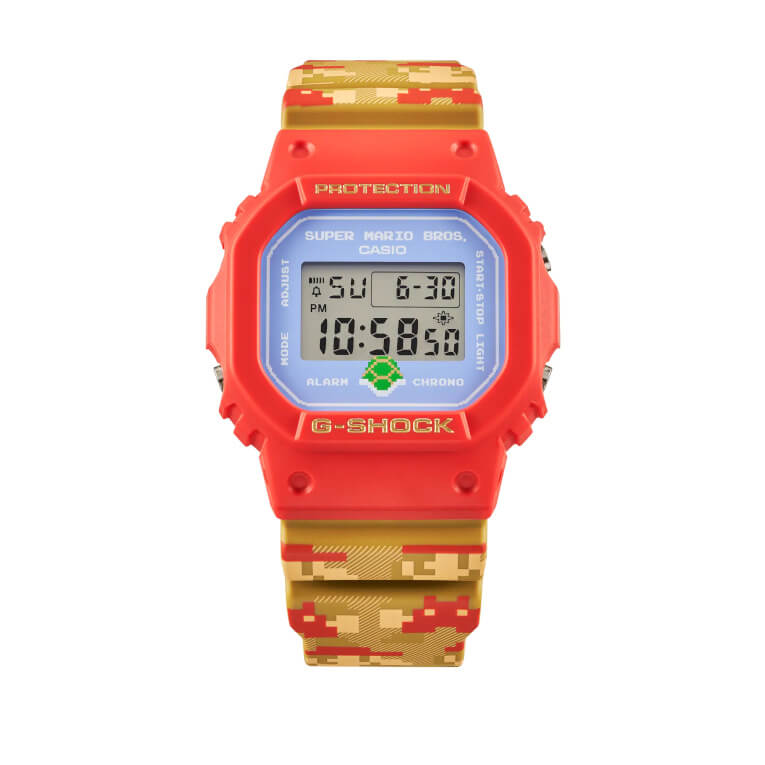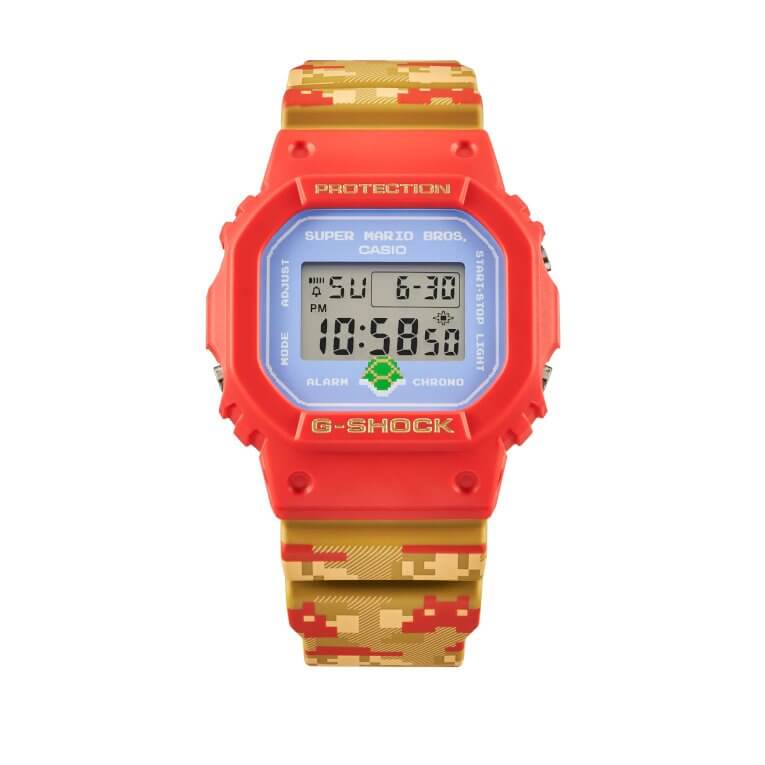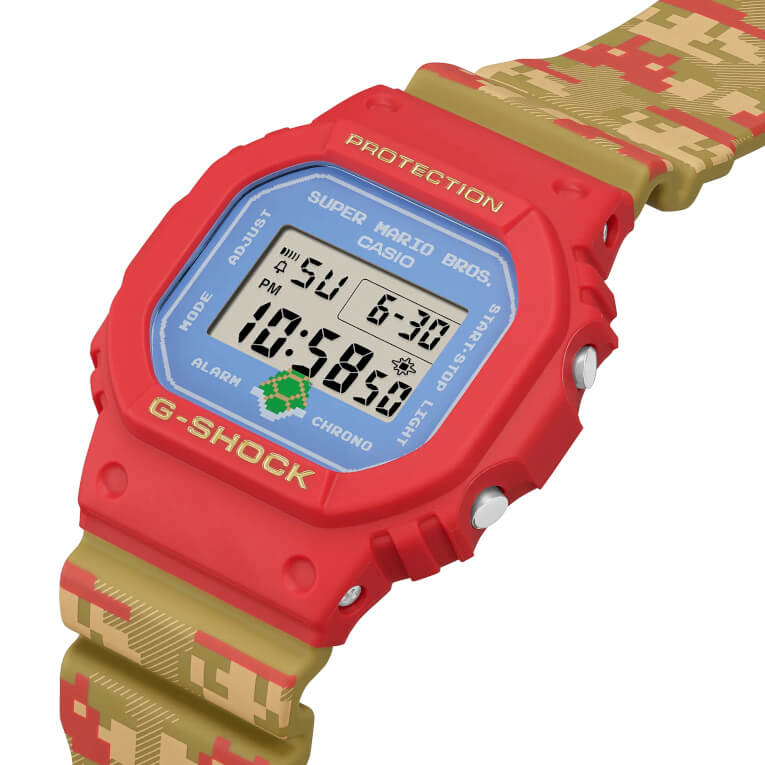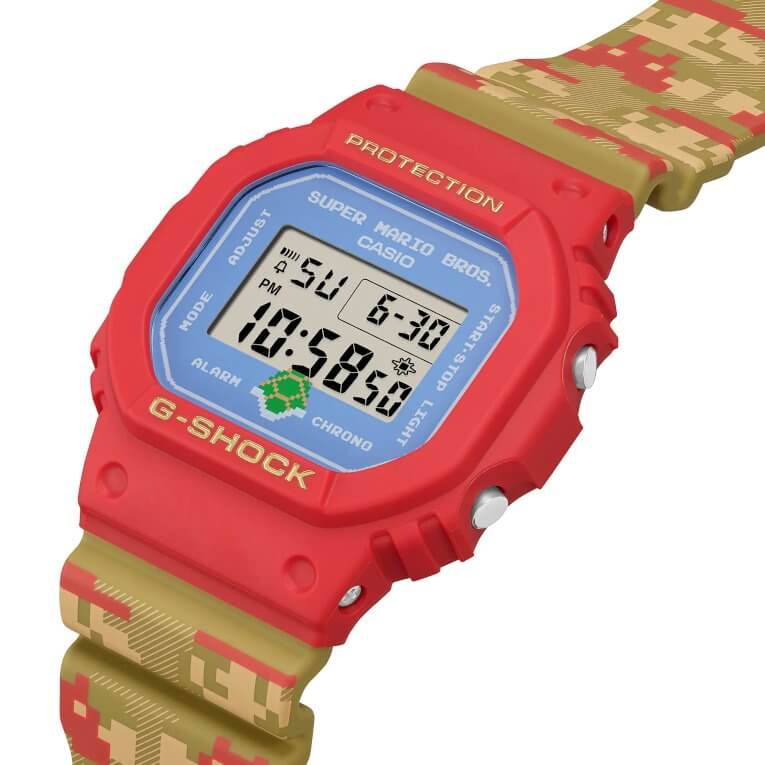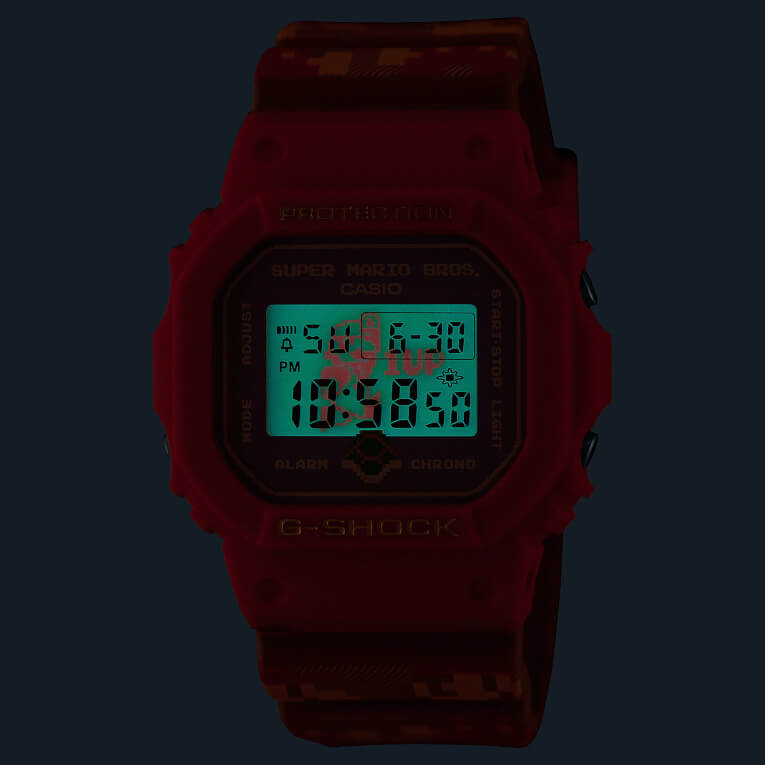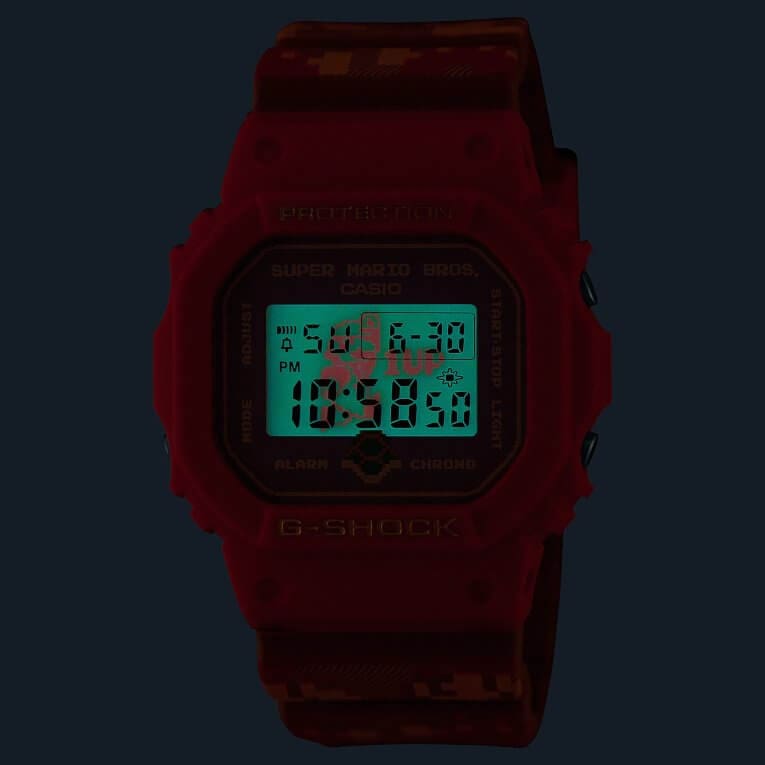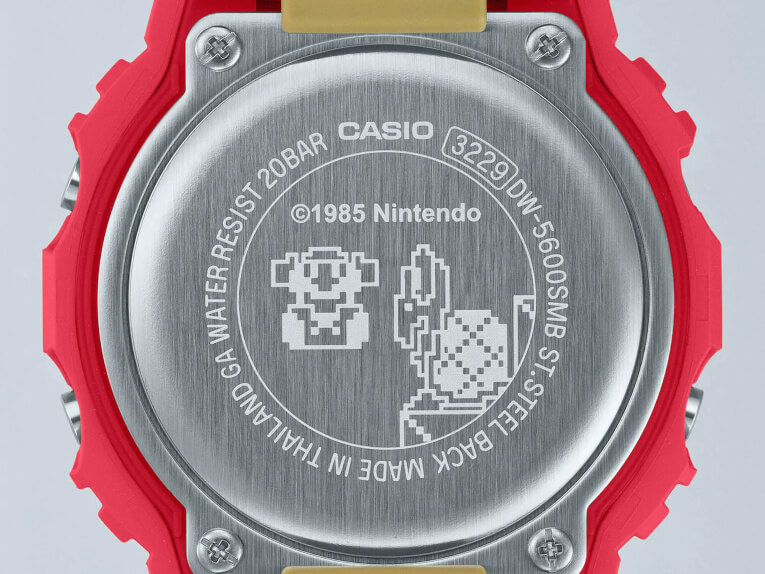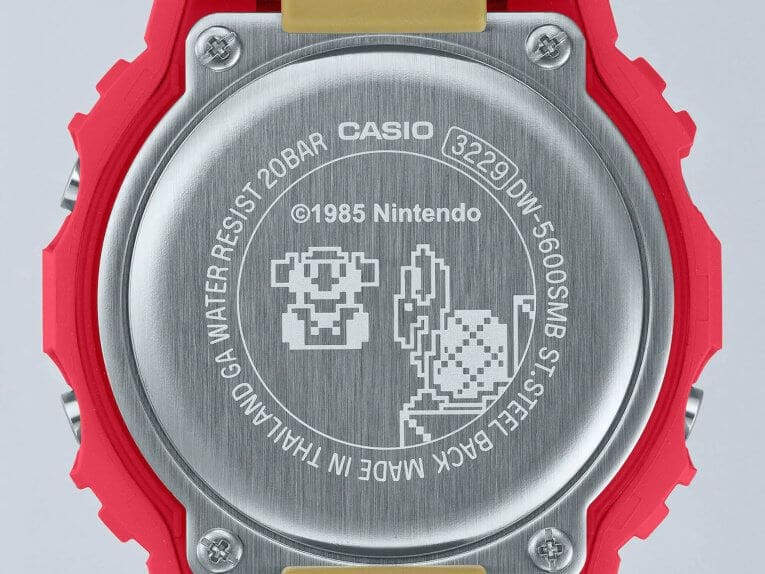 Super Marios Bros. x G-Shock DW-5600SMB-4 Promo Video: (With Super Mario Bros. soundtrack by Koji Kondo)
G-Shock DW-5600SMB-4 Specifications
List Price: $150 (US) Dimensions: 48.9 x 43.8 x 13.4 mm Weight: 53 grams
Protection: Shock Resistant, 200-meter Water Resistance
Battery (Lifespan): CR2016 (approx. 2 years)
Structure: Resin case, bezel, and band, mineral glass
Protection: Shock Resistance, 200-meter Water Resistance Power: Battery (CR2016, approx 2-year life)
Features: Stopwatch (23:59'59 max, 1/100-second first 60 minutes, 1-second after 60 minutes, elapsed time, split time, 1st-2nd place times), countdown timer (24 hours, settable in seconds, minutes, and hours, auto-repeat), multi-function alarm, hourly time signal, flash alert, EL backlight with afterglow, full auto-calendar, 12/24-hour format