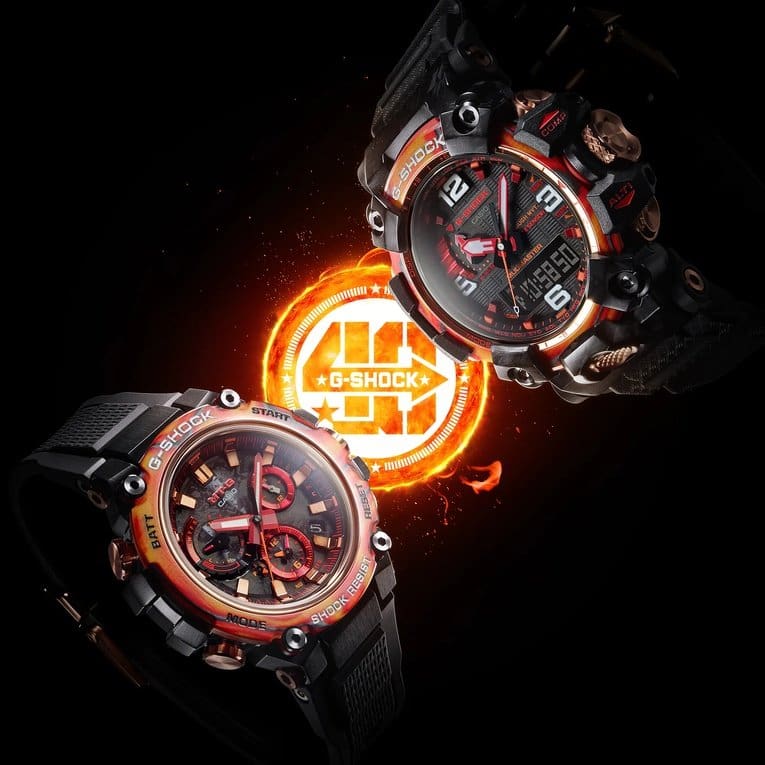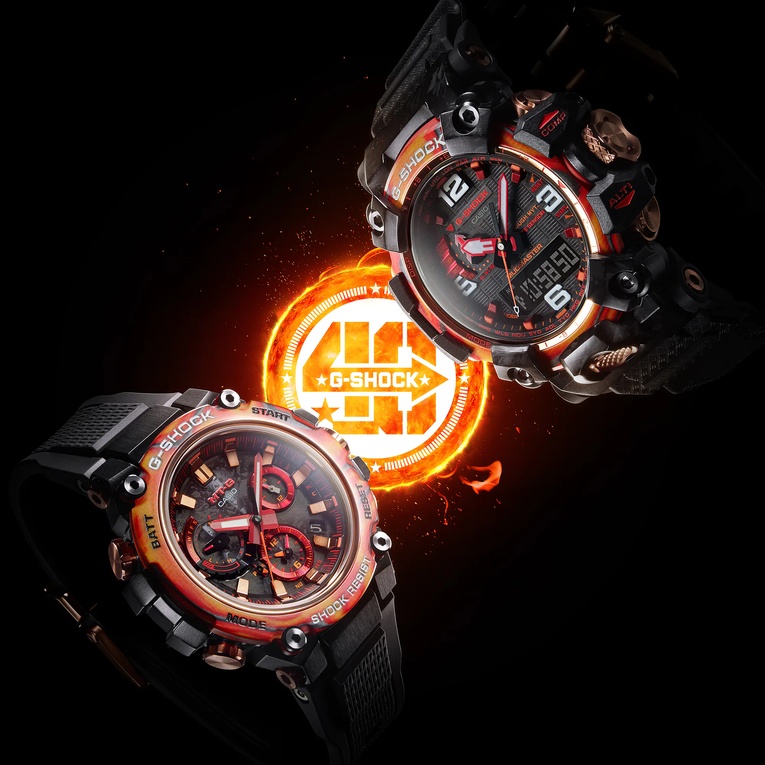 The Flare Red Series is the first limited edition series of the G-Shock 40th Anniversary and includes the Mudmaster GWG-2040FR-1A and MTG-B3000FR-1A. These flame-like models are inspired by the traditional black and red brand colors and have a solar flare theme with a multicolor carbon-insert bezel. The bezel is made of layers of carbon and glass fiber sheets that contain phosphorescent particles that glow in the dark. Due to this layered manufacturing process and the cutting of each bezel, each bezel is completely unique. The GWG-2040FR-1A is also made of phosphorescent epoxy mixed with its forged carbon exterior parts. The result is a black part that displays a random glow pattern in the dark (seen below left).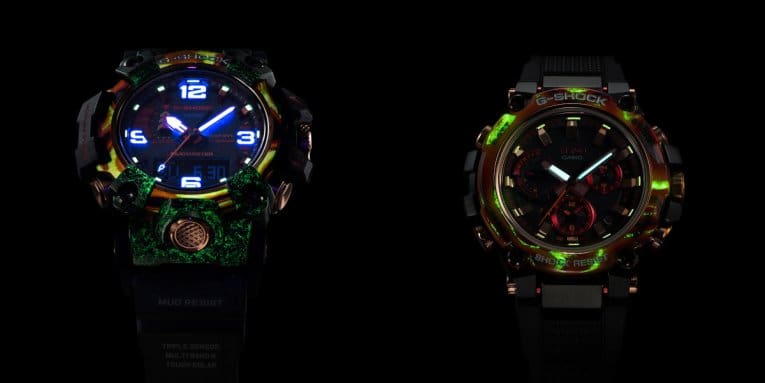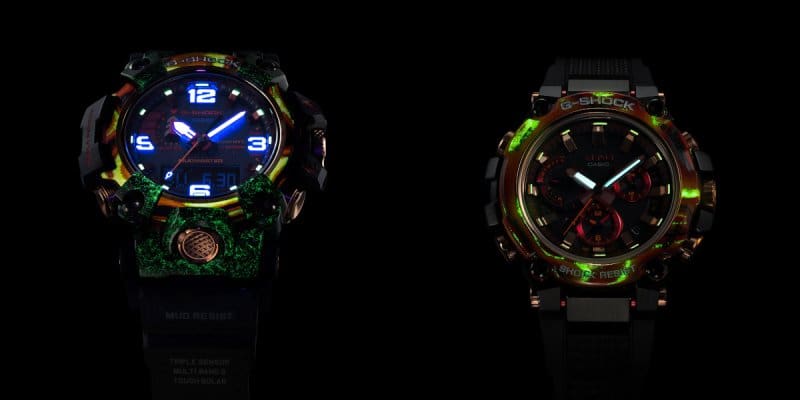 The case back of each watch has a black ion plating and is engraved with the 40th Anniversary logo designed by Eric Haze. Other enhancements include rose gold ion plated exterior parts and anniversary stainless steel band keepers with "Since 1983" and four stars to represent 40 years. G-Shock made its debut in 1983 and the 40th Anniversary is in 2023, but Casio usually releases some anniversary series early.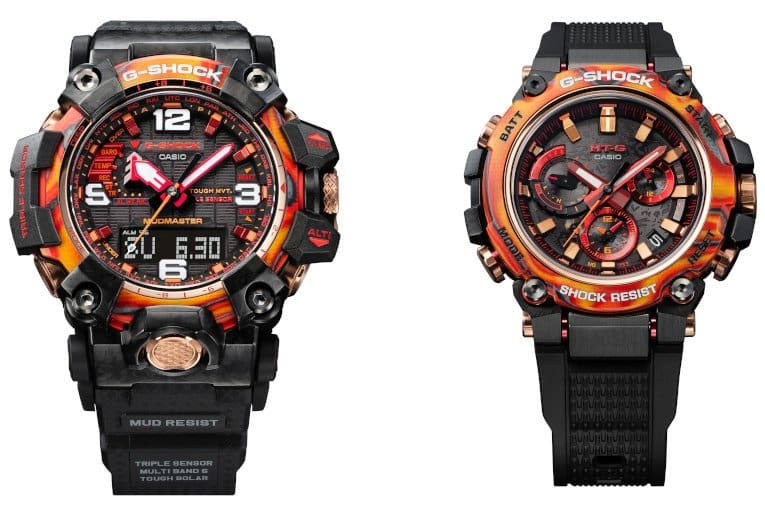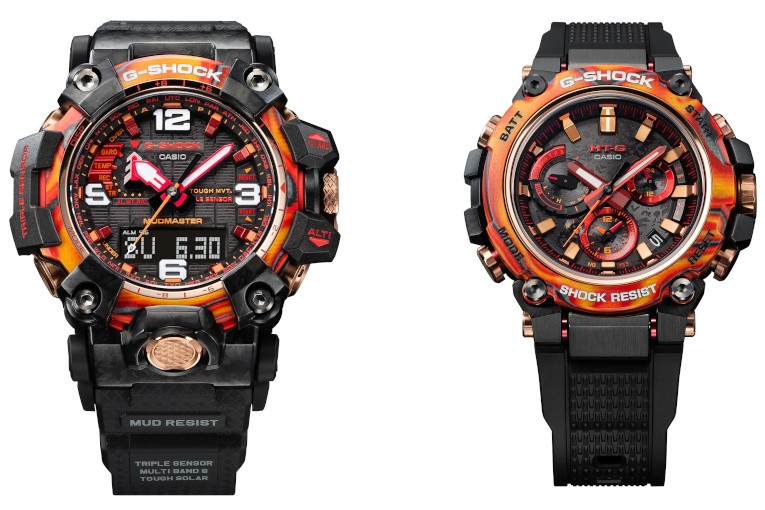 The GWG-2040FR-1A and MTG-B3000FR-1A are high-end models featuring Tough Solar power, Multi-Band 6 automatic radio time sync, and a sapphire crystal. The Mudmaster GWG-2040FR-1A is also mud-resistant and has the Triple Sensor (pressure: altimeter-barometer, compass, thermometer). The MTG-B3000FR-1A has Triple G Resist (protection against shock, centrifugal force, and vibration) and Bluetooth smartphone link. The GWG-2000 series with Carbon Core Guard made its debut in 2021 and is smaller and lighter than the GWG-1000. The MTG-B3000 series made its debut in May 2022 and is notable for its full analog style and thin size (12.1 millimeters).
In Japan, the MTG-B3000FR-1AJR (¥165,000 tax included) and GWG-2040FR-1AJR (¥143,500 tax included) will be released on November 5, 2022. The MTG-B3000FR-1A and GWG-2040FR-1A were also announced for an international release. (Please follow your region's official G-Shock site for additional release information.)
Update: In the U.S., Reeds Jewelers is now selling the GWG2040FR-1A for $1,100 and MTGB3000FR1A for $1,300 (links below). G-Shock U.S. is also now selling both models at Casio.com.
G-Shock Mudmaster GWG-2040FR-1A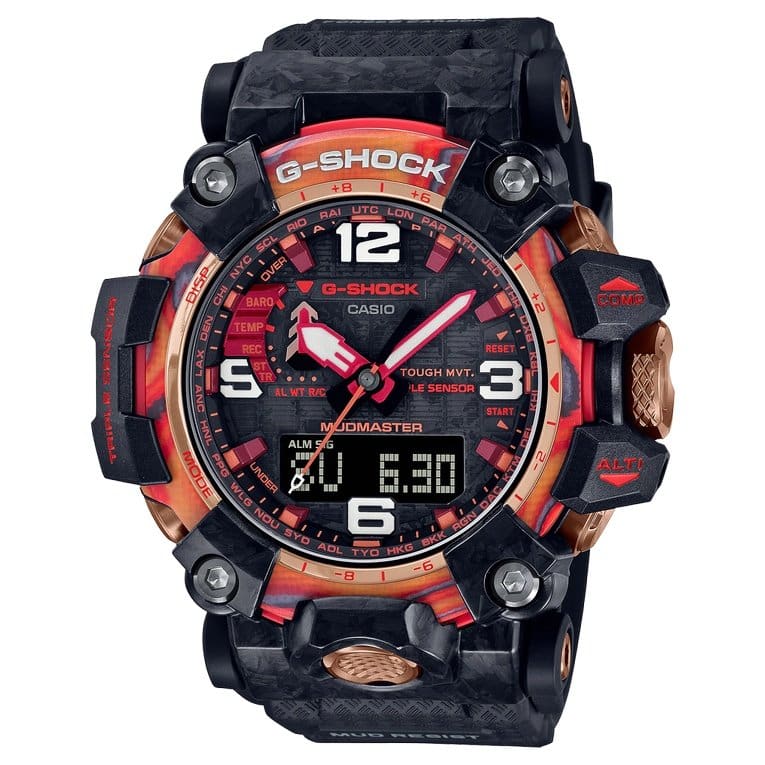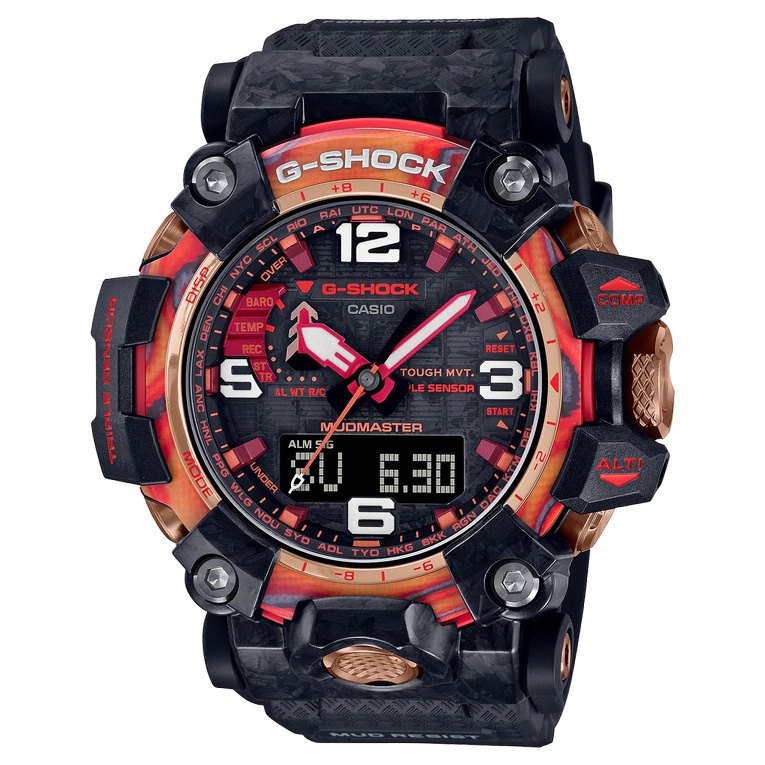 Buy GWG2040FR-1A:
Casio Amazon Reeds eBay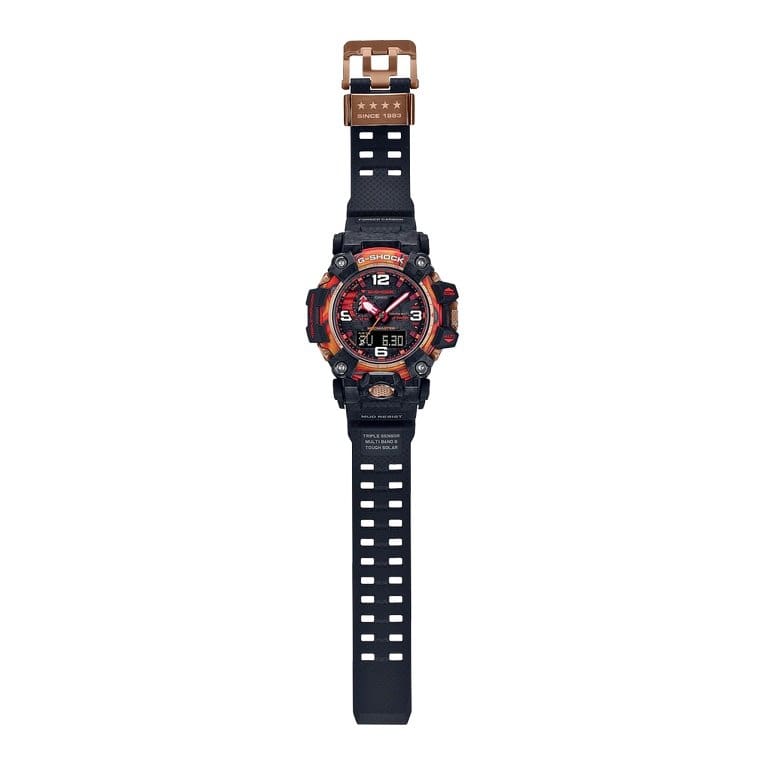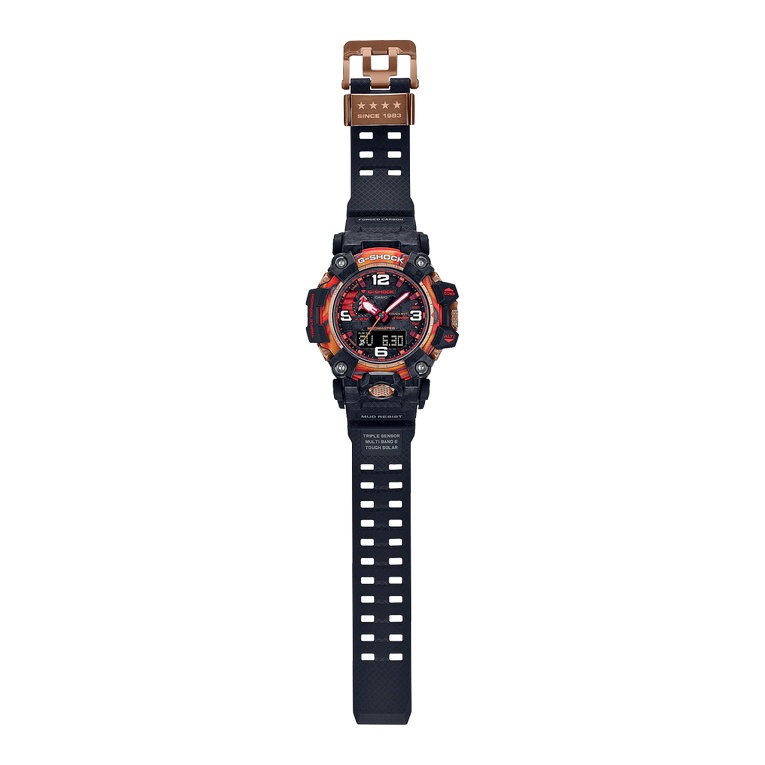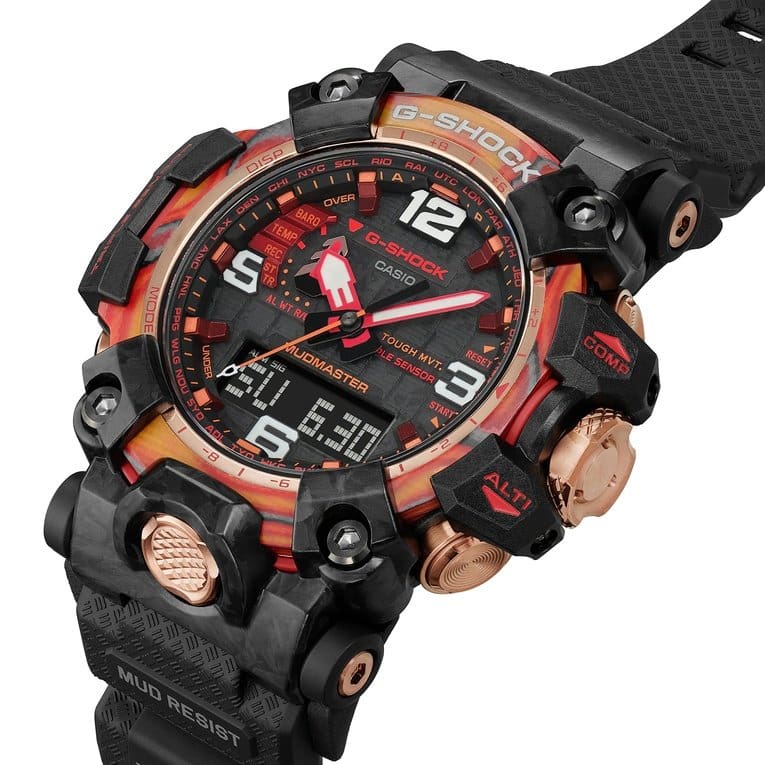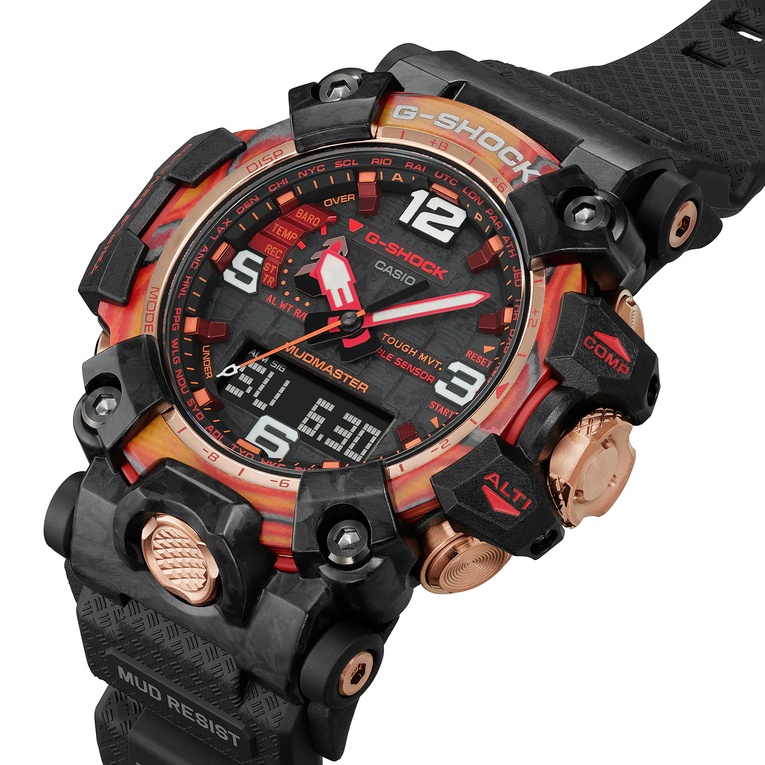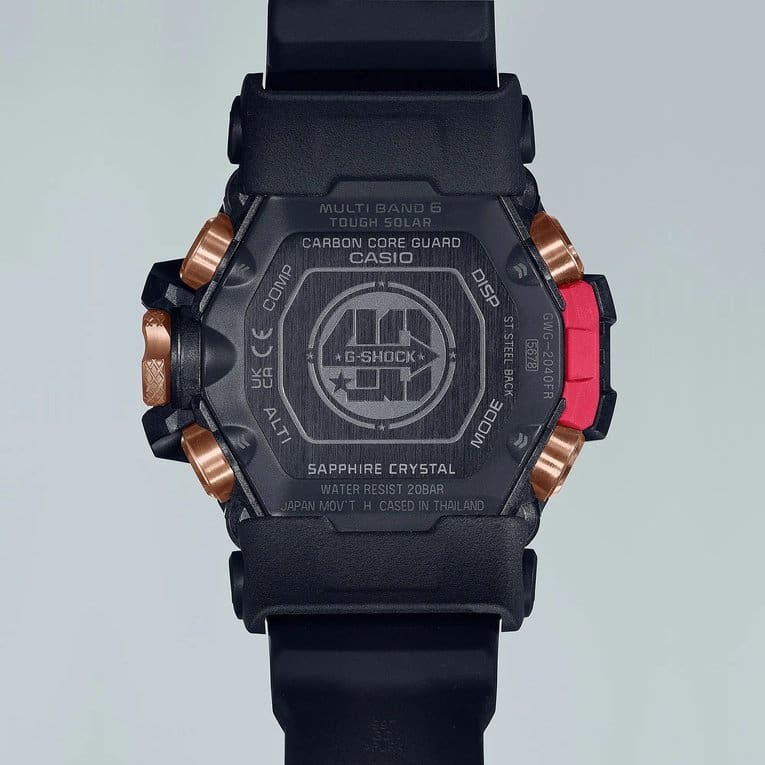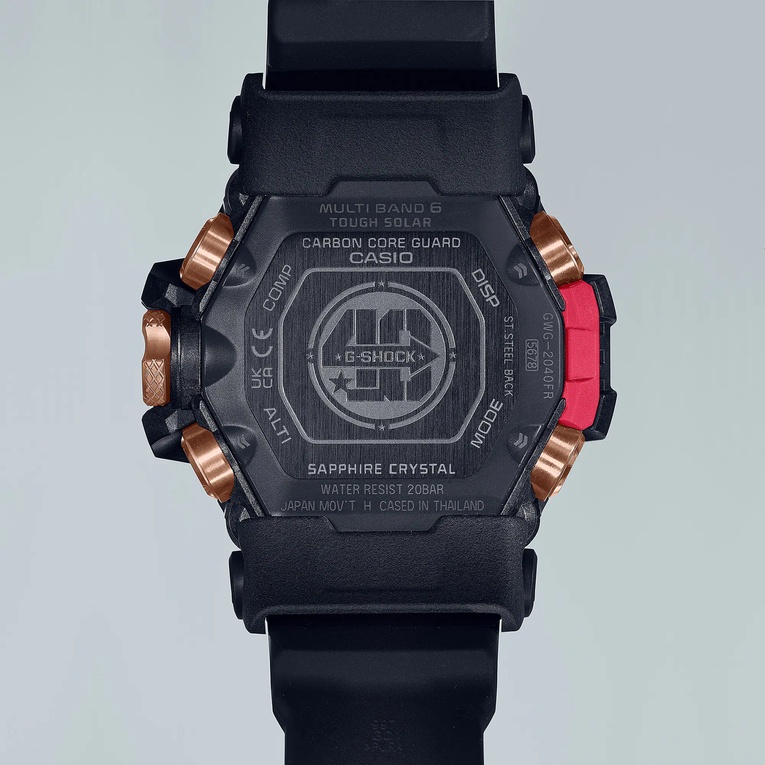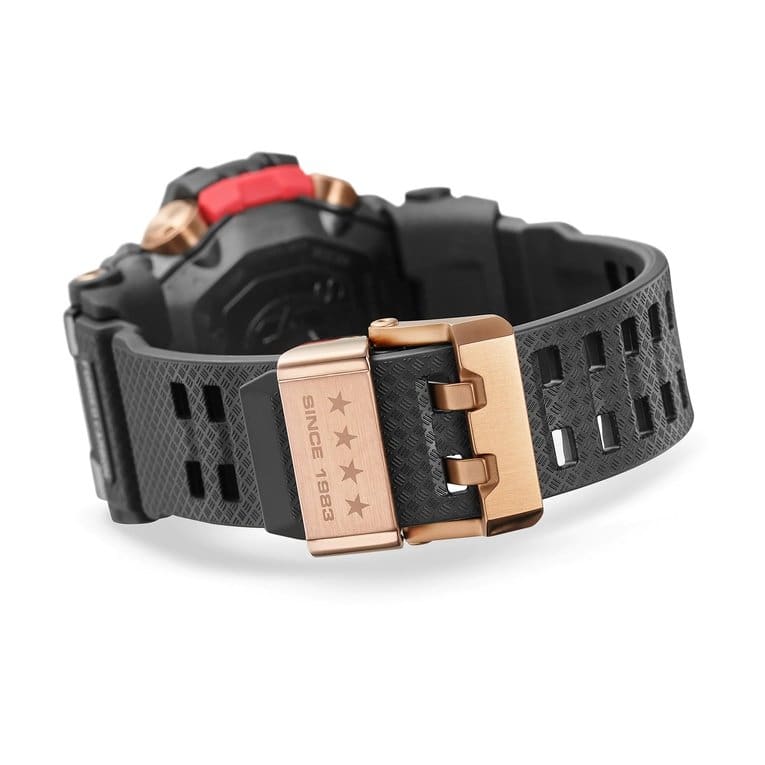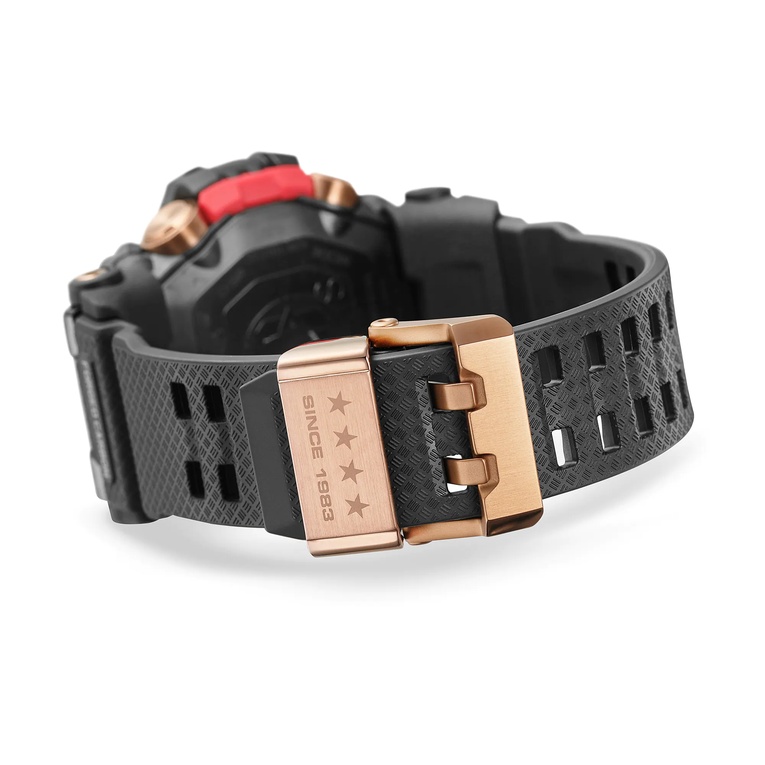 List Price: $1,100 Size: 61.2 × 54.4 × 16.1 mm Weight: 112 grams
Structure: Carbon Core Guard, carbon fiber-reinforced resin case, resin band, sapphire crystal, screw lock crown, Neobrite
Protection: Shock Resistance, Mud Resistance, Low-Temperature Resistance, 200-meter Water Resistance Power: Tough Solar
Features: Multi-Band 6 auto time adjustment, Triple Sensor (altimeter-barometer, compass, thermometer), world time (29 time zones, 29 cities + UTC, DST on/off, home/world city swap), 1/100-second stopwatch (23:59'59.99" max, elapsed time, split time, 1st-2nd place times), countdown timer (60 minutes, settable in minutes), 5 daily alarms, hourly time signal, full auto dual LED light with 1.5 or 3-second afterglow (Super Illuminator, with LCD backlight), full auto-calendar, button tone on/off, 12/24-hour format, hand shift
G-Shock MT-G MTG-B3000FR-1A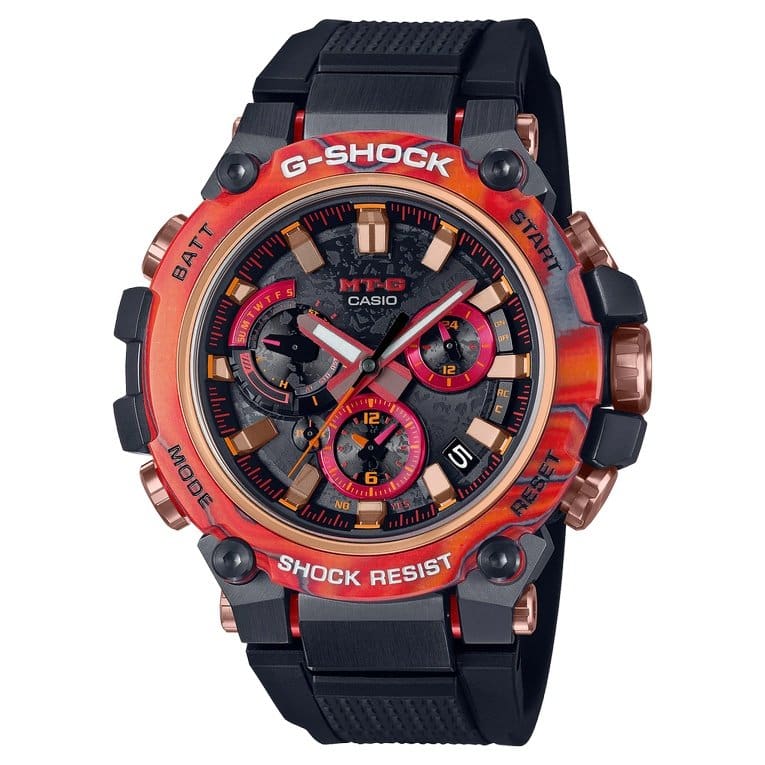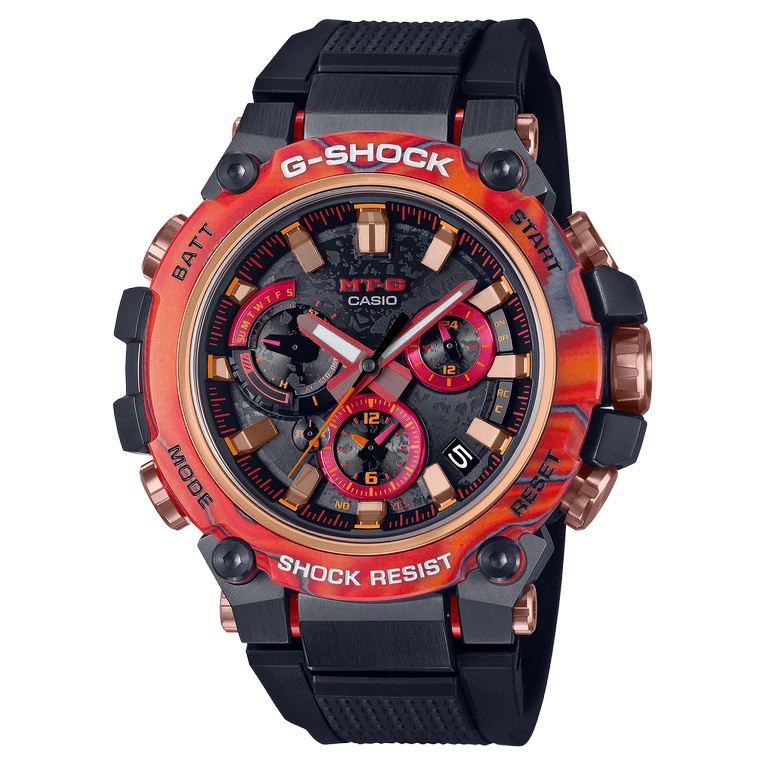 Buy MTGB3000FR1A:
Casio Amazon Reeds eBay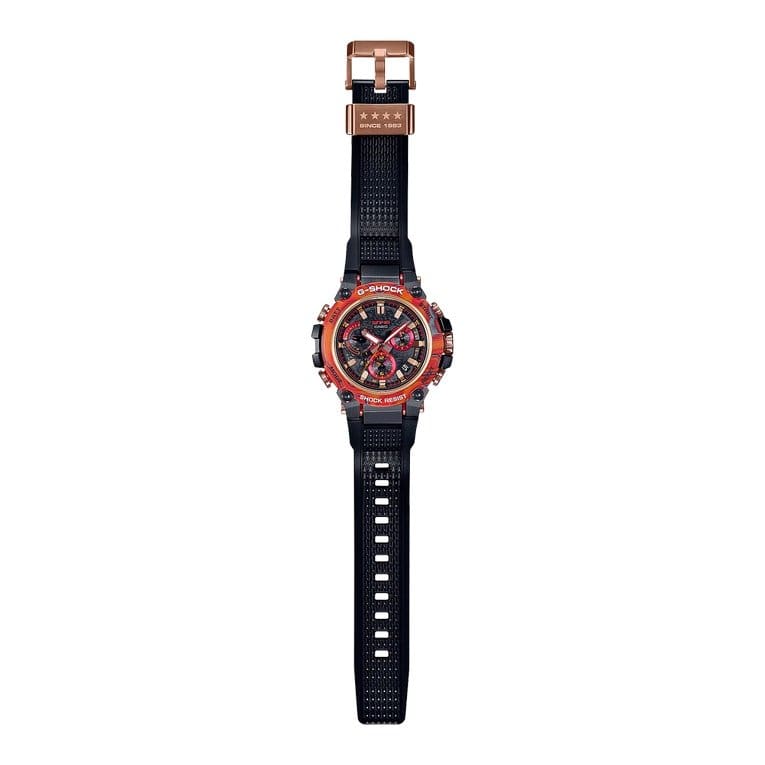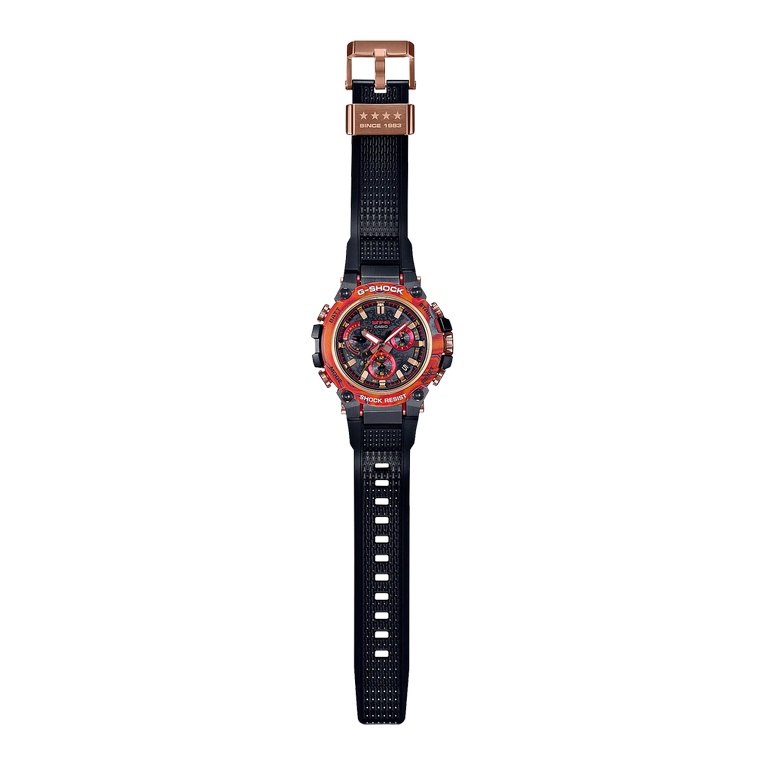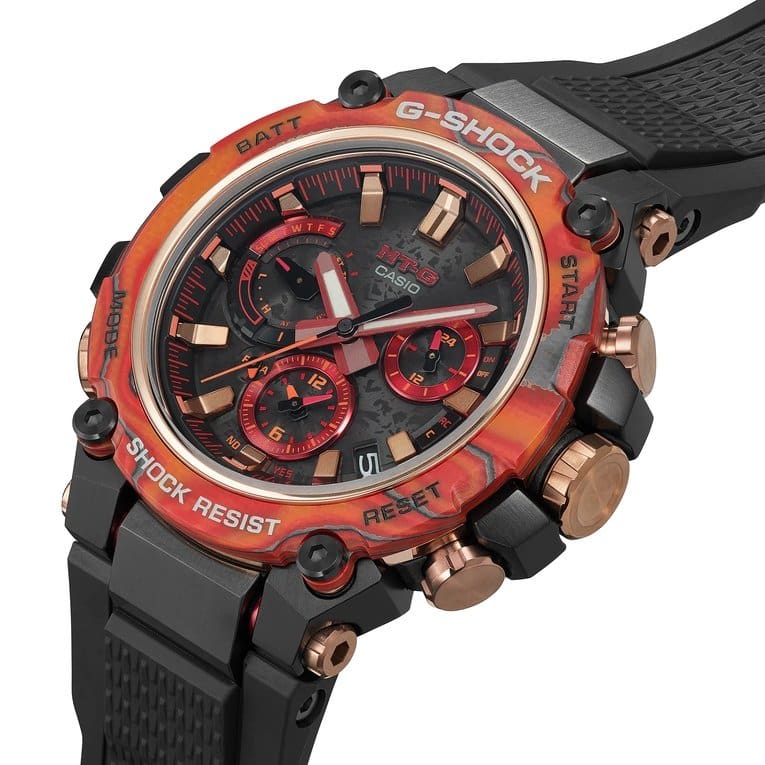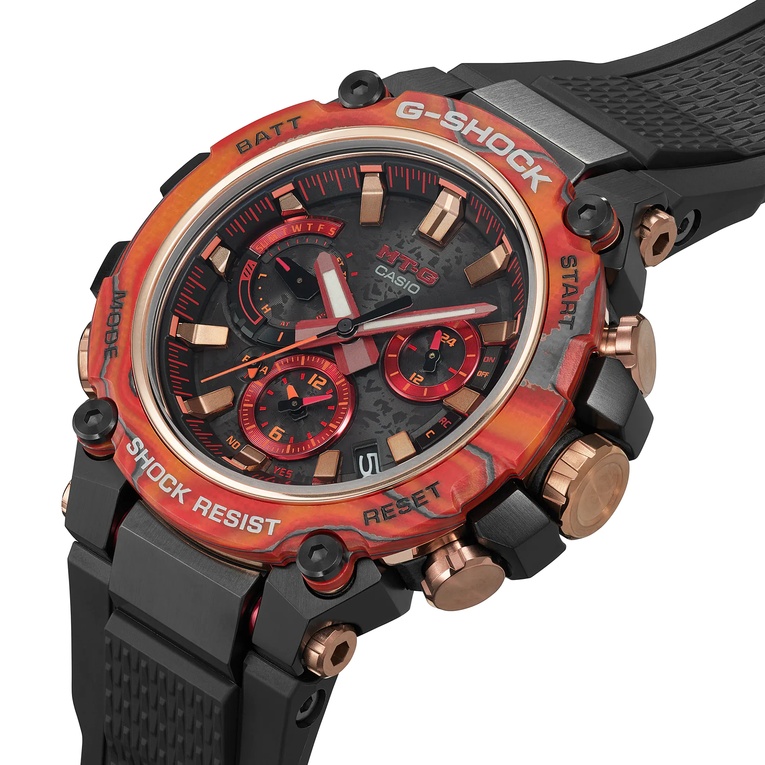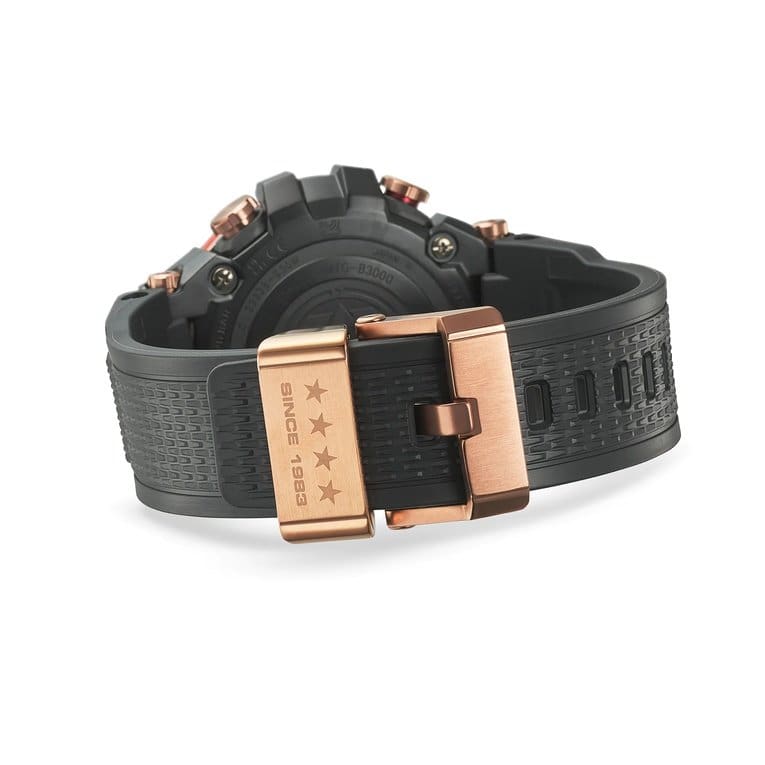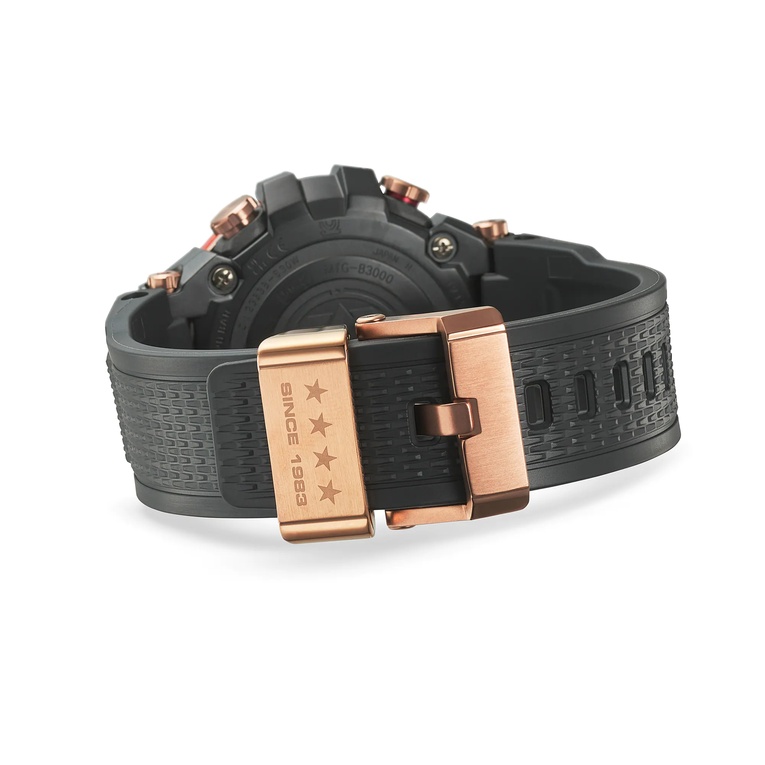 List Price: $1,300 Size: 51.9 x 50.9 x 12.1 mm Weight: 115 grams
Structure: Dual Core Guard, carbon fiber-reinforced resin case, resin band, sapphire crystal, screw lock crown, Neobrite
Protection: Shock Resistance, Triple G Resist, 200-meter Water Resistance Power: Tough Solar
Features: Multi-Band 6 auto time adjustment, Bluetooth smartphone link, dual time (27 time zones, home city time swap, auto DST), 1-second stopwatch (23:59'59" max, elapsed time, split time), countdown timer (24 hours, settable in minutes), daily alarm, LED light with adjustable afterglow, full auto-calendar
Special Packaging for 40th Anniversary Flare Red Series: