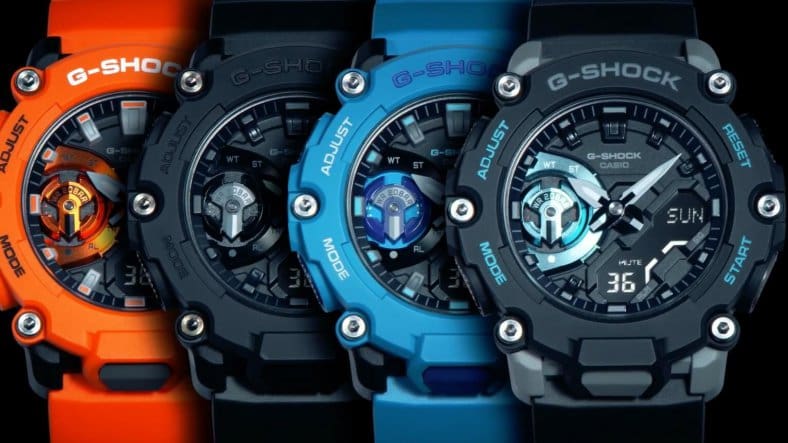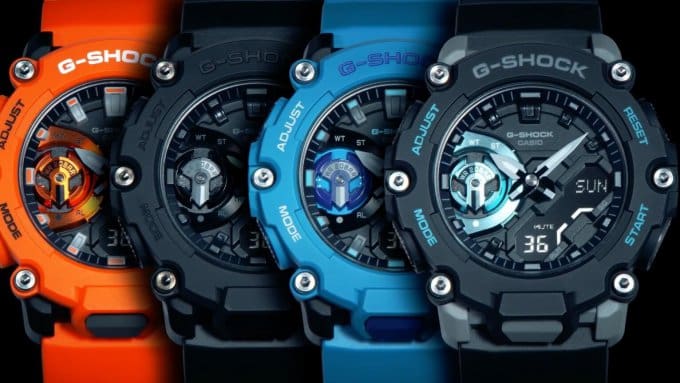 The G-Shock GA-2200 is an all-new Carbon Core Guard model featuring a lightweight carbon fiber reinforced case. The structure and layout resemble the GA-2000, but with a rugged industrial style that is more in line with the GA-900. The watch has an analog-digital display, six front screws, and a front light button. The bezel shape and front screws gives it the appearance of a resin version of the GST-B300. The functions are expected to be similar, if not the same, as the GA-2000. Like the GA-2000, the GA-2200 has a backlit LCD display, as seen in an official G-Shock Facebook post (meaning the background of the LCD is illuminated when the light is activated), which is an advantage over older analog-digital models like the GA-100/110.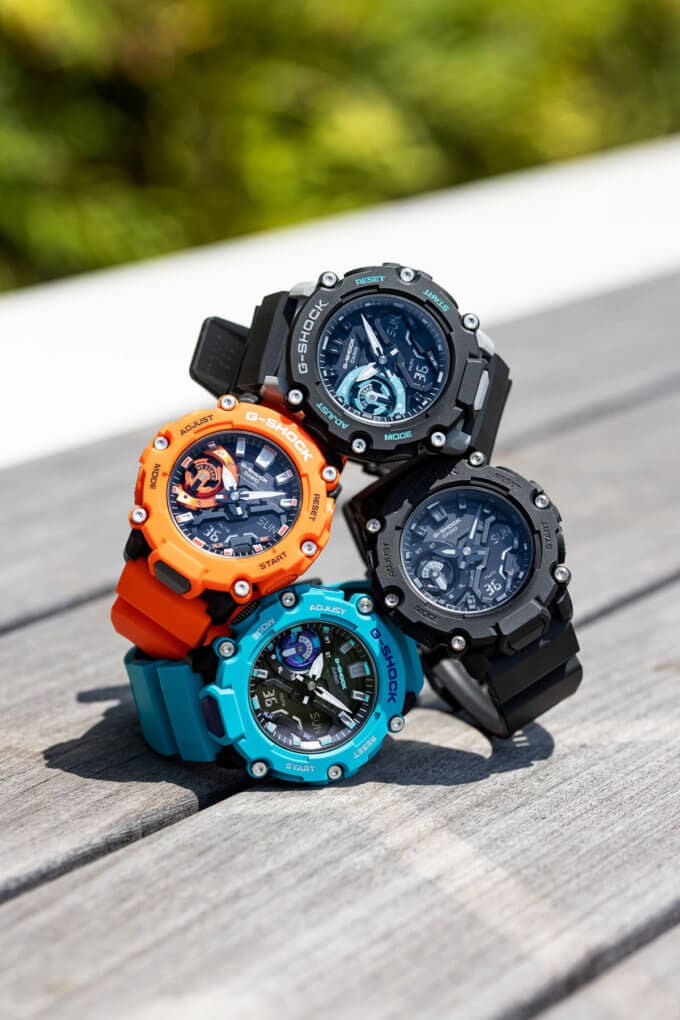 The unveiled models include the black GA-2200BB-1AJF (17,050 yen), light blue GA-2200-2AJF (16,500 yen), black and gray GA-2200M-1AJF (17,600 yen), and orange GA-2200M-4AJF (17,600 yen), with the last two featuring colored steel markers. The GA-2200 series is slated for a July 2021 release in Japan.
Update: G-Shock U.S. is expected to release the GA2200BB-1A ($120), GA2200M-1A ($130), and GA2200M-4A ($130), but not the blue model. All four models (GA-2200-2A, GA-2200BB-1A, GA-2200M-1A, GA-2200M-4A) will be released in the Asia region in July, as well as Europe.
Specifications Update: The GA-2200 measures 50.8 x 47.1 x 12.8 millimeters and weighs 57 grams, which is smaller and lighter than the GA-2000. All the debut models have Neobrite lume, presumably on the hands only. The functions the same as the GA-2000. Full features include shock resistance, 200-meter water resistance, world time (48 cities, 31 time zones with DST setting, UTC time display, home time city swap), stopwatch (1/100-second under 1 hour, 1-second for 1 hour or more, 24 hours max with split), countdown timer (set unit:1 second, 24 hours max), 5 alarms, hourly time signal, double Super Illuminator LED lights with backlit LCD display and adjustable afterglow, full auto calendar, button tone on/off, 12-24 hour format, hand shift function, and approximate 3-year battery life. View the instructions for module 5674 at support.casio.com.
G-Shock GA-2200-2A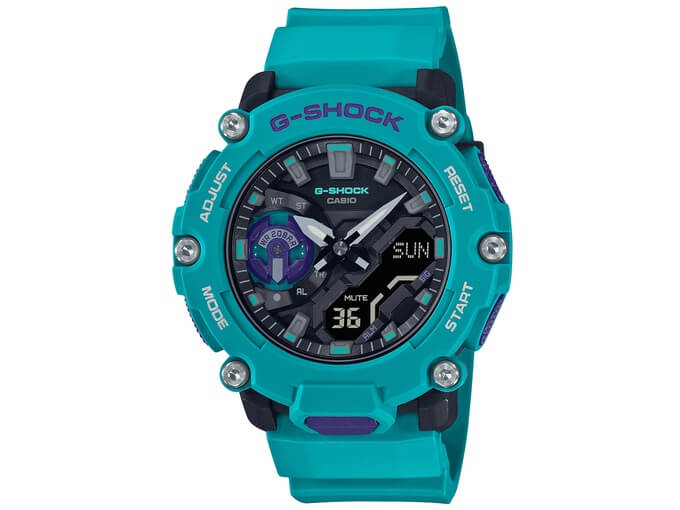 G-Shock GA-2200BB-1A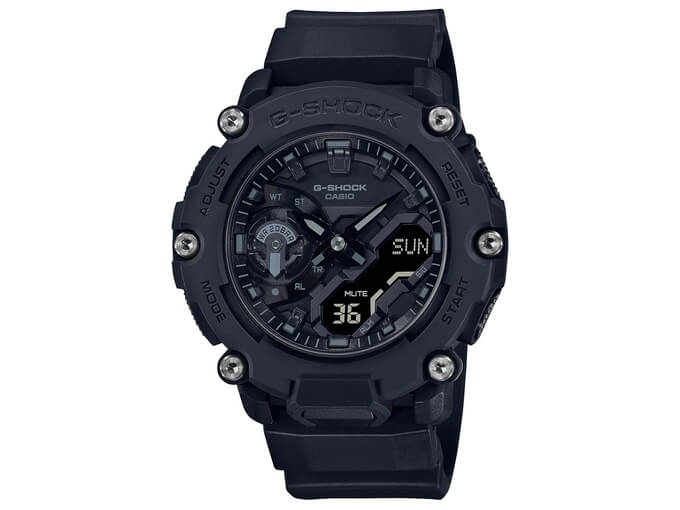 G-Shock GA-2200M-1A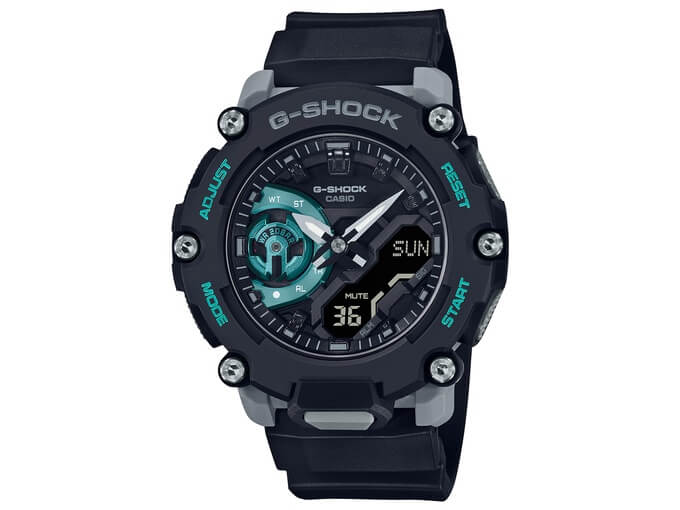 G-Shock GA-2200M-4A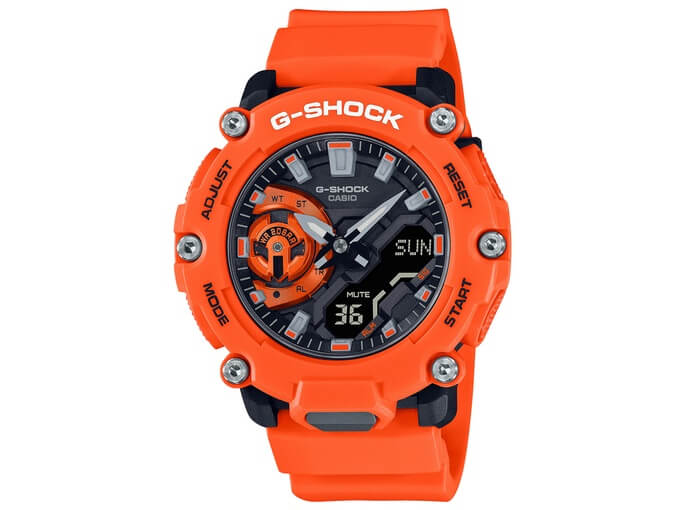 G-Shock GA-2200 Promo Video: