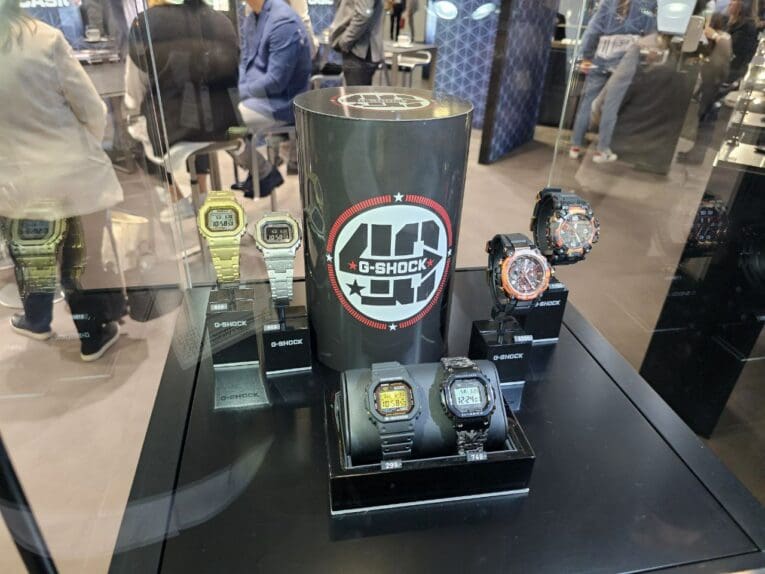 Recent photos from the Inhorgenta Munich trade fair in Germany revealed three limited edition square (5000 series) models set to be released by G-Shock soon for the 40th Anniversary. The trio includes a DW-5000 model with a resin bezel and band and two full metal GMW-B5000 models. Each model has a metal case (presumably stainless steel) and screw-lock back cover like the original G-Shock. A leaked image of the trio is titled with "Project Team 'Tough'," which refers to the original G-Shock design team headed by Kikuo Ibe and is a label printed on the face of anniversary square models.
The DW-5000 is expected to follow the usual anniversary naming convention for DW models (DW-5040, full name unknown) and appears to be styled after the DW-5000C-1A (but with a gold-tinted LCD display), which was one of the two models of the first-ever G-Shock series released in 1983. The other was the DW-5000C-1B, which was the basis for the DW-5035D-1B for the 35th Anniversary. These two origin models are where the brand's signature color combinations of black and red and black and gold come from. The European price for the DW-5040 will reportedly be €299.
The two GMW models are reportedly named the GMW-B5000PS-1 and GMW-B5000PG-9 in silver and gold, respectively, with a price of €869 each. Leaked information indicates that these are made of some type of metal that is three times harder than pure stainless steel. (The prices and model names seem to rule out titanium.) The watches also appear to have a unique speckled visual texture that is much different than the usual glossy silver and gold colors. These two GMW-B5000 models are expected to use a new module (3539), with the main difference expected to be the use of the "Casio Watches" smartphone app for Bluetooth functions, rather than the "G-Shock Connected" that module 3459 uses.
Some fans may have preferred a GW-5040 in the style of the DW-5000C-1A, and we'll have to wait and see if there is a GW-5000 anniversary model coming later. (There was the GW-5035A-1 for the 35th Anniversary, which sold out a lot faster than the two DW-5035 models, so hopefully a GW-5040 is coming.)
Photo via Ravi N. on CasioTron Telegram Group, additional information from MORGANpl and Great G-Shock World