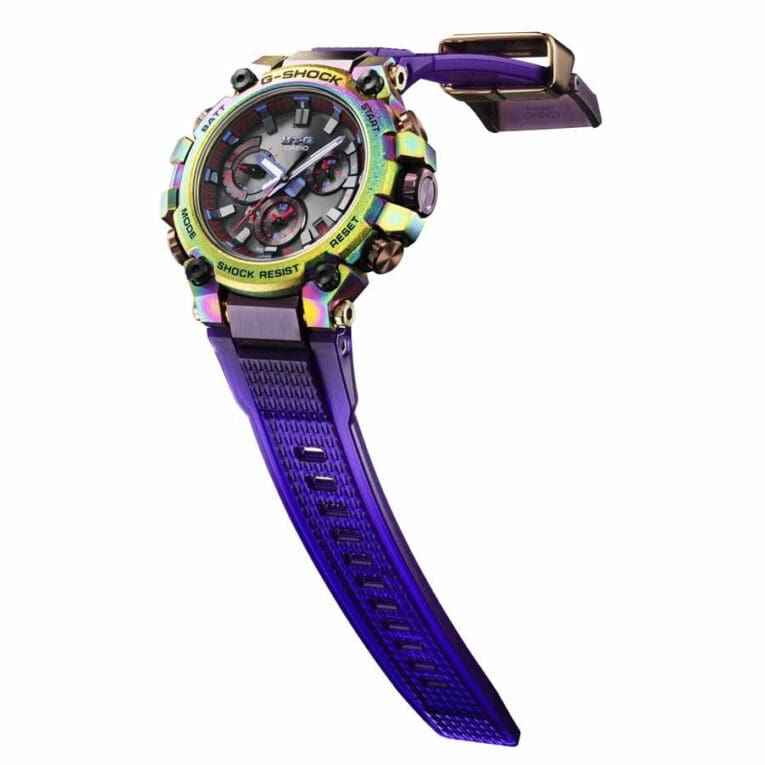 The G-Shock MTG-B3000PRB-1A, coming in June 2023, was revealed by the official Casio G-Shock international Instagram account (@gshock_casio_official) and various European retail sites. The limited edition watch, with its recrystallized stainless steel bezel, rainbow ion plating, and translucent purple soft urethane band, is inspired by the colorful patterns of the aurora borealis, also known as the northern lights. The grainy pattern of the steel bezel, which goes through recrystallization and deep-layer hardening processes before the rainbow IP treatment, makes each watch completely unique. A rainbow IP is also applied to sections of the stainless steel 3D case back (which extend to the side and front of the watch). The buckle has a purple IP, and the band keeper has a brown IP. This is the first G-Shock model with recrystallized stainless steel parts to appear following the three from the 40th Anniversary Recrystallized 5000 Series. The color scheme with the rainbow ion plating is reminiscent of other popular and limited MT-G models like the MTG-B1000RB-2A (2019), MTG-B1000VL-4A (2020), and MTG-B2000PH-2A (2021).
The MTG-B3000 series was introduced in 2022 and offers a relatively compact and very slim size for a G-Shock (just 0.3-mm thicker than a GA-2100 and 0.7-mm thinner than a GM-B2100. The full dimensions are 51.9 x 50.9 x 12.1 millimeters, and the weight of this model is expected to be around 111 grams. The MTG-B3000PRB features a full analog display with Tough Solar power, Multi-Band 6 auto radio time correction, Bluetooth smartphone link, and Triple G Resist for protection against shock, centrifugal force, and vibration.
The MTG-B3000PRB-1AJR will reportedly have a price of 187,000 yen in Japan. The MTG-B3000PRB-1A is expected to be £1,249 in the U.K., €1,400 in Europe, and around $1,400 in the U.S.