Disclosure: This post contains affiliate links to eBay that may earn us a commission on sales.
Older fans may remember that the old G-Shock U.S. website's "Unauthorized Dealers" page listed eBay as an unauthorized seller and had a statement that said watches sold on online auction sites were unauthorized and therefore not covered by a Casio warranty. The statement was the same as the one currently found on the G-Shock Canada Unauthorized Dealers page, which reads, "Please also be aware that no online auction websites are Casio Authorized Resellers. As a result, any sales of Casio products through an online auction website are unauthorized by Casio and subject to the risks noted above."
The U.S. list of unauthorized sellers was moved here (without eBay being listed now). Casio America also updated its authorized resellers list, with some of the major retailers listed at this page and a larger database of authorized stores at locator.casio.com. The list on the support page includes two eBay sellers: The Casio Store and Watches Half Price.
Prior to the new list, the The Casio Store was clearly identified as an authorized seller by eBay (and continues to be the only one identified as such on eBay itself), with purchases covered by a Casio warranty. While it seems logical to assume that new watches sold by other authorized sellers on eBay (with "Buy It Now") would be covered by a Casio warranty, we wanted to make sure this is true, in light of the previous statement. We recently reached out to Casio Support to ask if a new watch sold by an authorized reseller on eBay is covered by the 1-year Casio warranty, and we were told that it is.
Lately, some authorized sellers like Arizona Fine Time (AZFINETIME) and Club Urban (cluburban) have been selling the newest G-Shock releases on eBay, and these new releases usually show up on eBay before Amazon. (These sellers are also on Amazon, along with other authorized sellers.) Arizona Fine Time has long been associated as an authorized G-Shock dealer, and Club Urban is listed as an authorized retailer in the Casio store locator. These retailers also have their own e-commerce sites but some may find it easier to order and track their purchases on eBay and may prefer the Money Back Guarantee and Buyer Protection services offered by eBay.
Another reason to shop on eBay is that Club Urban currently has some big discounts that aren't found on its own site or Amazon, like and the DW5000SS-1 and GM2100G-1A9 for $192 each and new DWB5600 models for $112, among many others. The Casio Store on eBay also offers discounts on many bestselling models but does not offer the newest releases.
Keep in mind that many sellers on eBay are not authorized resellers, and purchases from such sellers will not be covered by a Casio warranty. If you are uncertain of a seller's status, we suggest asking Casio Support to be certain. Also, purchases from sellers located in other countries may not be covered by a Casio warranty or may not be covered by a Casio warranty outside of the seller's country.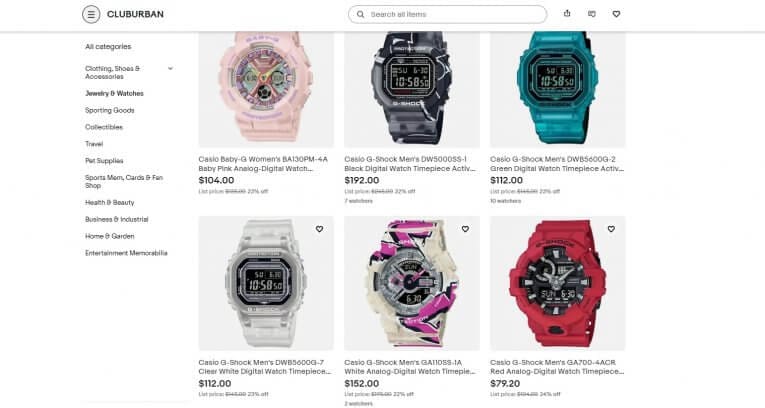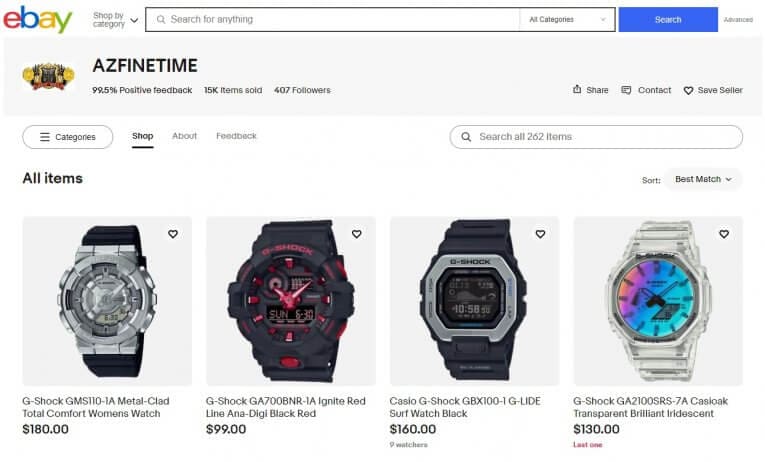 Visit AZFINETIME Store on eBay