(Notice: This page may contain affiliate links that earn us a commission on purchases. See our full affiliate disclosure.)
Beginner's Guide to G-Shock Watches
G-Shock has such a large variety of models in different price ranges that it can be difficult to know where to start. We've compiled this beginner's guide to tell you everything you need to be an informed G-Shock customer and hopefully find the range and model that will suit your needs.
All G-Shock watches have: Shock Resistance, 200M Water Resistance, Stopwatch or Chronograph, Alarm, 12/24 Hour Formats for Digital Display Models, Full Auto Calendar
Most G-Shock watches have: Countdown Timer, Backlight (electro-luminescent or LED), World Time, Multiple Daily Alarms with Snooze Alarm (digital and analog-digital models)
Basic G-Shock Watches

Price Range: $
The most basic (and cheapest) G-Shock watches include the DW-5600, DW-6900, DW-9052, and the analog-digital G-100 (pictured in order). All these models are very durable G-Shocks with the same level of shock protection and water resistance as more expensive models. At this price, the features you are sacrificing are multi-city world time and the auto backlight. They do have a backlight, but the "auto" feature refers to an optional setting that will activate the light whenever you turn your wrist to look at the watch (and "full auto" means it will only activate in darkness). These watches also have just one multi-function alarm rather than multiple daily alarms like the more advanced digital G-Shocks, though some may prefer this multi-function alarm which has more flexibility (see our glossary for more information). Also worth nothing is that the G-100 does not have a countdown timer. The basic models are a medium size compared to the large and extra-large models that have become more popular recently. They are a good choice for those who are new to G-Shock, those looking for a weekend watch, or those who need an affordable watch for work or military use. See more of the most affordable G-Shock watches.
Solar G-Shock Watches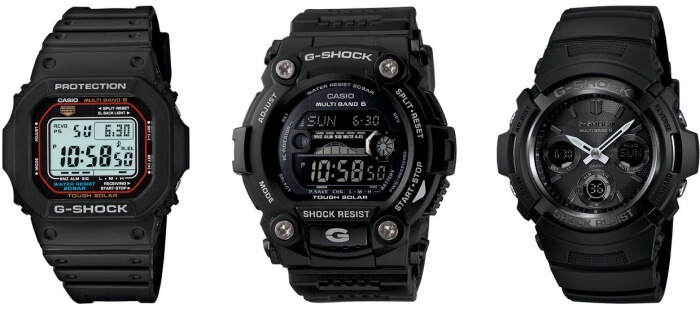 Prices: $$
The Tough Solar feature is one the most practical G-Shock features available, and if we have the choice, we will usually opt for a solar watch. Tough Solar power uses solar charging panels on the face of the watch to keep a rechargeable battery constantly charged up. This means you don't have to change the battery every few years and can likely go more than ten years before having to do so. One of the worst things about owning a watch is having to regularly change the battery and not knowing when it might die, and Tough Solar provides freedom from that. Also, you generally don't have to go out of your way to keep it charged (at least with the full digital display models), as just wearing it normally outdoors and in well-lit rooms is usually enough, though you may need to make more of an effort to expose it to direct sun with analog models or models with sensors. If you use the functions a lot and see the charge level fall below "high," it is a good idea to give it some direct sunlight for a while, and though Tough Solar watches have a power save function when no light is detected, it is not recommended to keep them in complete darkness for very long periods (like months and years). Tough Solar watches often include the Multi-Band 6 feature for automatic time adjustment through radio signal reception. It's a nice feature to have if you live within range of one of the six transmitters around the world, but those near the end of the range may have trouble receiving a signal. Tough Solar powers many G-Shock watches and is a standard feature on many mid-range to high-end luxury models. Tough Solar/Multi-Band 6 models are best for those who want a maintenance-free watch and are willing to pay a little more than the basic models.
Big Case G-Shock Watches

Prices: $-$$
The Big Case models are extremely popular and can be credited with giving G-Shock a big resurgence in the 2010s, especially the large analog-digital models. Big case analog-digital models include the GA-100 (pictured left), GA-110 (pictured second to left), GA-120, GA-200, GA-201, and GA-400. All-digital big case models include the GD-100, GD-110, GD-120 (pictured second to right), and GD-400 (picture right). The GD-X6900 is a classic big case model that is often the base for limited edition collaborationss. Other noteworthy large all-digital series are the 8900 line, the G-RESCURE G/W-7900 lines, and the GD-350 which is one of our top military picks. The GA-100 and GA-110 have become new classics in their own right and provide the canvas for many stylish new color series. The big case models are not just about street fashion though, as they have proven to be very popular for on-the-job use in fields like law enforcement. The current Master of G line along with other mid-range and high-end G-Shock watches are also known for their large case sizes. (Update: In the 2020s, the trend has shifted towards medium size watches like the 2100 octagonal line.)
Japanese Domestic Market (JDM) G-Shock Watches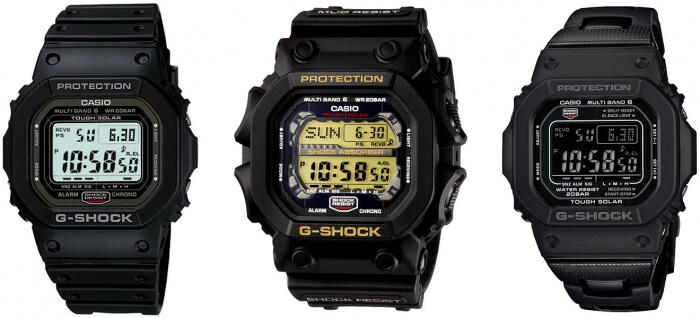 Prices: $$-$$$
There are some unique G-Shock models that are only available in Japan. It may not seem fair that the rest of the world doesn't get them, but that makes them even more coveted by dedicated G-Shock collectors and hardcore fans. These Japanese domestic market (JDM) watches include models like the very large GXW-56 a.k.a. "The King" (middle) and the GW-5000-1JF (left), a modernized tribute model based on the original G-Shock from 1983 that many consider one of the best G-Shocks to own. When it comes to new releases there are always some models that are only destined for Japan, and some Japanese models have more features than the international and American releases. Fortunately, the Japan-only models are easy to obtain these days through online sellers. See Japanese Import G-Shock 5000-Series Watches for some of our favorites.
Mid-Range to High-End G-Shock Watches:
G-STEEL and Gravitymaster Aviation Series
Prices: $$$-$$$$
Mid-range and high-end G-Shock watches consist mostly of analog models. A notable mid-range G-Shock line is the recently introduced G-STEEL Series that combines a tough dual-layer bezel with a dressier stainless steel body. The Gravitymaster Aviation Series also features many mid-range and high-end analog models inspired by the look of airplane instrument panels. The G-STEEL and mid-range Gravitymaster watches are best for those who may want a more upscale G-Shock that isn't too expensive.
The new G-STEEL GST-B100 features Tough Solar power and Bluetooth mobile link that can automatically sync the watch with internet time servers. It is a good choice for those who live outside the range of Multi-Band 6 transmitters, as it is more affordable than the luxury models with GPS timekeeping.
G-Shock Master of G Series: Digital Watches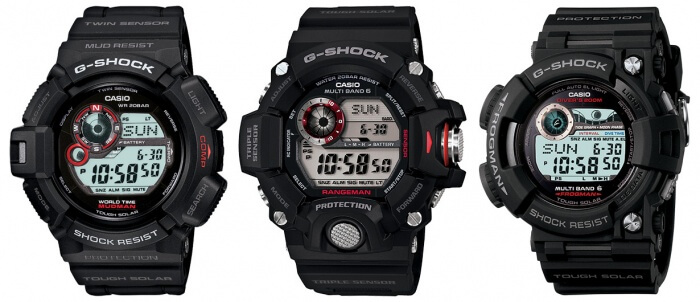 Prices: $$-$$$
The Master of G Series is the professional line of G-Shock watches equipped with the most advanced features. The feature-rich line includes the "-man" series of watches. The Master of G models are very popular and highly regarded as the best and most versatile G-Shock watches. If you're not sure where to start with G-Shock, the Master of G line is a good place. Most Master of G watches are powered by Tough Solar charging and have Multi-Band 6 radio timekeeping, with the exception of the G-9300 Mudman which has Tough Solar only.
The Mudman G-9300 is resistant to mud and dust and has the Twin Sensor which includes a digital compass and thermometer, and it also has moon phase data.
The Rangeman GW-9400 is the most popular Master of G watch. It is also mud resistant and was the first G-Shock with the Triple Sensor which includes a pressure sensor (altimeter and barometer), compass, and thermometer.
The Frogman GWF-1000 has ISO-compliant Diver's 200M water resistance, like all watches in the Frogman line (but not all G-Shocks). It is also known for its stainless steel inner case and screw lock case back.
The Frogman GWF-D1000 is the most advanced Frogman with the same features as the previous generation plus a water depth meter, compass, and thermometer. The compass feature works both underwater and on land.
Note: Some of the Japanese domestic market Master of G models are different than the American models with more features. For example, there is the GW-9300 Mudman that also has Multi-Band 6, a carbon fiber insert band, and a carbon fiber insert strap keeper. The Japanese GW-9400J Rangeman models have a carbon fiber insert band.
G-Shock Master of G: Analog Watches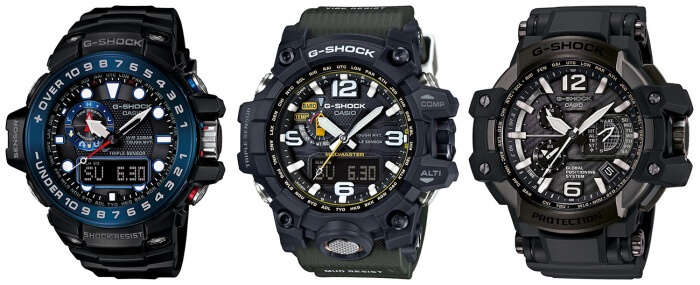 Prices: $$$-$$$$
What was once an all-digital lineup now includes high-end analog-digital models and full analog models.
The Gulfmaster GWN-1000 is a maritime-themed analog-digital model with the Triple Sensor and a tide graph and moon age data.
The Mudmaster GWG-1000 is a Triple Sensor analog-digital model with a tactical design that is perhaps the toughest looking analog G-Shock watch. It has a sapphire crystal and is also resistant to mud and heavy vibration.
The latest Gravitymaster GPW-2000 has GPS position tracking and GPS timekeeping.
There are also "junior" (not for kids, just scaled-back) Master of G lines like the Gulfmaster GN-1000 and Mudmaster GG-1000 which are non-solar battery-powered watches with the Twin Sensor (compass and thermometer). The Mudmaster GWG-100 has Tough Solar and Multi-Band 6 but does not have any sensors.
Limited Edition G-Shock Watches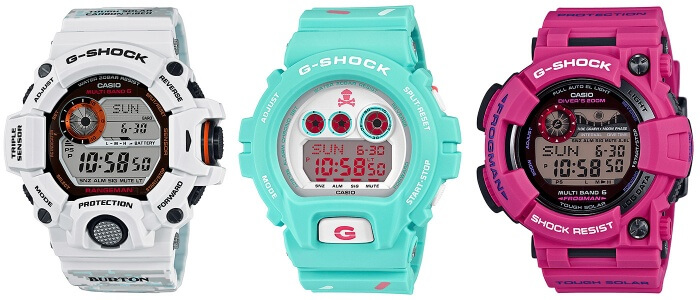 Prices: $$-$$$$
Part of the appeal of buying G-Shock watches are the many limited edition models. Although they may not be designated as such, most of the colored seasonal releases are actually limited, as there is usually a finite amount produced. So if there is a particular color or style you like, don't assume that it will be around forever, because the production of these models often ends not long after they are released. There are also special limited editions series that may include a collection of several models. Another type of limited edition that is very popular is the collaboration watch in which Casio teams up with another entity (often streetwear brands, fashion brands, and artists) to create a co-branded watch that includes a unique design, custom engraved case back, EL backlight, and special packaging.
Luxury G-Shock Watches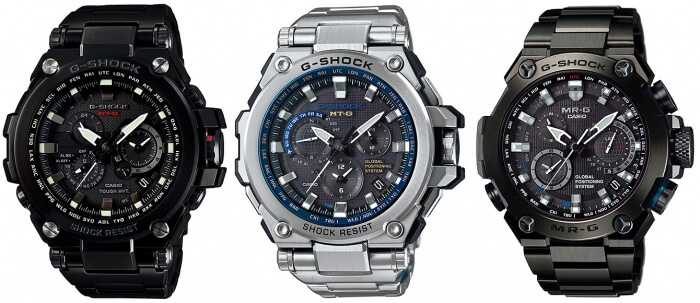 Prices: $$$$
The luxury G-Shock lines are the MT-G and MR-G series. These watches are hand-assembled and tested at Casio Yamagata's Premium Production Line in Japan.
The G-Shock MT-G line is also known as the Metal Twisted G-Shock because of its combined metal and resin construction. It wasn't known as a luxury line until the release of the MTG-S1000 model which has a retail list price of up to $1,000. The MTG-S1000 and MTG-G1000 models have a stainless steel exterior with a band that is a composite of resin and stainless steel. The outer side is stainless steel while the inner side is layered with resin pieces for comfort and to maintain a consistent temperature. The MTG-S1000 models feature Triple G Resist, Tough Solar, and Multi-Band 6. The MTG-G1000 has a redesigned exterior and display and also adds GPS timekeeping. The latest MT-G watch is the MTG-B1000 featuring a smaller case, resin band, and Bluetooth connectivity.
The G-Shock MR-G line made its debut in 1996 and featured an all-metal case and band. It was meant to be a more upscale model that could be worn anywhere. The MRG-G1000 represents the very top of the G-Shock line with a list price of $3,000. The case is made out of a lightweight titanium that is specially treated and hardened to provide a scratch-resistant surface. Like the MT-G models it has an anti-reflective sapphire crystal. In addition to Tough Solar and Multi-Band 6 it is also equipped with GPS timekeeping.