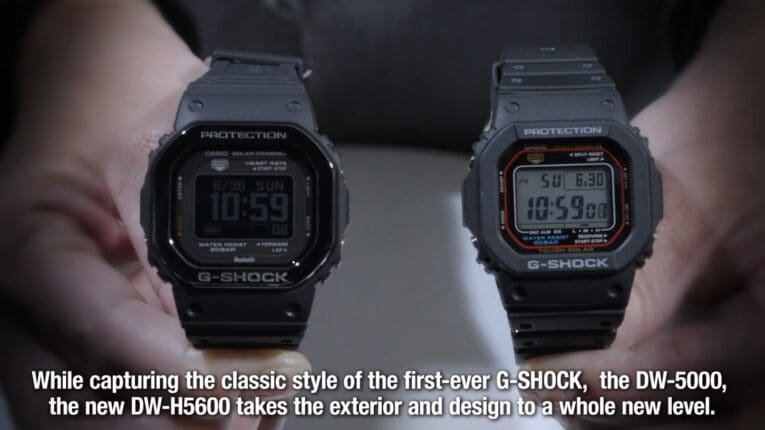 Casio released two English-subtitled videos about the new G-Shock DW-H5600 heart-tracking watch hosted by Kazuyasu Kojima and Akihiro Kuroha of the Timepiece Planning and Development Unit, in which they discuss the evolution of the DW-5000 series and the development and functions of the DW-H5600.
In the first video, Kojima points out that the DW-H5600 is the first G-Shock with a case made of carbon fiber-reinforced bio-based resin. The video also includes side-by-side shots of the DW-H5600 and GW-M5610 and wrist shots of the DW-H5600. The DW-H5600 is larger than the GW-M5610 and DW-5600 and doesn't appear to wear as flat on the wrist, but it doesn't look excessively large.
In the second video, Akihiro Kuroha highlights the major features of the DW-H5600 such as the MIP LCD display, optical heart rate monitor, accelerometer for step tracking, USB and solar-assisted charging, and Bluetooth link. The video shows the watch menu with all modes available (image below), and this menu is customizable with the modes being rearrangeable and removeable. Kuroha discusses the training analysis features by Polar, which include VO2 max (Running Index), cardio load status, energy sources (fats, carbs, protein) used for calories burned, and sleep analysis. Kuroha then gives an overview of the functions of the Casio Watches smartphone app with footage of the life and activity logs that record and analyze daily activity.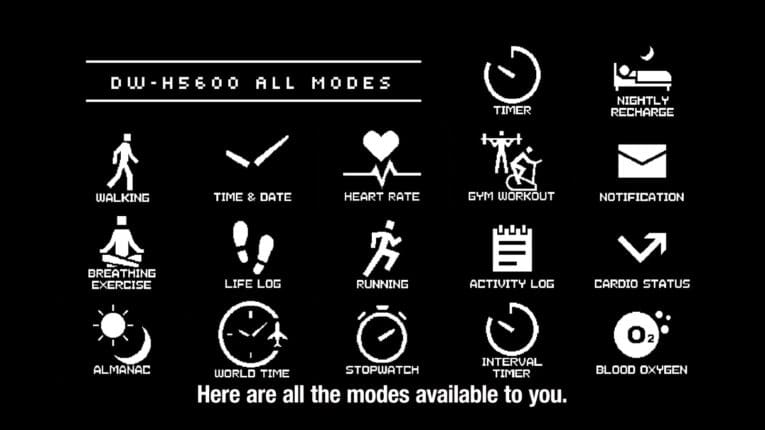 See Also: G-Shock G-SQUAD DW-H5600 fitness watch with heart rate monitor is based on the original G-Shock design