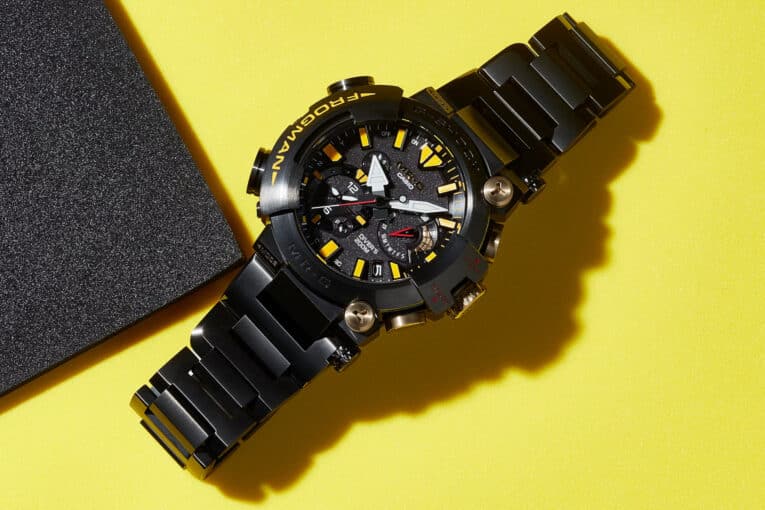 If you're one of the people who were disappointed that Casio did not initially provide any images of the G-Shock Frogman MRG-BF1000E-1A9 with the titanium band attached to it, then you're in luck, as Hodinkee has a new feature about the watch that includes a photo of the titanium band attached to it. (This photo has also been added to the Casio site.)
We couldn't find any wrist shots with the titanium band, but German-language YouTuber WatchDavid has a hands-on review in which he installs the titanium band and places it on the wrist, and he also swaps bands with the first MRG-BF1000 model (MRG-BF1000R-1A).
The limited edition MRG-BF1000E-1A9 was released in July 2023 and is limited to 700 watches worldwide. It is the first MRG-BF1000 model to include a titanium band and also includes a yellow fluoro-rubber Dura Soft band. As a top-of-the-line MR-G model, the watch is made in Japan at Casio's Premium Production Line and has luxe exterior components such as a full titanium bezel with dual-layer hardening and DLC, a sapphire crystal display, and a gold ion-plated sapphire crystal case back insert. Other features include shock resistance, ISO Diver's 200M water resistance, Tough Solar power, Multi-Band 6 automatic radio time adjustment, dive time and surface interval time measurement, tide graph, Bluetooth smartphone link, and LED light.
In the U.S., the MRGBF1000E1A9 has a price of $6,400.
G-Shock Frogman MRG-BF1000E-1A9 Feature at Hodinkee
Reeds Jewelers also has an image with the titanium band attached but it in a rear view only.
MRGBF1000E1A9 at Reeds Jewelers (affiliate link)