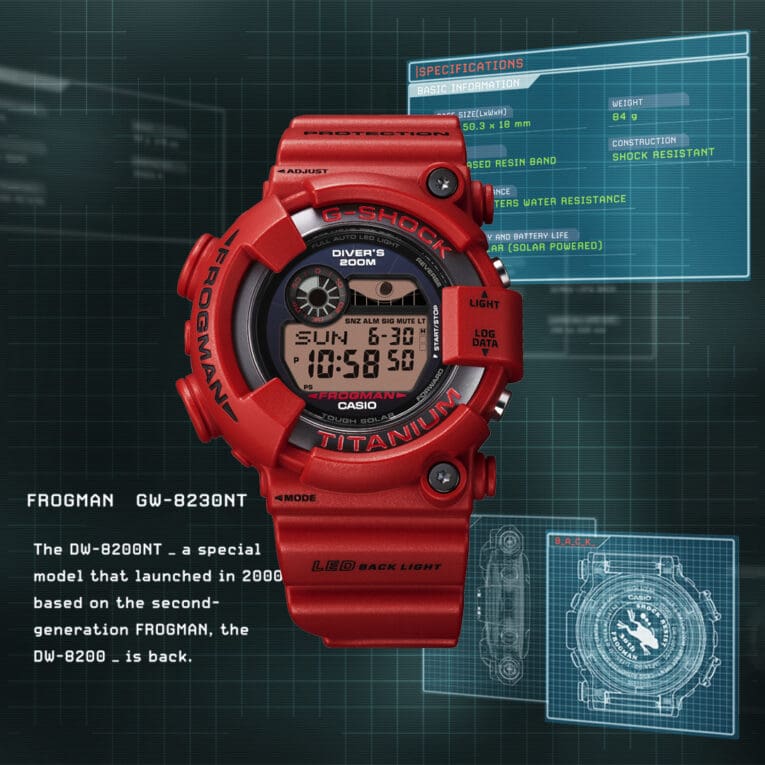 The official Casio G-Shock Facebook page, which often unveils upcoming models before they appear on the official websites, released an image of the G-Shock Frogman GW-8230NT-4. Like the first GW-8230 model (GW-8230B-9A) from October 2022, the GW-8230NT commemorates the 30th Anniversary of the Frogman diving line and appears to be a limited edition. This is the third Frogman 30th Anniversary model and follows the analog GWF-A1000APF-1A from January.
The GW-8230NT-4 is styled after the second-generation DW-8200NT-4 from 2000 with a matte red bezel and band. The watch has a titanium screw-back case and is equipped with Tough Solar power and tide and moon graphs. As an ISO 200M Diver's watch, the GW-8230NT-4 measures dive time and also surface interval time and records up to 10 dive data logs. Like all G-Shock Frogman watches, this model is made in Japan. The GW-8230 has the smallest size of any active Frogman series, with dimensions of 52 x 50.3 x 18 millimeters and a weight of 84 grams.
The GW-8230NT-4 is likely to have a similar price (US$620) as the GW-8230B-9A and is likely to be released in April.
Update: In Japan, the GW-8230NT-4JR will be released in April with a retail price of 77,000 yen (including tax), which is the same price as the previous GW-8230B-9AJR. Like the GW-8230B-9A, the bezel and band are made of biomass plastics.
Update 2: G-Shock U.S. released the GW8230NT-4 for $620 in May 2023.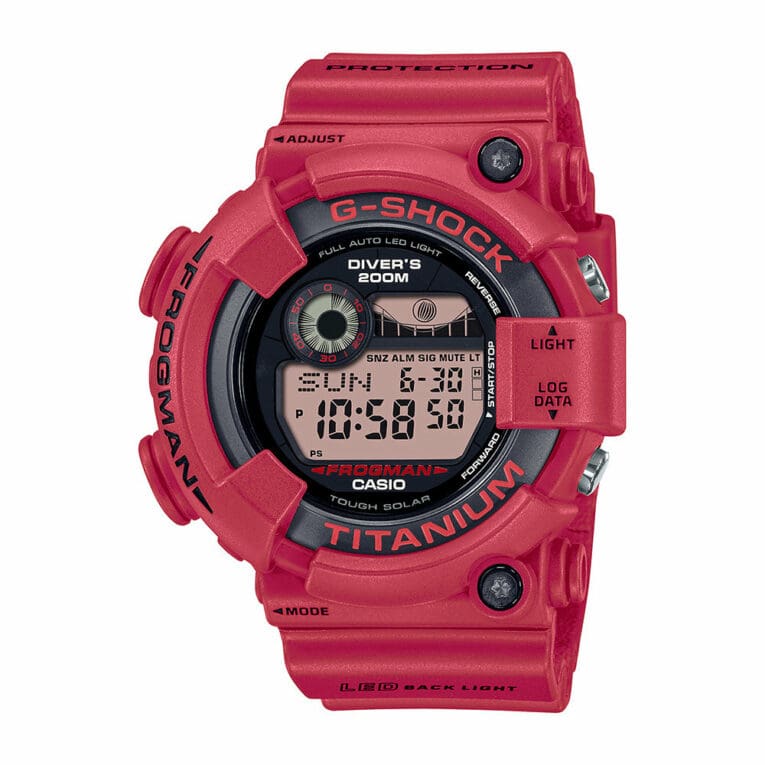 Buy GW8230NT-4
Casio Reeds
(Affiliate Links: We may earn a commission at Amazon, eBay, and Reeds Jewelers.)