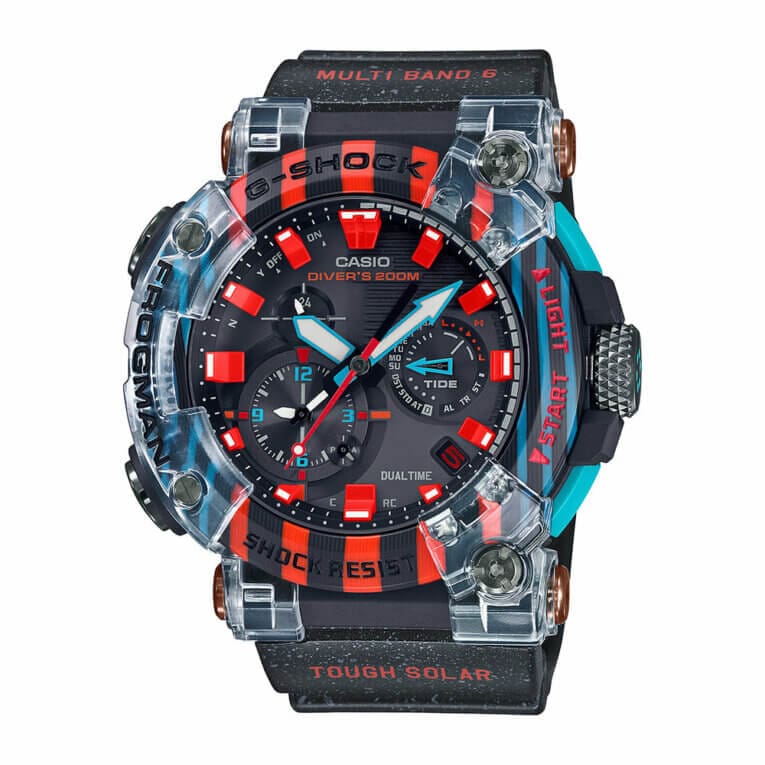 The upcoming limited edition G-Shock Frogman GWF-A1000APF-1A, based on the South American poison dart frog that inhabits the Amazon, was recently revealed at the G-Shock Premium Night event in Japan. The colorful design with translucent resin bezel parts is reminiscent of the GWF-A1000BRT-1A based on the Borneo rainbow toad, but the GWF-A1000APF-1A has a multi-color bezel made of carbon rather than stainless steel.
The bezel is made from laminated carbon and glass fiber, and the pattern of blue and red colors on each individual bezel is unique. The band is speckled with polarized paint that changes hues depending on the angle of view. The watch also has an exclusive case back design with a Frogman character based on the poison dart frog and a tribute to the 30th Anniversary of the Frogman diving line that made its debut in 1993. The base model is the GWF-A1000, which is the first Frogman series with an analog display and a carbon monocoque case. According to morgan_gshock (instagram.com), this may be the last GWF-A1000 model to be released.
Major features of the GWF-A1000APF-1A include shock resistance, ISO Diver's 200M water resistance, magnetic resistance, Tough Solar power, Multi-Band 6 auto radio time correction, Bluetooth mobile link, sapphire crystal with anti-glare coating, diving mode with dive time and surface interval time measurement (with 30-record memory), tide graph, dual time, stopwatch, 24-hour countdown timer, daily alarm, and LED light with afterglow. The watch measures 56.7 x 51.7 x 19.7 and weighs 110 grams.
In Japan, the GWF-A1000APF-1AJR will be released in January 2023 with a tax-included price of 137,500 yen. The release status for other countries is currently unknown, but it's likely to get a wider release.