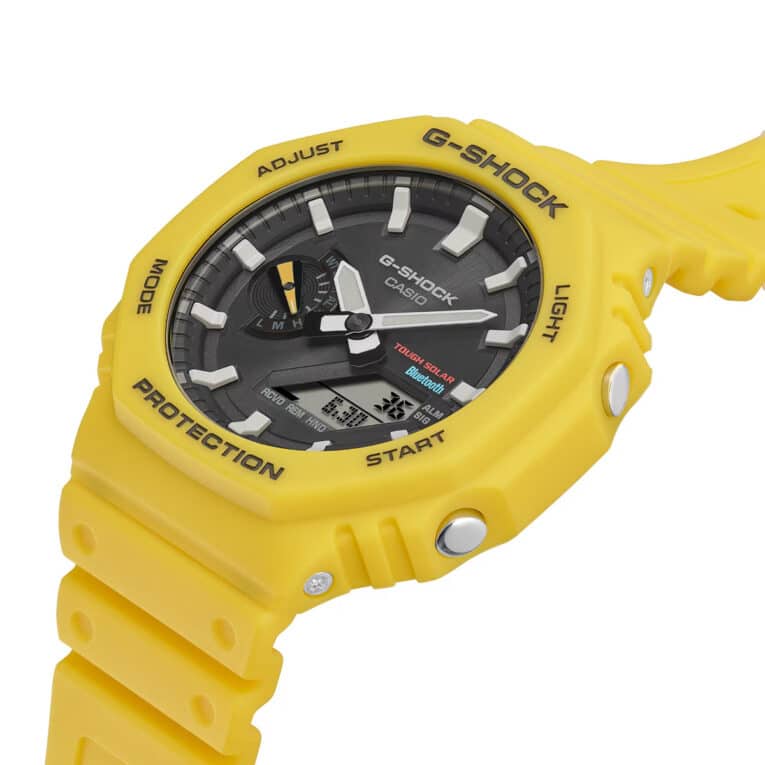 Fred Meyer Jewelers currently has the yellow G-Shock GAB2100C-9A on sale for $96, which is 40% off the usual price of $160. (See link below. Shipping is available to USA only, and the cheapest shipping option is $5.95 for FedEx 2 Day.) This is a lot lower than you'll find it for from third-party sellers on Amazon and Ebay, and the watch includes a Casio warranty since FMJ is an authorized dealer. The GA-B2100 model is a lightweight (52 grams) and thin (11.9 mm) Carbon Core Guard model equipped with Tough Solar power and Bluetooth smartphone link which provides functions such as automatic time adjustment, reminders, and a time & place log.
The GAB2100C-9A is one of three models with a positive (non-inverted) LCD display for easier viewing, with the others being the black GA-B2100-1A and the Japan-only GA-B2100K-9AJR ICERC collaboration. The GA-B2100 has a double LED light with a backlight that illuminates the entire LCD display brightly.
The color scheme of the GAB2100C-9A is based on the DW-5600C-9BV, which was the first non-black G-Shock originally released as an overseas (non-Japan) model in 1987. The GAB2100C-9A seems likely to be the first of the debut GA-B2100 models to be discontinued, and it will probably sell out at FMJ soon at this price.
Update: It is now sold out and out of stock.
G-Shock GAB2100C-9A at Fred Meyer Jewelers