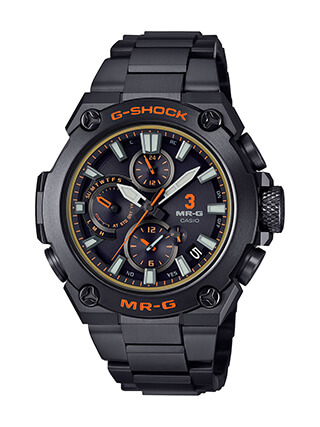 The Yomiuri Giants are releasing another G-Shock watch, and this one is no ordinary collaboration. The watch is the G-Shock MRG-B1000NS-1AJR, designed in honor of Shigeo Nagashima.
Known as "Mr. Giants," Nagashima is a former player and manager of the Giants who is widely considered to be the greatest player in the history of Nippon Pro Baseball. Nagashima had an incredible career as a third baseman, winning eleven Japan Series Championships as a player, the season MVP award five times, the Japan Series MVP award four times, and the Best Nine Award every season of his playing career (17 times). As manager, he led the Giants to three Japan Series Championships. Nagashima was inducted into the Japanese Baseball Hall of Fame in 1988 and received the People's Honour Award in 2013. The fact that the Giants chose the high-end MRG-B1000 for this collaboration is a testament to how revered Shigeo Nagashima is in Japan.
The custom MRG-B1000 has bezel lettering and accents in Giants orange with Nagashima's retired number 3 appearing on the dial. The case back features Nagashima's lifetime honorary director's signature along with his 17 years of batting results. The watch comes in a special case that includes a photo on its surface of the "celestial game" from 1959. (We're assuming that this is the game where the Japanese emperor attended a baseball game for the first time and in which Nagashima hit a game-winning home run.) The number 3 appears inside the box, and a laser engraved gold plate of Nagashima making a full batting swing sits besides the watch.
The MRG-B1000 is part of G-Shock's premium MR-G line and is a mid-size G-Shock made of titanium. It features Tough Solar power, Multi-Band 6 radio timekeeping, and Bluetooth smartphone link. Like the MRG-B1000B-1A, this special edition appears to have a full DLC coating on the case, bezel, and band.
The Casio G-Shock MRG-B1000NS-1AJR Shigeo Nagashima Signature Model is limited to 200 units and will be available for pre-orders in Japan on October 23, 2019 at store.giants.jp. The price is 380,000 JPY (excluding tax). General sales will commence on November 21, and the watch will also be available at select G-Shock stores in Japan.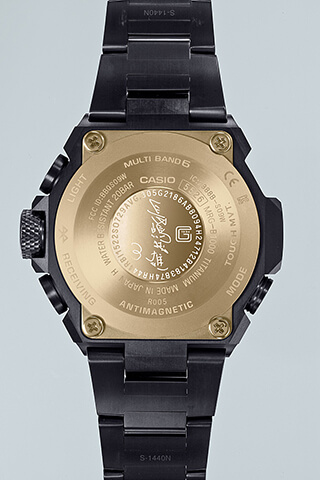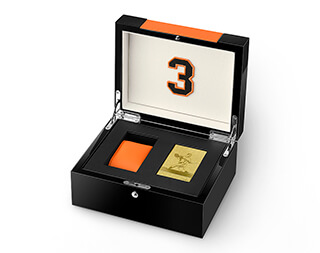 Source: www.giants.jp