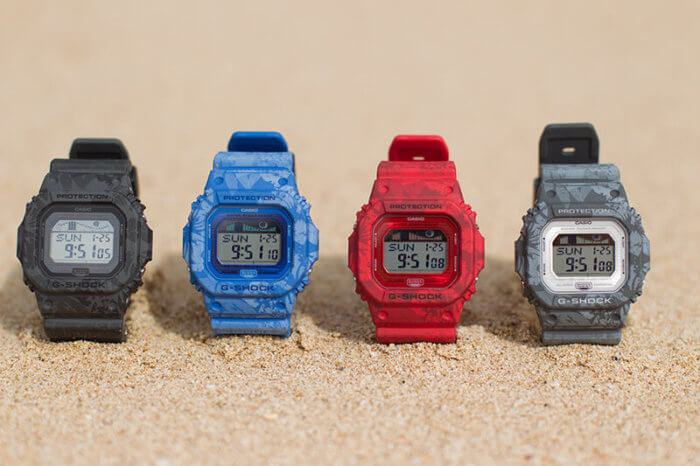 There are new floral design watches for men as G-Shock Japan has announced the G-LIDE GLX-5600F series for the Japanese domestic market. The G-LIDE series is aimed at surfers and features a tide graph and moon phase data. It is available in black (GLX-5600F-1JF), blue (GLX-5600F-2JF), red (GLX-5600F-4JF), and gray (GLX-5600F-8JF). The case and band feature a Hawaii-inspired hibiscus flower design that would go well with casual wear. The floral pattern and colors are subtle and reminiscent of a reverse-print style Hawaiian shirt. This series would also make a nice "his and hers" combo with the GMD-S6900F. Battery life is rated for an impressive 7 years.
The G-LIDE Floral Series was spotted at the G-Shock Hawaii Surf Trip and will be getting an international release. Model numbers are GLX-5600F-1 (black), GLX-5600F-2 (blue), GLX-5600F-4 (red), and GLX-5600F-8 (gray).
GLX-5600F on Amazon
GLX-5600F on eBay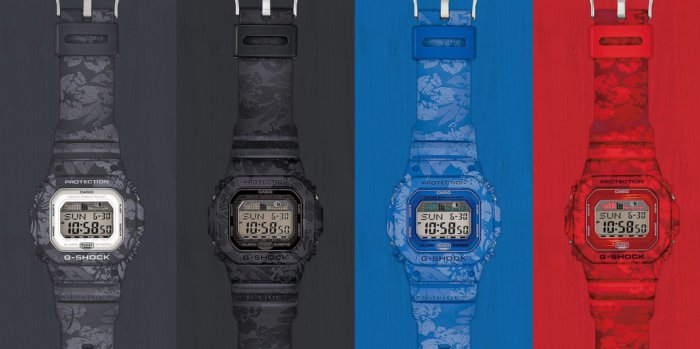 Source: G-Shock Japan G-LIDE site
(
G-Central earns a commission from qualifying purchases made through its links. G-Central is an independent news site created and maintained by fans and is not an official representative of Casio. See full disclosure.
)