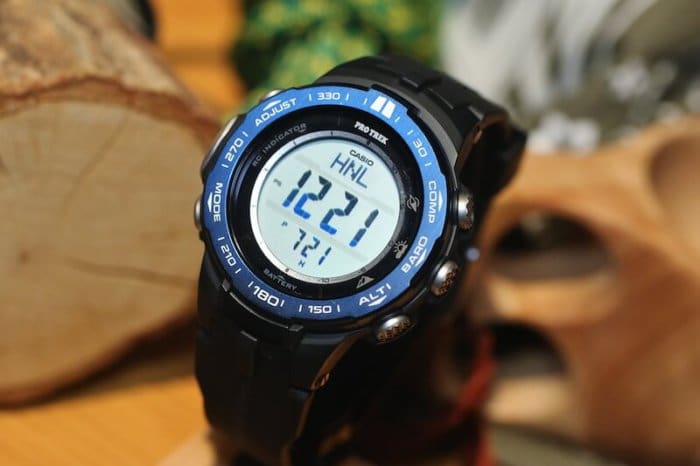 (Update: The PRW-3100YB-1 is now being sold by Amazon.com in America. Amazon previously sold the black PRW-3100Y-1 and olive green PRW-3100Y-3 reverse LCD models, both of which eventually sold out. This model is also available in Europe markets as the PRW-3100YB-1ER. It's currently uncertain if the PRW-3100YB-1 will get a wider release in the U.S. beyond Amazon.)
Coming in November 2018 to Japan, the Pro Trek PRW-3100YB-1JF is Casio's latest addition to the slimline digital PRW-3100 series. The PRW-3100YB-1JF has a blue ion-plated stainless steel bezel with black resin bands and will retail for ¥42,000 JPY.
Notable features include 100-meter water resistance, Tough Solar power, Multi-Band 6 radio wave timekeeping, Triple Sensor (with altimeter-barometer, compass, thermometer), and a high-contrast super-twisted nematic (STN) LCD display. Measuring 56 x 47.1 x 12 mm, the PRW-3100YB-1JF is one of the smallest all-digital Pro Trek watches available.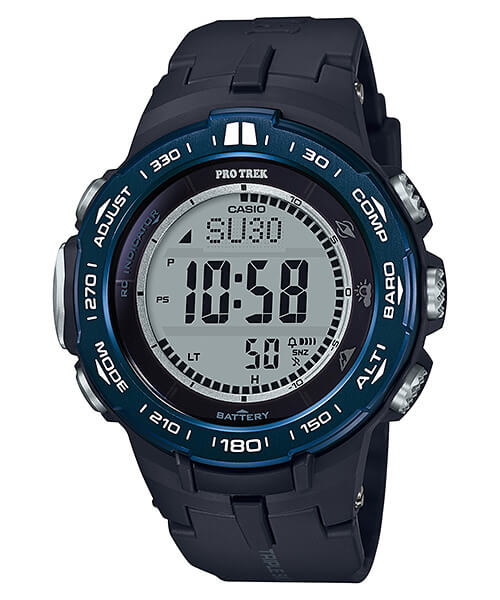 Source: news.mynavi.jp