These import watches will set you apart from the crowd…
G-Shock G-STEEL GST-S330D-1A
Video by 腕時計通販かわしま
With its knurled stainless steel bezel, the Tough Solar-powered G-STEEL GST-S330D-1A offers a rugged yet classy look in a mid-size package. Though America did get the G-STEEL GSTS310D-1A which is the same size with a similar metallic appearance, the knurled bezel, embossed bezel lettering, and Neon Illuminator (black light LED) of the GST-S330D-1A offer unique features over that model. The GST-S330D-1A was released in Asia but not America. (The Japanese version GST-W330D-1AJF with Tough Solar and Multi-Band 6 is shown in the video above. The GST-W330D-1AER is available in the UK and Europe.)
G-Shock GW-B5600BC-1
Video by Random Rob
The GW-B5600BC-1 is the only GW-B5600 Bluetooth-equipped model with a standard (or positive) LCD display. As positive displays are generally easier to read and favored by many over the reverse/negative LCDs of the other GW-B5600 models, it would have been nice to see this model get a wider release as America only got the GWB5600BC-1B. As seen in the video above, the reflective yellow/gold display border looks a lot better in person than in photos. We feel that this model would have been better suited for a standard resin band rather than the composite link band, which would have resulted in a lower price. Hopefully in the future we'll see more GW-B5600 configurations available.
Pro Trek PRW-60
Video by virtuovice
The Pro Trek PRW-60 series holds a unique place in the Pro Trek lineup as the smallest analog-digital model. The PRW-60 doesn't sacrifice any features for its size and is essentially a smaller version of the PRW-6100 with Tough Solar, Multi-Band 6, and the Triple Sensor (altimeter-barometer, compass, and thermometer). The only other options for a mid-size Pro Trek watch are the all-digital PRW-3000/3100 and PRG-330 series. Though some PRW-60 models were released in Europe, the PRW-60 line is absent in many other markets.
Pro Trek PRW-3100YB-1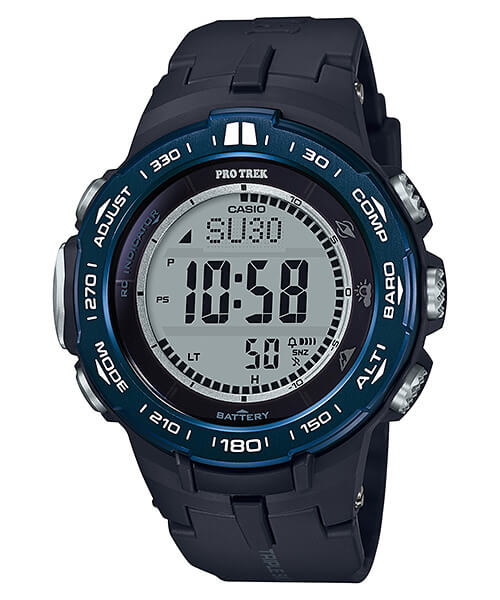 The Pro Trek PRW-3100 is a full-featured ABC-sensor watch known for its slim size, stainless steel bezel, and superior STN LCD display. Though America did get a few PRW-3100 models in the past, those models ended up selling out and are now discontinued. Japan and Europe got the new PRW-3100YB-1 featuring a blue IP bezel in November 2018 but it was not released in America or other Asian markets. As one of the premium all-digital Pro Trek models, its absence is noticeable. (Update: This watch is now being sold by Amazon.com.)
G-Shock Gulfmaster GWN-Q1000A-1AJF
Video by Japan-OnlineStore
The GWN-Q1000 Gulfmaster is one of the most advanced G-Shock watches and the first with the Quad Sensor that includes a water depth meter. Unfortunately, it had a troubled beginning with widespread reports of malfunctioning hands. Casio identified and remedied the problem by April 2017 (which included free repair service even for non-warrantied watches in America). In September 2017, G-Shock Japan added the GWN-Q1000A-1AJF with a lower list price which appeared to take over the role as the base model from the GWN-Q1000-1A. This model was not widely released and is the only GWN-Q1000 model that remains in production. Though some previous-generation GWN-1000 and budget GN-1000 models are still in production, the Gulfmaster line seems to be in sort of a limbo right now with no 35th Anniversary limited edition releases and the GWN-Q1000 line unlisted in many countries. Hopefully 2019 will provide some clarity on the status and future of the Master of G sea line.