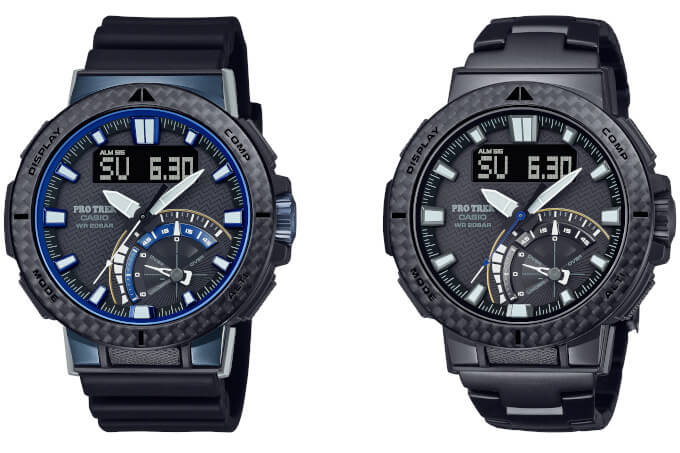 The Pro Trek PRW-73X-1 and PRW-73XT-1 are deluxe fishing models with the following features: 200-meter water resistance, Tough Solar power, Multi-Band 6 auto radio time adjustment, Triple Sensor (altimeter-barometer, compass, thermometer), tide graph, moon age, sunrise/sunset time display, fishing time function, and full auto dual LED lights with Neon Illuminator.
Both models have a laminated carbon fiber bezel and a wave-inspired print pattern on the dial. The PRW-73X-1 (80 grams) has a soft urethane band, and the PRW-73XT-1 (110 grams) has a lightweight, rust-resistant titanium band with a black ion plating. The difference between these PRW-73 models and other PRW-70 models appears to be the exterior, as the PRW-73 measures 51.1 x 47 x 14.5 millimeters versus 51.1 x 49.9 x 14.5 for the PRW-70. The PRW-73 and PRW-70 use the same module (5480).
In Japan, the PRW-73X-1JF (93,500 yen) and PRW-73XT-1JF (115,500 yen) will be released in October 2021. Both watches will also be released in China. The PRW-70 series was not released in other Asian countries or the U.S., so these models are not expected to get a wide release.
Pro Trek PRW-73X-1JF: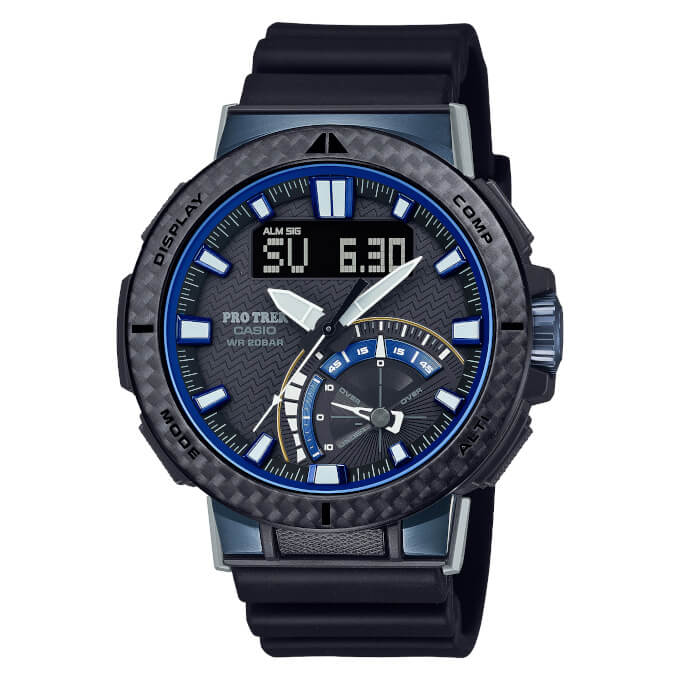 Pro Trek PRW-73XT-1JF: