Prolific leaker MORGANpl released an image of the upcoming G-Shock GCW-B5000 series. While this new series has been known to be coming for a while, the images and text from a development information page provide some details that clarify previous speculations and questions. According to the sheet, the GCW-B5000 is labeled as "Full Carbon 5000" and appears to have a carbon bezel and link band.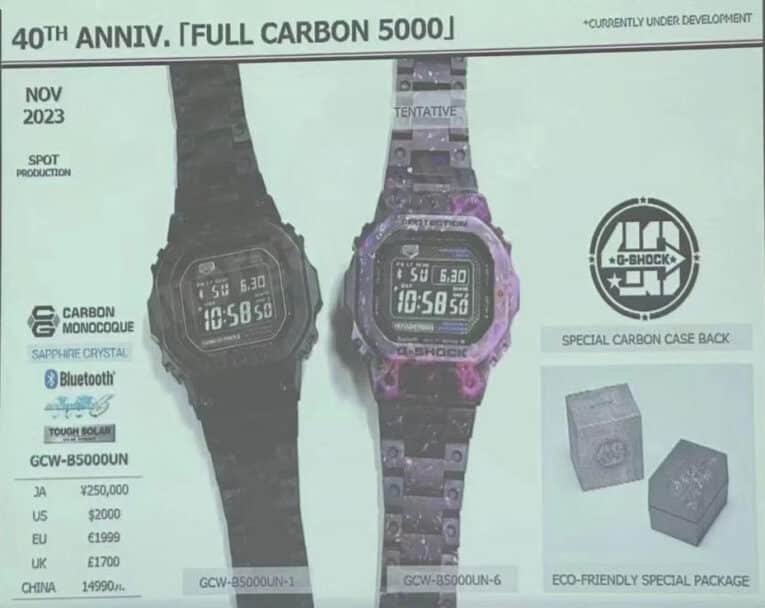 The two models include the GCW-B5000UN-1 and GCW-B5000UN-6, with the former being black and the latter appearing to be a mixed purple and black color with white specks. It is also stated that the watch has a "Special Carbon Case Back" with a carbon monocoque (single shell) Carbon Core Guard case, which is unique for the 5000 series. (The other G-Shock series with a carbon monocoque case include the GWR-B1000, MTG-B2000, and GWF-A1000.) Other specifications include a sapphire crystal display, Bluetooth smartphone link, Multi-Band 6 auto radio time correction, and Tough Solar power. Both models have an inverted LCD display, which is presumably an STN LCD like the GMW-B5000. These models are designated as 40th Anniversary limited editions.
The prices listed are 250,000 yen, US$2,000, €1,999, and £1,700. Please keep in mind that this information may not accurately reflect the final release, which is expected in November 2023.
Update: More images and a diagram were shared on Reddit by Geesgshock, which show that the watch has titanium buttons with DLC coating, along with an inner titanium ring with a black ion plating between the case and bezel. The case is made of carbon fiber reinforced resin, and the bezel and band are made of forged carbon. The buckle cover is also made of forged carbon and the buckle is made of multi-layer carbon. The clearer photos show that the surface of the GCW-B5000UN-1 and GCW-B5000UN-6 have a textured appearance like the forged carbon parts of the GWG-2000. The module number is 3543, which is expected to have the same functions as the GMW-B5000. The case size is 49.1 x 45.0 x 14.5 millimeters, and the weight is currently unknown but expected to be very light since it is mostly made of carbon. One of the descriptions states "Incredible Lightness." Like the GMW-B5000, the GCW-B5000 is made in Japan. This leak appears to be from the U.S. and states a December 2023 release date with a price of $2,000.